Screen critic Jonathan Romney casts his eye over this year's Berlinale line-up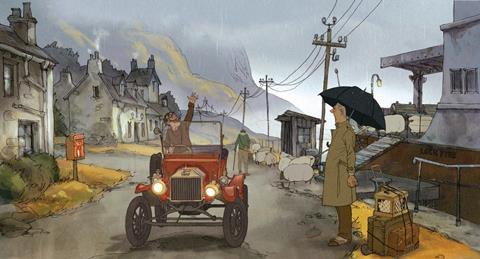 Dieter Kosslick has long proved expert at drumming up red-carpet hoopla outside the Berlinale Palast, but the films themselves have not always lived up to expectations. So much rides on the selection for this year's 60th Berlinale — especially since the international jury is headed by the famously exacting Werner Herzog.
The signs are that he has pulled it off this year, with a competition line-up which includes international A-listers, a potential controversy or two, a clutch of well-received titles fresh from Sundance, and a number of follow-up films by directors recently feted in Berlin.
The two hottest tickets come from revered grandees. Set to cause a stir is Roman Polanski's political thriller The Ghost Writer, adapted by Robert Harris from his novel The Ghost. Given that its director is still under house arrest in Switzerland, this film will certainly provide the festival's most-crowded press conference. Then there is Martin Scorsese's long-awaited Shutter Island (playing out of competition), starring Leonardo DiCaprio in a period detective story with Gothic trimmings. Scorsese opened festivities with his Rolling Stones documentary Shine A Light in 2008, and this year Berlin will be waiting to see whether his fiction-making mojo is still intact.
Potential favourites
Another US mainstream title could become the competition crowd-pleaser. Noah Baumbach's comedy Greenberg, about a New Yorker's mid-life crisis, features Ben Stiller. Kosslick has also selected the much-awaited new film from Denmark's Thomas Vinterberg. Although he has never quite matched his career-making Festen in 1998, Submarino sounds as if Vinterberg means business: described by the director as "very dark", it is a family drama set among the socially disadvantaged.
Among this year's German-language entries are two films based on true stories. Particularly likely to grab its share of the headlines in the German press is Jud Süss — A Film Without Conscience. Directed by Oskar Roehler, Jud Süss is an account of the making of Veit Harlan's notorious 1940 propaganda film, one of the key exhibits of Nazi cinema. Berlinale red-carpet regular Moritz Bleibtreu plays Joseph Goebbels.
Also, Benjamin Heisenberg's The Robber chronicles the headline-grabbing escapades of Johannes Rettenberger, aka Pumpgun Ronnie, a marathon runner turned bank robber.
Two recent Golden Bear winners return, hopefully in style: Bosnia and Herzegovina's Jasmila Zbanic, whose Grbavica won the Golden Bear in 2006, has On The Path, while the competition opener is Apart Together (pictured), from China's Wang Quan'an, who made 2007 Golden Bear winner Tuya's Wedding.
Meanwhile, critics are keenly awaiting the return of young Iranian director Rafi Pitts, whose film It's Winter was a major competition discovery in 2006. He directs and stars in The Hunter, a drama about a police manhunt.
There is also a film by a cult duo who could be poised for a breakthrough.
Mammuth is the fourth feature by French black-comedy provocateurs Benoit Delépine and Gustave de Kervern. TV regulars in France, they made their big-screen debut with 2004's Aaltra, a road movie with wheelchairs, and impressed critics with 2008's scabrous satire about unemployment, Louise-Michel. Mammuth is their first film to star A-list names. Gérard Depardieu plays a retired man hitting the road on his motorbike, while Isabelle Adjani reputedly plays a woman who has been in a coma for 40 years.
As for the festival's out-and-out show-stopper, there is probably no contest. Featured in the Berlinale Special selection, it is a world premiere for the reconstructed original cut of Fritz Lang's 1927 classic Metropolis (pictured), with the Berlin Radio Symphony Orchestra providing live music.
Also screening in the Berlinale Special are Sylvain Chomet's new animation, The Illusionist (pictured), and Revolucion, a compilation film from Mexican New Wave names including Fernando Eimbcke, Gael Garcia Bernal and Carlos Reygadas.
Among the documentaries in the packed Panorama section is Yael Hersonski's A Film Unfinished, based on unedited Nazi propaganda footage, while the opening film is Russian fiction feature Jolly Fellows by Felix Mikhailov, about a Moscow drag club. Another interesting fiction film in Panorama is Mohamed Al-Daradji's Son Of Babylon, which deals with recent Iraqi history through the story of a boy searching for his missing father.