As Toronto came to a close the Industry Office reported that the number of attending buyers climbed 9% over last year as observers bemoaned a lack of activity.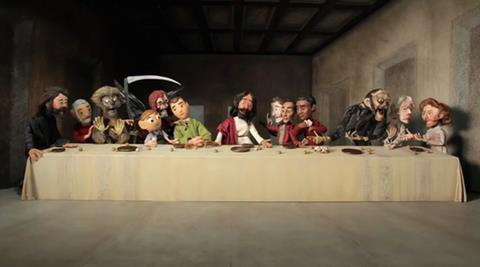 However, complaints about a muted acquisitions scene would be harsh and do not paint the full picture of Toronto 2015.
The abiding memory of this year's event might well be one framed by legal disputes. The festival pulled the Aretha Franklin documentary Amazing Grace after the soul star went to court in Colorado to withdraw it from Telluride.
The Toronto hierarchy also removed London Fields after internecine warfare broke out among the filmmakers.
Acquisitions teams came ready to buy and in fact the biggest deals made more noise collectively than those of 2014. Unfortunately the festival selections themselves mostly came and went without much fanfare.
Whereas last year Paramount's $12.5m move on Chris Rock's Top Five was the headline-grabber, 2015 saw the same studio pay at least $15m in total for Charlie Kaufman and Duke Johnson's polarising Venice Grand Jury Prize-winner Anomalisa (pictured) and an out-of-festival buy on Stephen Frears' Florence Foster Jenkins.
At time of writing Robert Simonds' STX was concluding a splashy $10m worldwide statement buy on Ilya Naishuller's Midnight Madness first-person shooter Hardcore.
Screen International understands STX is in talks with studios to offload international rights, despite recently launching an in-house international sales division.
US deals
There was a smattering of US deals although most were for far lower sums. Bleecker Street acquired Eye In The Sky, SPC picked up the acclaimed Danish-German WWII film Land Of Mine and Focus World took Mr. Right.
Magnolia acquired Sunset Song, and The Wave, A24 swooped on Into The Forest, Momentum picked up Forsaken and The Program, IFC Midnight picked up US rights to Midnight madness entry Baskin from Turkey, Kino Lorber acquired Neon Bull while Oscilloscope took ma ma.
The Weinstein Company acquired Baltasar Kormakur's Icelandic TV series Trapped – but not the English-language remake rights – from the inaugural Primetime programme.
Hush from Oculus director Mike Flanagan screens outside the market and is expected to sell soon.
Low-key international
International trade was low-key as is the custom at Toronto, where sales agents enjoy the space to soft-launch sales and meet with buyers ahead of the more intense sessions at AFM in November.
The fact that a considerable number of prestige titles arrived with US distribution in place removed perceived heavy-hitters from the table and dampened the anticipation of buyers, who now exist in a year-round acquisitions scenario that has made festival sales less critical than they once were.
In the end many Toronto selections failed to live up to expectations and the likes of The Danish Girl, Trumbo, Truth, The Man Who Knew Infinity and I Saw The Light failed to garner wide acclaim.
Awards potential
The awards potential of some of these titles will live on because campaign funds have already been allocated and there seems plenty to play for in the season ahead: not a single film from the early trifecta of fall festivals has emerged with the same force as Gravity or 12 Years A Slave did by the same stage in recent years.
Similarly it is worth noting that while last year's festival was fairly quiet on the acquisitions front, Toronto 2014 delivered Whiplash, Nightcrawler, The Theory Of Everything, The Imitation Game, Force Majeure and Still Alice, among others.
That said, programmers pick what is available and this year's selection featured a lot of solid work and a handful of films that delighted critics and audiences.
Lenny Abrahamson's People's Choice Award winner Room and its star Brie Larson captured the imagination, as did Tom McCarthy's ensemble-led Spotlight, Venice Grand Jury Prize-winner Anomalisa from Charlie Kaufman and Duke Johnson and Cary Fukunaga's Beasts Of No Nation.
Like Steve Jobs, which did not go to Toronto, all four played at Telluride and all except Room also screened on the Lido. These films will figure prominently in the awards race.
There was wide admiration too for Martin Zandvliet's Danish-German Second World War story Land Of Mine, which SPC most likely will save for 2016 to stand a chance of making it on to Denmark's foreign-language Oscar submission shortlist.
Delegates up 7%
According to the festival there were more than 2,100 acquisitions executives, while the number of registered delegates increased by 7% over last year with 5,450 from 80 countries.
Continents with the highest growth in registrants were Africa (33%), Europe (25%) and Australia/New Zealand (13%).
Industry initiatives introduced this year included the Digital Screening Library and a live feed of popular Conference sessions direct to the Industry Centre.
"It's been an exciting year for sales with significant deals being made at the festival," said artistic director Cameron Bailey. "It's a major draw for the industry and a hub for buyers from around the world.
"Each year the TIFF Industry Office ensures that industry professionals who attend the Festival are provided with the opportunities, tools and in formation they need to successfully network and further their business, as well as creative goals. It's a key component that drives the increase in numbers we see year after year."
"Toronto's enthusiastic audiences turned out for a cluster of high-profile titles, creating hype for Awards season and bolstering interest from international buyers," said TIFF Industry Office director Kathleen Drumm.
"There were sales for the strong line-up of independent films showcased at the festival along with substantial pre-sales."