The full line-up of world premiere Toronto galas, with details on each title including sales contacts.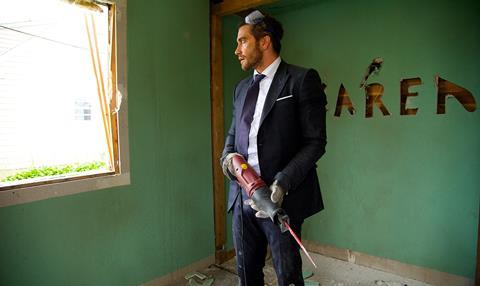 Demolition (US)
Dir Jean-Marc Vallée
Opening Film
Canadian director Vallée, whose Dallas Buyers Club and Wild both screened at Toronto, returns with this romantic drama about a grieving Wall Street investment banker (Jake Gyllenhaal) whose interactions with a single mother (Naomi Watts) help him to cope with his wife's death. Dallas Buyers Club won three Oscars, including best actor for Matthew McConaughey, while Vallée's 2009 period drama The Young Victoria won for costume design. Fox Searchlight will release Demolition in the US in April 2016.
Contact: Sierra/Affinity, info@sierra-affinity.com
Beeba Boys (Can)
Dir Deepa Mehta
In what is anticipated to be an exhilarating change of gear following Midnight's Children and her languorous Fire, Earth and Water trilogy, Mehta's latest is a gun-toting, action-filled gangster film, following a group of young Asian men as they attempt to take over Vancouver's drugs-and-guns scene. India-born, Toronto-based Mehta is a TIFF regular. Bollywood actor Randeep Hooda plays the leader of the crew. Gulshan Grover, Ali Momen and Sarah Allen co-star.
International contact: Mongrel Media, www.mongrelmedia.com
US contact: Cinetic Media, www.cineticmedia.com
The Dressmaker (Aus)
Dir Jocelyn Moorhouse
Kate Winslet stars as a sophisticated couturier who returns from Paris to her small hometown in rural Australia to be reminded of all the reasons she left in the first place, including her mother, played by Judy Davis. Liam Hemsworth and Hugo Weaving co-star in the black comedy, which is an adaptation of Rosalie Ham's bestselling novel of the same name. The Dressmaker is the first film Moorhouse - who has been more focused on theatre in recent years - has directed since A Thousand Acres in 1997.
International contact: Embankment Films, info@embankmentfilms.com
US contact: CAA info@caa.com
Eye In The Sky (UK)
Dir Gavin Hood
Hood's drone-warfare thriller stars Helen Mirren alongside Alan Rickman, Iain Glen and Breaking Bad's Aaron Paul. The British dame plays a military intelligence officer in command of a top-secret drone operation, with Paul as a drone pilot. Based on an original screenplay by Guy Hibbert, Eye In The Sky is produced by Colin Firth and Ged Doherty's Raindog Films. Hood's 2005 South African crime drama Tsotsi won the People's Choice award at TIFF in 2005, before going on to win the Oscar for best foreign-language film.
International contact: eOne International, features@entonegroup.com
US contact: William Morris Endeavour Entertainment info@wmeentertainment.com
Forsaken (Can-Fr)
Dir Jon Cassar
Donald and Kiefer Sutherland star in this western about an estranged father and son who decide to work together to save their town. The Sutherlands previously worked together in A Time To Kill and Max Dugan Returns, but this is the first time they have portrayed an adult father-and-son relationship. Cassar is an award-winning TV director whose credits include Sutherland Jr's 24. eOne holds Canadian rights.
Contact: CAA info@caa.com
Freeheld (US)
Dir Peter Sollett
Oscar hopes are high for this topical true story of a New Jersey cop who is diagnosed with cancer and fights for the right to leave her government pension to her lesbian partner. Recent Oscar winner Julianne Moore and Oscar nominee Ellen Page play the couple, with Oscar nominee Michael Shannon as Moore's detective partner and Steve Carell as a gay-rights activist abetting their cause. Oscar nominee Ron Nyswaner (Philadelphia) wrote the script. Lionsgate has US rights and eOne Canadian rights.
Contact: Bankside Films, stephen@bankside-films.com
Hyena Road (Can)
Dir Paul Gross
In this Afghanistan-set war drama, a group of Canadian soldiers square off with the Taliban while trying to complete the construction of a critical highway into Kandahar. Hyena Road is directed by and co-stars Canadian actor and film-maker Gross, whose previous movie, the 2008 romantic drama Passchendaele, also premiered at TIFF. Opening in Canada through Elevation Pictures on October 9, Hyena Road stars Rossif Sutherland, last seen in the Sundance horror film Hellions.
International contact: WTFilms, gregchambet@gmail.com
US contact: CAA info@caa.com
Legend (UK)
Dir Brian Helgeland
Tom Hardy puts in a heavyweight performance portraying twin brothers Ronnie and Reggie Kray, the notorious organised-crime duo who ruled London's East End in the 1960s, in this biographical drama from the Payback director and Oscar-winning writer of LA Confidential. With the UK release scheduled for September 11, prior to the first TIFF screening, Legend will make its international premiere in Toronto.
Contact: StudioCanal, anna.marsh@studiocanal.com
The Man Who Knew Infinity (UK)
Dir Matt Brown
Dev Patel stars as early 20th-century Indian maths genius Srinivasa Ramanujan, alongside Jeremy Irons and newcomer Devika Bhise. The second feature from UK director Brown, who also wrote the screenplay, is based on Robert Kanigel's biography and produced by Ed Pressman. It follows hot on the heels of two other UK period dramas about academic geniuses - The Imitation Game and The Theory Of Everything - both of which played at TIFF last year.
International contact: Mister Smith Entertainment info@mistersmithent.com
US contact: CAA info@caa.com
The Martian (US)
Dir Ridley Scott
Holding its world premiere in Toronto, Ridley Scott's sci-fi thriller features Matt Damon as an astronaut stranded on Mars by a fierce storm. This is Scott's first film to play in Toronto since A Good Year premiered at the festival in 2006. Damon has visited the festival several times, most recently accompanying Inside Job and Hereafter in 2010.
Contact: 20th Century Fox, www.foxmovies.com
Miss You Already (UK)
Dir Catherine Hardwicke
Drew Barrymore and Toni Collette play two lifelong friends who have their relationship tested when one of them receives the life-altering news that she has a malignant tumour. Also starring Dominic Cooper and Paddy Considine, the film has been sold across Europe, Asia and the US following a Cannes market screening in May.
Contact: The Salt Company, info@salt-co.com
The Program (UK)
Dir Stephen Frears
Frears follows up his 2013 hit Philomena with this biopic about disgraced cyclist Lance Armstrong. Ben Foster stars as Armstrong and Chris O'Dowd plays David Walsh, an Irish journalist investigating the cancer survivor's domination of the Tour de France (the film is based on Walsh's book Seven Deadly Sins). The cast also features Lee Pace, Guillaume Canet and Dustin Hoffman. The Working Title production was formerly titled Icon. John Hodge (Trainspotting, The Beach) adapted Walsh's book.
Contact: StudioCanal, anna.marsh@studiocanal.com
Septembers Of Shiraz (US)
Dir Wayne Blair
Australian director Blair's first feature since The Sapphires - which also screened at TIFF - is a drama about a wealthy, secular Jewish family who live through the Iranian Revolution in 1979. Salma Hayek, Adrien Brody and Shohreh Aghdashloo star in the film, which is based on the bestselling memoir by Dalia Sofer. Millennium Films' Nu Boyana studios in Bulgaria hosted the shoot.
Contact: Millennium Films, info@millenniumfilms.com
Stonewall (US)
Dir Roland Emmerich
Blockbuster king Emmerich returns to the more-modestly scaled terrain of 2011 Toronto premiere Anonymous. Set against Greenwich Village's 1969 Stonewall riots, a pivotal event in the gay-rights movement, the film stars Jeremy Irvine as a hick from the sticks who is embraced by the misfits at the Stonewall Inn. The cast also includes Jonathan Rhys Meyers, Ron Perlman, Caleb Landry Jones and Joey King, with a screenplay by Brothers & Sisters creator Jon Robin Baitz.
Contact: Goldcrest, contact@goldcrestfilms.com