Documentary De Palma by Noah Baumbach and Jake Paltrow to screen out of competition.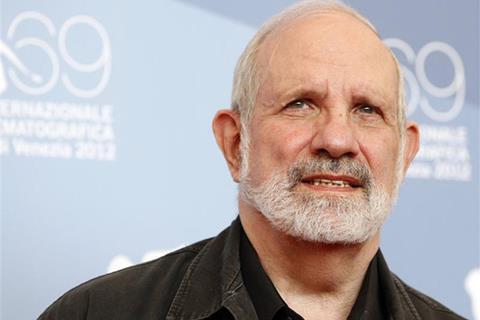 Brian De Palma, the US director of Scarface, Carrie and Carlito's Way, is to receive the Venice International Film Festival's Jaeger-LeCoultre Glory to the Filmmaker 2015 Award, dedicated to those who have made significantly original contributions to contemporary cinema.
The award will be given to De Palma on Sept 9 in the Sala Grande (Palazzo del Cinema) and will be followed by the world premiere of documentary De Palma, directed by Noah Baumbach and Jake Paltrow. The film is billed as an intimate conversation between filmmakers, chronicling De Palma's 55-year career, his life, and his filmmaking process.
De Palma has previously presented seven films at Venice, the first being crime thriller Blood Sisters in 1975.
In 1981, De Palma screened Blow Out in the section Mezzogiorno/Mezzanotte; in 1987, The Untouchables, out-of-competition; in 1992, Raising Cain, the closing film in competition; in 2006, The Black Dahlia, the opening film in competition; in 2007, Redacted, in competition and the winner of the Silver Lion; and in 2012, Passion, in competition.
Festival director Alberto Barbera said: "The child of an artistic era (the '70s) full of innovative ferment, Brian De Palma has made a name for himself as one of the most skillful directors in constructing perfect narrative mechanics with great creative freedom, experimenting with new technical solutions, rejecting the classic rules of the language, abandoning himself to aesthetic virtuosity, and celebrating his favorite authors.
"When watching a movie by Brian De Palma, we revert to being basic spectators. Although our eyes are wide open to avoid falling into the trap, we know full well we're bound to fall into it anyway.
"De Palma's cinema is playful to the nth degree; it is a pleasure for the eyes and at the same time a game that tantalizes the cinéphile.
"He has never lost the curiosity of the experimenter as he reinvents the already-seen, and when it comes to constructing and manipulating images, this fundamental trait makes De Palma one of the greatest innovators who came of age in the shadow of the New Hollywood."
Born in 1940, De Palma studied film in New York. In 1963, he directed The Wedding Party, giving 20-year-old Robert De Niro his first film role. Psychological horror Carrie, starring Sissy Spacek and based on the Stephen King novel, was his first big success in 1976.
To date, De Palma has directed more than 30 films, including The Untouchables (1987) with Robert De Niro, Kevin Costner and Sean Connery; Mission Impossible (1996) with Tom Cruise; and Scarface (1983) with Al Pacino.
The filmmaker has directed stars including John Travolta, Melanie Griffith, Tom Hanks and Sean Penn, and is famous for psychological thrillers, often recalling works by the directors who have influenced him, in particular Alfred Hitchcock.
Among the actors De Palma has directed, three have received Oscar nominations: Sissy Spacek (best actress, Carrie), Piper Laurie (best supporting actress, Carrie) and Sean Connery (best supporting actor, The Untouchables), who received the Oscar for his performance.