The digital platform is understood to have paid low to mid-seven figures for global streaming rights to Mike Flanagan's follow-up to Oculus ahead of Saturday's world premiere in Austin, Texas.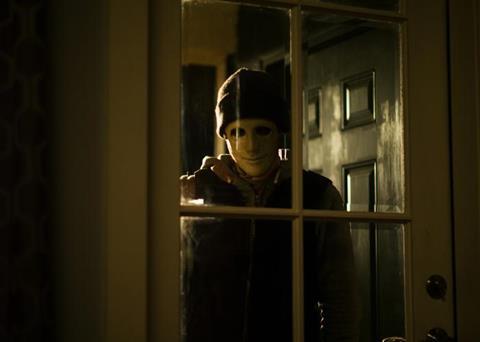 Netflix will make Hush available on April 8 and had shown interest ever since WME Global staged a buyers screening in Toronto last September.
A number of buyers including studios and day-and-date distributors pursued the story starring Kate Siegel as a deaf-mute woman stalked by a killer in her remote woodland home.
John Gallagher Jr, Michael Trucco, and Samantha Sloyan round out the key cast.
Siegel wrote the screenplay with Flanagan, who explained in an interview with Screendaily how the pair conceived the idea over dinner as they discussed Wait Until Dark, the 1967 horror starring Audrey Hepbrun as a blind woman terrorised by intruders.
"[Kate] talked about waking up late at night and looking at the sliding glass doors in her bedroom, and always being afraid that she'd see someone standing outside, looking back at her," Flanagan told Screendaily.

"That was such a universal fear. That really started the ball rolling, and once we began discussing trying to execute that type of cat-and-mouse thriller in a world without dialogue, we had the bones for the movie figured out. I think we had most of it locked down before dessert arrived."
Intrepid Pictures' Trevor Macy and Blumhouse Productions' Jason Blum produced Hush, while Michael J Fourticq Sr, Jeanette Brill, Kate Lumpkin and Couper Samuelson served as executive producers.
"We're excited that Netflix is our platform to connect this movie with audiences around the globe," said Macy.
Blum added, "Hush is a great example of what happens when you give an incredible film-maker like Mike Flanagan creative freedom to tell a fun and original scary story. We had a great time continuing our relationship with Mike and Intrepid and are psyched to share Mike's movie with genre lovers all over the world on Netflix."
Flanagan wrote and directed Oculus for Intrepid, which Blumhouse acquired at the 2013 Toronto International Film Festival.
He co-wrote and is directing Blumhouse's Ouija 2, and recently collaborated with Intrepid on Before I Wake (formerly known as Somnia), starring Jacob Tremblay from Room, Kate Bosworth, and Thomas Jane.