EXCLUSIVE: Golden Bear contender Werner Herzog is eying an April start on Salt And Fire, his Queen Of The Desert follow-up that is generating heat for sales agent International Film Trust.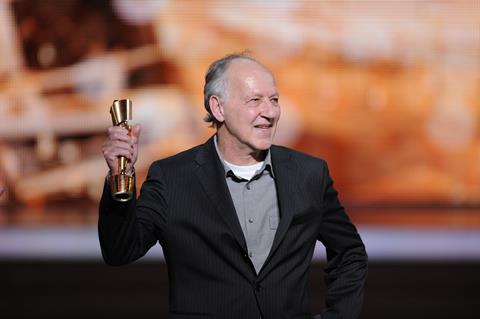 German actress Veronica Ferres (Klimt) will star in the romantic thriller about a scientist in South America who clashes with the head of the corporation responsible for an ecological disaster.
When she learns of the potential eruption of a supervolcano in the region, the scientist teams up with her nemesis to avert a global catastrophe.
Herzog wrote the script and will produce with his Queen Of The Desert collaborator and Margin Call producer Michael Benaroya alongside Nina Maag of Construction Film and Canana Films' Pablo Cruz. CAA represents US rights.
The producers plan to shoot Salt And Fire on the Bolivian salt flats.
"I couldn't be more pleased to be endeavouring on another journey with Werner Herzog," said Benaroya, a backer of IFT.
"He is a truly special film-maker and person. I believe this project will exceed the high expectations that come with any film he directs."
In an interview with Screen, Herzog confirmed the project and said: "It [Queen Of The Desert] was a very pleasant collaboration with Michael Benaroya. Michael is a young man of great human depth. It's good to work with a man like that."
"Veronica is a talented actress who brings integrity to every role she is in and is perfectly cast as Laura in what will be a visually stunning film," said IFT president Christian de Gallegos.
Meanwhile, US buyers were last night circling Herzog's Berlinale competition entry Queen Of The Desert starring Nicole Kidman, Robert Pattinson and James Franco.
The film premiered on Friday in Germany and CAA staged a screening back in Los Angeles.