Matt Mueller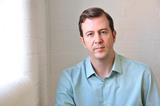 Screen International's editor, based in London.
Contact Info
Matt Mueller
Editor
Screen spoke to Alison Thompson, Gabrielle Stewart and Stephen Kelliher.

See-Saw co-founders Iain Canning and Emile Sherman tell Matt Mueller what goes into sustaining one of the industry's hottest independent production houses.

Screen's editor Matt Mueller discusses the US travel ban controversy.