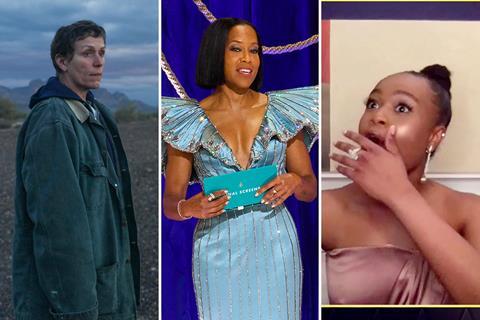 When a festival launch works, it really works
It was a long awards journey to the podium for Nomadland, through an extended corridor and a perilous plague: a true hero's journey. Its premiere in Competition at Venice in early September was a risky gamble for Searchlight Pictures: with more than two extra months on the race, would voters forget Chloé Zhao's delicate film, Frances McDormand's true performance, the rapturous reviews? And what if, through the vagaries of the jury, it had come away from the Lido with no awards? (It won the Golden Lion.) There might have been a very different outcome.
(It's worth noting that in a moment of festival solidarity, Nomadland had a simultaneous screening at Toronto, and also went to Telluride and NYFF.)
Festival strategy is a huge risk for independent-minded films, which take such huge risks themselves. But when it works – Nomadland, Parasite (Cannes), Moonlight (Toronto's Platform section), to take three recent Oscar-winning examples – it works in the best possible way. No matter the deep pockets of streamer awards campaigns, or exhaustive talent meet-and-greets, a set of laurels from one of the world's top festivals carries an enormous amount of weight and respect.
Nomadland was the starriest project back at a Covid-19 restricted Venice in September 2020 – with only two professional actors, neither of whom attended. Yet it continued the festival's astonishing recent run of awards success (The Shape Of Water also won best picture, and La La Land and Gravity started their careers on the Lido). In an odd twist of fate, given the festival's much-publicised spotty form with the inclusion of female directors, the last woman to win an Oscar for best director, Kathryn Bigelow, also saw her film, The Hurt Locker, premiere at Venice.
Many streamers, most notably Netflix, kept their films away from festivals last year. That's something they may not care to repeat. And as for Alberto Barbera, it's just a cap on a magical moment for the festival, which dared to put on a show, and kept on winning.
Netflix wins big, without winning the big one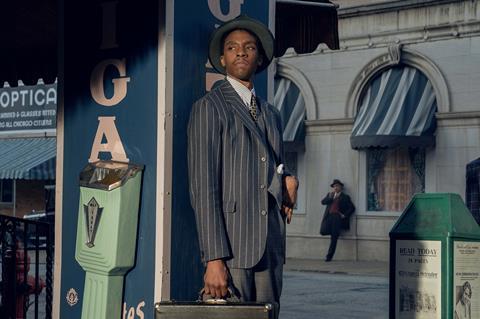 One might think the prevailing mood in Netflix HQs from Los Angeles to Amsterdam after this year's Oscars might be one of disappointment, but that's to overlook the company's long-term strategy in the awards game, which is all about keeping subscriber numbers buoyant and continuing to attract the crème de la crème of filmmaking talent.
Sure, smiles would have been wider had Netflix taken home any of the big prizes it was competing for – and there will be regret for sure that an evening leading up to Chadwick Boseman's anointment as best actor didn't pan out as hoped. But two craft wins apiece for Mank (cinematography, production design) and Ma Rainey's Black Bottom (costume design, make-up and hairstyling) and the documentary feature victory for My Octopus Teacher still represents a potent showing for the company, which will in any case ultimately derive more benefit from the multitude of nominations its films received (36 in total) rather than the relatively few it converted on the night.
Netflix has made itself one of the most powerful competitors of these past few awards season, although it will struggle to parse any particular lessons about how to make itself more competitive in the big six categories (film, director and the four acting strands) beyond noting Academy voters are keen to embrace films that seem to define "cinema" (as vague as that terms has become): Nomadland this year, Parasite last year… and when Green Book triumphed over Netflix's arguably more cinematic Roma as best picture in 2019, the industry was at that stage extremely resistant to the streaming giant as a disruptive player in its midst.
And while being willing to fund long-stewing passion projects from brilliant filmmakers such as David Fincher (with Mank) and Martin Scorsese (The Irishman) is admirable, there comes with that the risk of indulgence and, ultimately, creative letdown – these projects couldn't find their lavish funding elsewhere, perhaps for good reason.
But again, Netflix's desire for great creators to view it as the first port of call for their trickier projects runs deep and the chance for it to pay dividends will always exist. For the next awards season, Netflix will be competing as vigorously as ever – with titles including Jane Campion's The Power Of The Dog, Adam McKay's Don't Look Up, Halle Berry's Bruised and western The Harder They Fall – and its day for winning Oscar's top prize will very likely come.
Despite wildly different nominees, Bafta and Oscar voters opt for the same winners
Considering the vast number of changes to the processes of the Bafta Film Awards, which produced a set of nominations that left many in the US scratching their heads, the extraordinary amount of overlap between the actual wins at Bafta and at Oscar represent a stunning outcome. Not only is Bafta best film winner Nomadland also the Oscar best picture winner – ending a six-year run when the wins were misaligned – but the awards also matched up in director, both screenplays, all four acting categories, documentary feature, animated feature, international feature (film not in the English language, in Bafta parlance) plus seven craft categories.
Among prizes for feature films awarded at both ceremonies, the wins matched in 18 out of 19 instances, producing different outcomes only in the case of cinematography: Nomadland's Joshua James Richardson winning at Bafta, and Mank's Erik Messerschmidt at Oscar. (NB, Bafta doesn't have a best song category, unlike Oscar. Bafta has a casting category, but Ampas doesn't.)
Considering the wild disparity in the nominations – for example, only 10 of the 20 Oscar acting nominees were nominated by Bafta – this match-up in the wins surely ranks as a surprise. And it suggests that, whatever the particular curated tastes of Bafta juries, which this year determined the nominations in the director and acting categories, when it comes to picking winners, the voting academies of Bafta and Oscar are more aligned than ever. At least, in this particular year, where the release calendar was disrupted by Covid-19, resulting in a notably indie-flavoured field of contenders.
The overlap between Bafta and Oscar wins stands in marked contrast to the Golden Globes, where The United States Vs. Billie Holiday's Andra Day and Ma Rainey's Black Bottom's Chadwick Boseman won the prizes for drama acting, and The Mauritanian's Jodie Foster won supporting actress. Only Judas And The Black Messiah's Daniel Kaluuya was an acting winner at all ceremonies.
At the Screen Actors Guild awards, the individual wins went to Boseman, Ma Rainey's Black Bottom's Viola Davis, Kaluuya and Minari's Yuh-Jung Youn, matching Oscar in two out of four cases. SAG's best cast ensemble winner The Trial Of The Chicago 7 went away empty-handed at Oscar.
Timing may have proved a factor. Among these various ceremonies, the Bafta Film Awards are closest to the Oscars – just two weeks before. And with the Bafta ceremony timed for April 11, four days before final Oscar voting opens, the UK academy's awards are seemingly best positioned to impact Ampas voters.
This year, both Bafta and Oscar successfully moved on from the shaming dominance of white actors in their 2020 nominations. In Bafta's case, the revisions in voting processes should ensure the change remains permanent. Both sets of awards benefited from strong titles this year that foregrounded actors of colour.
Next time around, with more films in the mix from major studios, the awards season outcome may look different, and Bafta and Oscar may progress down divergent paths. For now, Bafta's claim to be the most accurate bellwether of Oscars success is confirmed.
Pandemic-era awards shows need a rethink
The organisers of all this year's film award ceremonies, be they virtual or in-person, deserve immense credit for staging them at all during such difficult times. However, what the pandemic era has proved is that awards shows without red carpets or auditoriums filled with celebrity guests feel very strange indeed as televised spectacles.
The Golden Globes' glitchy, Zoom-heavy broadcast was lambasted by critics, and reached a nadir when Daniel Kaluuya delivered his speech on mute (not a good look for the beleaguered HFPA at the moment). Meanwhile the Baftas, staged at a mostly empty Royal Albert Hall, confused TV viewers with its "canned laughter" that was actually an unseen Greek chorus of real people reacting remotely, and gave no screen time at all to the dressed-up, bejewelled nominees.
The Academy Awards, by virtue of having 170 guests in the room, was perhaps closest to the real thing, though it still felt flat.
TV viewership for the first two events was way down on previous years (the Oscar ratings have not been released at time of writing) – perhaps in part due to general viewers' unfamiliarity with many of the still-unreleased nominated titles, as well as the strange TV formats. However, viewing figures for film awards shows have been steadily declining for years. The pandemic – as in many other areas of life – is merely accelerating pre-existing trends.
If next year's shows face similar restrictions (or even if they don't), producers could surely look into doing more to inform casual viewers about the nominated titles, or making these events feel more interactive by leveraging the huge amount of social-media buzz they still generate. Because despite the challenges, film awards shows still have the power to throw up powerful moments of genuine human emotion. Memorable instances from this year include Frances McDormand's wolf howl tribute to late Nomadland sound mixer Michael Wolf Snyder, Regina King's Oscars' opening powerwalk, or perhaps best of all, the stunned look on Bukky Bakray's face when she won the Rising Star award at the Baftas.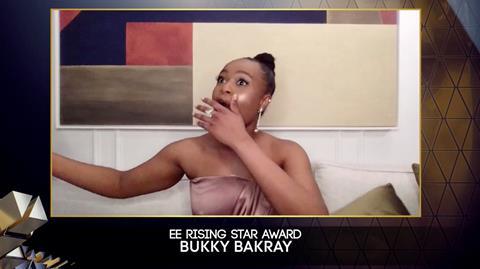 All eyes now on the UK box office
Traditionally, awards season has been a key driver of box-office success for films dated in the calendar in the hope of wins and nominations. Without the Oscars and Baftas, the box-office peaks achieved by the likes of The King's Speech, Slumdog Millionaire and La La Land would never have been reached. This year, cinemas in key markets – including virtually the whole of Europe – have not been open to capitalise on nominations, and instead streaming and digital services have reaped the benefits.
The exception is the UK. Cinemas are set to reopen in England and Scotland on May 17 – propitious timing for films granted an Oscar halo. One big winner looks set to be Nomadland, currently available in the UK only on Disney+ Star. The audience that exists for Chloé Zhao's road movie doesn't necessarily subscribe to Disney+, and is likely in any case to prefer to see it on the big screen, where it arrives on May 17.
It will be joined there by Sound Of Metal, available now in the UK only to Amazon Prime Video customers (and from May 31 on Blu-ray and on digital to rent or buy via Sony Pictures Entertainment); by Minari; and by a number of titles positioned for awards season, but only modestly nominated, such as Ammonite.
One notable omission will be Promising Young Woman, which landed exclusively on Sky Cinema on April 16. At time of writing, there were no plans for the film to be made available to UK theatres. Universal had originally been set to release the title, which was acquired by its specialty division Focus Features, in the UK. Sky Group and Universal are both owned by Comcast.
This year, Bafta relaxed its regular rule demanding that films submitted for the awards should release in the UK ahead of the ceremony. Titles likely to benefit include Lionsgate's The Father, which arrives in UK cinemas on June 11, and Studiocanal's Another Round, landing July 2.
Unlike previous awards seasons, these films will not be competing with lots of other awards-bait titles all vying for the same screens at independent and boutique cinemas. Instead, The Father will complement multiplex-friendly genre titles in the market such as Nobody and The Unholy, while Another Round faces off against sci-fi drama Voyagers, and lands a week before franchise titles Black Widow and Fast & Furious 9.
Programmers at the likes of Picturehouse and Curzon, who in the past have had to wrench off nominated titles in the run-up to the Bafta ceremony to make way for yet more new releases, will be thankful to have been spared their annual programming headache.