Dir: Valery Todorovsky. Russia, 2008. 125 min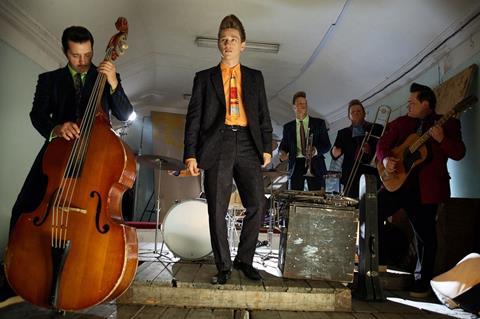 An energetic, impressive production already garlanded with four Nikas (the Russian Oscar) for best film, production design, costumes and sound, Valery Todorovsky's attempt to revive the immediate post-Stalinist era may appeal initially to Russian audiences, but should easily navigate international markets after an enthusiastic reception at Karlovy Vary.
A portrait of a grim period, Hipsters is almost a Russian version of Grease - as fanciful and unrealistic as its American counterpart, but with more of a political subtext to sustain it. It's set way back in 1955, when, in an attempt to establish their independence against the backdrop of grey uniformity surrounding them, young Russian rebels ("hipsters") copied American fashions, hairdos and slang. Featuring a cast of young energetic hopefuls and several seasoned veterans in cameo roles (Sergey Garmash, Oleg Yankovsky), critics might carp that Hipsters offers perhaps an overly gentle and forgiving image of that time, hiding behind colorful sets and costumes which border on caricature. But general audiences are likely to be much more forgiving.
Hipsters centres around a shy, nerdy Communist youth (komsomolchik) called Mels, played by Anton Shagin, who falls for luscious blonde hipster Polya (Akinshina) and turns his back on his pretty but strict brigade commander girlfriend (Brik). He takes up the tenor saxophone instead, raises some hell of his own and ends up marrying his blonde bombshell and even having an unlikely child with her before Todorovsky wraps it all up in a rousing finale.
Hipsters' score, a lively mélange of updated Soviet hits and fresh numbers written specially for the film, pumps away energetically, while clever art direction blends real-life locations with studio sets to create a world apart. Throughout it all, the cast seems to be having the time of its life.
Production Company
Red Arrow Company
Producers
Leonid Lebedev
Leonid Yarmolnik
Vadim Goryainov
Valery Todorovsky
International Sales
Central Partnership
+ 7 495 777 4961
Screenplay
Yuri Korotkov
Cinematography
Roman Vasyanov
Production design
Vladimir Gudilin
Editing
Alexei Bobrov
Music
Konstantin Meladze
Main Cast
Oksana Akinshina
Anton Shagin
Evgeniya Brik
Maksim Matveev
Oleg Yankovsky
Sergey Garmash