Pride, Catch Me Daddy, Frank and Mr Turner also score multiple nominations at the British Independent Film Awards, where Benedict Cumberbatch and Timothy Spall will compete for best actor. The King's Speech director Tom Hooper to chair jury.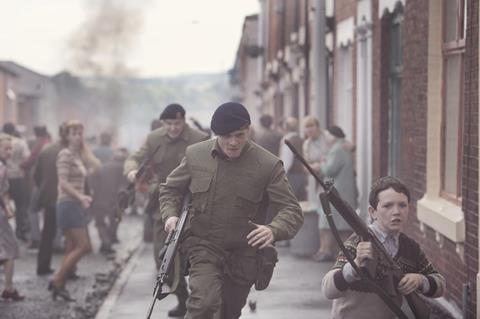 Scroll down for full list of nominees
Yann Demange's '71 leads the nominations for the 17th Moët British Independent Film Awards, announced today in London by actor Jared Harris.
The thriller, about a British soldier on the run through the dangerous streets of 1971 Belfast, scored nine nominations including: Best British Independent Film; Best Director and Debut Director for Demange; Best Screenplay for Gregory Burke; Best Actor for Jack O'Connell and Best Supporting Actor for Sean Harris.
The film first launched at Berlin in February and won the Golden Athena at the Athens International Film Festival in September.
'71 will go up against Calvary, Mr Turner, Pride and The Imitation Game for the top prize.
Matthew Warchus's gay activist drama Pride picked up seven nominations while Mike Leigh's Mr Turner, Lenny Abrahamson's Frank and Daniel Wolfe's feature debut Catch Me Daddy picked up five nods apiece.
Nominations for Best Actress go to Alicia Vikander for Testament Of Youth; Cheng Pei Pei for Lilting; Gugu Mbatha-Raw for Belle; Keira Knightley for The Imitation Game and Sameena Jabeen Ahmed for Catch Me Daddy.
Leading men hoping to take home the Best Actor award include Asa Butterfield for X+Y; Benedict Cumberbatch for The Imitation Game; Brendan Gleeson for Calvary; Jack O'Connell for '71 and Timothy Spall for Mr Turner.
Best Supporting Actor nominations go to Andrew Scott and Ben Schnetzer, both for Pride; Michael Fassbender for Frank; Rafe Spall for X+Y and Sean Harris for '71.
Dorothy Atkinson for Mr Turner; Imelda Staunton for Pride; Maggie Gyllenhaal for Frank; Sally Hawkins for X+Y and Sienna Guillory for The Goob are all nominated for the Best Supporting Actress Award.
Directors who have delivered debuts this year and are competing for the Douglas Hickox Award are Daniel Wolfe and Matthew Wolfe for Catch Me Daddy; Hong Khaou for Lilting; Iain Forsyth and Jane Pollard for 20,000 Days On Earth; Morgan Matthews for X+Y and Yann Demange for '71.
The Raindance Award nominees for 2014 include: Flim: The Movie; Gregor; Luna; Keeping Rosy and The Beat Beneath My Feet. This award honours exceptional achievement for filmmakers working against the odds, often with little or no industry support.
Elliot Grove, founder of Raindance Film Festival and the BIFAs said the nominations indicated "a bumper year for British films".
The pre-selection committee of over 70 members viewed more than 250 films this year, out of which they selected the nominations, which were decided by ballot.
The winners will be decided by a jury chaired by Tom Hooper, director of Oscar, Bafta and BIFA winner The King's Speech.
The jury will comprise Jonathan Romney, Jon S Baird, Luke Treadaway, Mary Burke, Sean Ellis, Shira Macleod, Stanley Tucci, Thea Sharrock, Tinge Krishnan, Tracy O'Riordan and Zawe Ashton.
The winners will be announced at an awards ceremony on Dec 7 at Old Billingsgate in London.
As announced in September, it will mark the final awards for the long-standing BIFAs directors, Johanna von Fischer and Tessa Collinson.
In a joint statement, the pair said: "It will be a very personal celebration for us also, as the last in a wonderful nine award ceremonies as joint directors of BIFA."
BIFA nominations
BEST BRITISH INDEPENDENT FILM
Sponsored by Moët & Chandon
'71
Calvary
Mr Turner
Pride
The Imitation Game
BEST DIRECTOR
Sponsored by AllCity & Intermission
John Michael McDonagh – Calvary
Lenny Abrahamson – Frank
Matthew Warchus – Pride
Mike Leigh – Mr Turner
Yann Demange – '71
THE DOUGLAS HICKOX AWARD [BEST DEBUT DIRECTOR]
Sponsored by 3 Mills Studios
Daniel Wolfe, Matthew Wolfe – Catch Me Daddy
Hong Khaou – Lilting
Iain Forsyth, Jane Pollard – 20,000 Days on Earth
Morgan Matthews – X+Y
Yann Demange – '71
BEST SCREENPLAY
Sponsored by BBC Films
Graham Moore – The Imitation Game
Gregory Burke – '71
John Michael McDonagh – Calvary
Jon Ronson, Peter Straughan – Frank
Stephen Beresford – Pride
BEST ACTRESS
Sponsored by M.A.C Cosmetics
Alicia Vikander – Testament of Youth
Cheng Pei Pei – Lilting
Gugu Mbatha-Raw – Belle
Keira Knightley – The Imitation Game
Sameena Jabeen Ahmed – Catch Me Daddy
BEST ACTOR
Sponsored by Movado
Asa Butterfield – X+Y
Benedict Cumberbatch – The Imitation Game
Brendan Gleeson – Calvary
Jack O'Connell – '71
Timothy Spall – Mr Turner
BEST SUPPORTING ACTRESS
Dorothy Atkinson – Mr Turner
Imelda Staunton – Pride
Maggie Gyllenhaal – Frank
Sally Hawkins – X+Y
Sienna Guillory – The Goob
BEST SUPPORTING ACTOR
Sponsored by St Martins Lane
Andrew Scott – Pride
Ben Schnetzer – Pride
Michael Fassbender – Frank
Rafe Spall – X+Y
Sean Harris – '71
MOST PROMISING NEWCOMER
Ben Schnetzer – Pride
Cara Delevingne – The Face of An Angel
Gugu Mbatha-Raw – Belle
Liam Walpole – The Goob
Sameena Jabeen Ahmed – Catch Me Daddy
BEST ACHIEVEMENT IN PRODUCTION
'71
20,000 Days on Earth
Catch Me Daddy
Lilting
The Goob
BEST TECHNICAL ACHIEVEMENT
Chris Wyatt - Editing - '71
Dick Pope - Cinematography - Mr Turner
Robbie Ryan - Cinematography - Catch Me Daddy
Stephen Rennicks - Music – Frank
Tat Radcliffe - Cinematography - '71
BEST DOCUMENTARY
20,000 Days on Earth
Next Goal Wins
Night Will Fall
The Possibilities Are Endless
Virunga
BEST BRITISH SHORT
Crocodile
Emotional Fusebox
Keeping Up With The Joneses
Slap
The Kármán Line
BEST INTERNATIONAL INDEPENDENT FILM
Blue Ruin
Boyhood
Fruitvale Station
Ida
The Badadook
THE RAINDANCE AWARD
Flim: The Movie…
Gregor
Luna
Keeping Rosy
The Beat Beneath My Feet
THE RICHARD HARRIS AWARD (for outstanding contribution by an actor to British Film)
TBA
THE SPECIAL JURY PRIZE
Announced at the awards on Dec 7