Production designer Adam Stockhausen tells Andreas Wiseman about the 'extreme' move from 12 Years A Slave to The Grand Budapest Hotel and the challenges of capturing Wes Anderson's unique vision.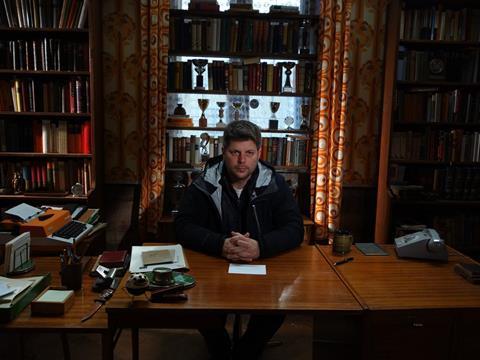 Between summer 2012 and winter 2013, production designer Adam Stockhausen transitioned from the sweltering Louisiana heat of Steve McQueen's hard-hitting slavery drama 12 Years A Slave (for which Stockhausen was Oscar nominated) and the freezing eastern Europe of Wes Anderson's spectacular adventure comedy The Grand Budapest Hotel, the winner of the Golden Globe for best motion picture, musical or comedy.
It also scored nine Oscar nominations, including one for Stockhausen.
While the enviable leap meant collaborating with two of the world's great contemporary film-makers, the shift in tone could not have been greater.
"It was pretty extreme," recalls Wisconsin native Stockhausen. "The subject matter and geography of both films were so different. It was a real shift and it came all of a sudden.
"I would have started earlier on Grand Budapest but we were still finishing 12 Years so I had to do a real quick catch-up. I flew straight over to Germany within a couple of days [of 12 Years ending]."
The big picture
Despite having developed a shared vocabulary with the famously distinctive and stylised Anderson through collaboration on Moonrise Kingdom and The Darjeeling Limited (as well as on various commercials), the scale and pace of The Grand Budapest Hotel immediately appealed to the designer.
"The script, and the movie, is big from a scenery point of view," he says. "You can tell that on the page. I was thinking, 'Wow, there's a lot of stuff here.' There's a huge hotel, two different periods, all those chases, the observatory, the train stations… it felt big right off the bat."
Anderson and the art department referenced far and wide for the comedy, which charts the adventures of Gustave H - a legendary concierge at a famous hotel in the fictional Republic of Zubrowka, set between the two World Wars - and Zero Moustafa, the lobby boy he befriends.
"It started at the obvious places like looking at historical hotels, tons and tons of them. We also looked at a ton of Photochrom postcards, of old railway hotels in Europe, in somewhat obscure places. They presented a view of Europe that wasn't just 'Eiffel Tower and Big Ben Europe' but showed travelogues across the mountains and different areas that you're not used to seeing every day."
Anderson's eclectic film knowledge inevitably influenced the look of the film. "We were looking at all kinds of stuff, from Ernst Lubitsch's The Shop Around The Corner to Max Ophüls' The Earrings Of Madame De… and a number of musicals. We looked at the Bergman film The Silence and Hitchcock's Torn Curtain. We were looking at all sorts of different things," Stockhausen says.
Saxony, in Germany, provided many of the key locations, including the film's stunning centrepiece hotel, which is represented in both the 1960s and 1930s. "We built the '60s lobby literally as a shell inside the '30s lobby set and shot it in reverse order," explains Stockhausen.
The director's penchant for miniatures - which feature heavily - chimed well with Stockhausen's background in theatre design.
"That was really great," says Stockhausen, who worked in regional theatre before progressing to Broadway and then feature films.
"We had done a little bit of it on Moonrise Kingdom and then here it really became a major part of the vocabulary of the film. We had a whole miniature workshop going, led by Frank Schlegel and Simon Weisse. They were just amazing."
Design classics
The density and intricacy of the film's visual palette is perhaps best embodied by the plentiful and pristine Mendl's cake boxes that slide from flat to a perfect cube at the tug of a ribbon, a process that took months to design.
But such feats are common in Anderson's work, with almost every scene a treasure trove of pattern and eye-catching design.
"I loved the scene when the characters are racing to catch a train," Stockhausen enthuses. "Bill Murray's car zooms underneath an overpass and then zooms in from the left-hand side of frame. A train comes in from the right-hand side of frame, and our guys run across and hop on the train.
"It's a total trick shot we did with two cars and a cardboard cutout train on a dolly track that we pushed in from the side. On this quick a schedule, we couldn't deal with going to a real train station in the middle of nowhere and renting a period train.
"It's the kind of thing where you're crossing your fingers and hoping it all works out, which it did," he continues. "When those tricks work, it's a lot of fun."
The riotous on-screen delight of Anderson's films also permeates life on set, says the production designer. "We all stayed in the same hotel and ate a lot of our meals together. It's definitely exhausting but there's a lot of humour and a lot of lightness, and a lot of the returning cast and crew have known each other for a long time so there are some great relationships. It's a really great atmosphere."
As for Stockhausen, his reputation continues to soar. Last year the in-demand craftsman worked on Noah Baumbach's While We're Young and he recently wrapped on Steven Spielberg's untitled cold war spy thriller starring Tom Hanks.