Kechiche's Adele wins best film and best director. Best francophone, foreign film goes to Ayouch's Horses Of God.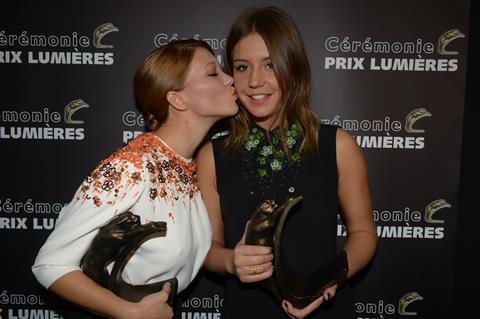 Abdellatif Kechiche's Adele: Chapters 1 & 2 (aka Blue is the Warmest Colour) was the top winner at the Lumière Awards, France's version of the Golden Globes judged by the international press community in Paris, on Monday evening (20).
Kechiche's passionate lesbian love story, which has ignited the public and critics at home and abroad, clinched best film and best director.
The special jury prize went to Rebecca Zlotowski's gritty romance Grand Central, set against the backdrop of a nuclear power station.
Other titles in the running for best film included 9-Month Stretch, Grand Central, Mood Indigo, Quai d'Orsay and Renoir.
The previous two winners of best film at the Lumières, The Artist and Amour, went on to triumph at the Oscars. Adele, however, was not submitted for Academy Awards consideration. France instead put Renoir forward this year.
In other prizes for Adele, Léa Seydoux won best actress for her performances as the film's blue-haired co-protagonist Emma and a power station worker in Grand Central.
Seydoux's Adele co-star Adèle Exarchopoulos was feted with the best female discovery prize.
In other awards, actor Guillaume Gallienne won best actor for his performance in Me, Myself And Mum, a big screen adaptation of his autobiographical, one-man comedy show about his complicated relationship with his mother.
Gallienne also picked up the award for best first film, which was renamed this year in memory of respected German-French critic Heike Hurst, who passed away in December.
Best male discovery of the year went to Raphaël Personnaz for his performances in Bertrand Tavernier's political satire Quai d'Orsay and Daniel Auteuil's Marius.
Best screenplay or adaptation went to David Ives and Roman Polanski for their big screen version of the former's Broadway hit Venus In Fur starring Emmanuelle Seigner and Mathieu Amalric.
Best French-language foreign film went to Moroccan director Nabil Ayouch's Horses Of God (Les Chevaux de Dieu), inspired by the 2003 terrorism attacks in Casablanca.
Thomas Hardmeier picked up best cinematography for his work on Jean-Pierre Jeunet's T S Spivet. The Swiss-French director of photography's other recent credits include Jalil Lespert's Yves Saint Laurent. The award is sponsored by French technicians body, the CST.