The Mexican director of Birdman talks to Jeremy Kay about his tortured creative process and his original vision of a man floating in his underwear.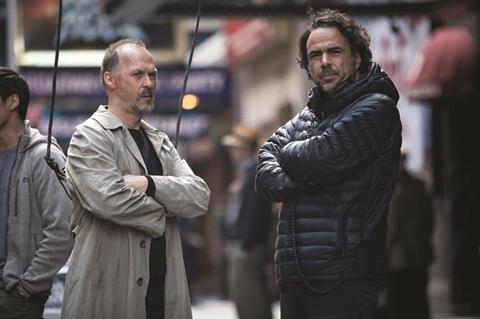 After making Biutiful, his fourth intense and torrid tale in a row, Alejandro G Inarritu (he has quietly dropped the middle name Gonzalez) craved a change of tone.
"I was a little bit tired of drama," admits the Mexican auteur, wrapped in a sweater, ensconced in the Four Seasons hotel bar in Beverly Hills on a mid-December afternoon.
"I was tired doing what I knew I could do, for better or worse. That state of mind, I don't like. I like to be challenged."
Birdman provided that challenge. The dark comedy about an actor's quest for professional and personal respect bristles with rapid-fire dialogue and bravura camerawork and is utterly unlike anything Inarritu has ever done.
"I really went to something that I didn't know, with a new team, with a new approach, with sets I'd never built, with a new musician," says Inarritu of the film.
Soaring success
The new direction has paid off, with Birdman garnering 10 Bafta nominations, nine Oscar nominations, two Golden Globe wins and a US gross to January 11 of $26.3m through Fox Searchlight in the US.
Birdman sees former Batman star Michael Keaton play a former superhero actor on the comeback trail. Keaton has firmly rejected the notion the film is about him and said, in these pages, the story is much more about Inarritu.
Inarritu ponders for a second - a relatively long pause, as it turns out. "My creative process has always been very tortured," he says. "It's always the fact of questioning yourself. You put something out there and then you question it. That's a necessity.
"We are extraordinarily contradictory and my creative process is very much like that. Yes, it's about that voice that goes one step forward and two steps back, that tells you that you are great and then says you are stupid.
"And that's the part of ego that operates through that and I wanted to do a film about that and it's about me and I guess all of us."
While walking in London three years ago the image of a man levitating hit Inarritu, giving rise to one of Birdman's many startling moments of magical realism.
"I start with a guy floating in his underwear and it ends on the same note, which is we never know what is real and what is not real," the film-maker explains.
"There are two parallel realities that are important — the one that's real and the events that are happening and the one in his mind and the film is navigating all the time, going in and out from one to the other and that makes the journey interesting — the mind of this guy."
Choosing Keaton to play Riggan Thomson was an inspired decision.
"I knew he would bring a meta-reality to the film and the authority of having worn the cape made him a very attractive choice," says Inarritu of his lead actor.
He is [also] one of those few actors that can navigate in drama, can navigate in comedy and is absolutely adorable.
"Being that this guy [Riggan] is such a prick, such a selfish prick, I needed someone who could be lovely, pathetically lovely, which is how we are as humans. He embodied that in that character."
Keaton's strong sense of self and his director's unwavering vision made it work. "In a way he trusted me, I trusted him," says Inarritu. "That mutual trust brings something very solid."
After a prolonged round of financing finally put him in touch with New Regency and Fox Searchlight, Inarritu brought in Mexican jazz drummer Antonio Sanchez to write a revelatory drum score.
Before the 29-day shoot in late spring 2013 at New York City's St James Theatre, there was plenty of rehearsal for the cast, which includes Edward Norton, Naomi Watts, Amy Adams, Emma Stone and Andrea Riseborough.
Cinematographer Emmanuel Lubezki and his camera team parsed out the extraordinary effect of the film appearing to be shot as a single take. "It was very molecularly precise," says the director.
"For me the continuous shot is not a tech achievement; it was a way to extend the emotional state of this guy. It was the only way to get the audience to live through those shoes and through those eyes and not get out of them, to always be a subjective kind of experience."
Inarritu says he will return to comedy but for now it is back to drama. He is now wrapping production on revenge tale The Revenant with Leonardo DiCaprio and Tom Hardy.