When Ethan Hawke, Patricia Arquette and Ellar Coltrane were cast in Richard Linklater's audacious coming-of-age film, Boyhood, they soon realised each had the role of a lifetime. Jeremy Kay reports.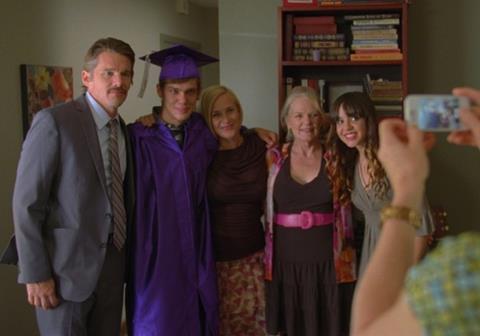 Ellar Coltrane knows only too well that Richard Linklater took the risk of his career when the Boyhood director chose to cast the youngster in the lead role of Mason.
Linklater was familiar with Coltrane's father, the touring musician Bruce Salmon, but otherwise it was a giant leap into the unknown. "I just went to an audition. I had done a few commercials and a small indie film in Texas," recalls Coltrane. He was six when he was cast, seven when filming began in July 2002, and 19 when the production wrapped last year.
"I met Richard and he explained this bizarre concept as much as you can to a six-year-old," says Coltrane. "I probably went to six or seven call-backs. Richard described this as one of the most difficult decisions he ever had to make.
"At that age it was also a decision for my parents as well so he also talked to them. They were artists who knew Rick a bit; they understood the project."
Coltrane, who like Linklater resides in Austin, moved from place to place a lot as a child. The unorthodox lifestyle perhaps leant itself more readily to the demands of Boyhood. Linklater cast his daughter, Lorelei, as Coltrane's on-screen sister Samantha and turned to two household names to round out the senior members of the family.
"Everything about this movie was untraditional," says Patricia Arquette, who plays Mason's mother. "Usually they go through your agent but in this case Rick called me directly. We talked for 10 to 12 minutes before he asked me what I was going to do for the next 12 years. When he told me the idea, I wanted to be in it so badly."
For Ethan Hawke it was a no-brainer. It was 2002 and he had just shot Tape with Linklater and prior to that collaborated with his friend on Before Sunrise. Two further Before… episodes would emerge during Boyhood's lifespan.
"I'd known he was really interested in making a movie about childhood and was wrestling with the notion that every movie with a coming-of-age story tries to boil life into one perfect moment that synthesises growing up," says Hawke. "Ultimately that's a little fraudulent because it's a series of events. So he told me he had this idea over 12 years. I just immediately thought it was a brilliant idea, I couldn't believe nobody had done this before."

Family ties
The unique undertaking inevitably fostered an uncommon bond between its participants once shooting was under way.
"The idea was that it was first through 12th grade," says Coltrane. "It became very intimate. When you work on an art project with people for any amount of time, you become like a family. This was over many years, so we had even more time to get to know each other."
Arquette describes the Boyhood experience as something akin to a long-term relationship. Interstitial commitments came and went, but everyone worked it out and stuck to the plan. "The movie," says Hawke, "is a triumph of patience and scheduling." Indeed, Arquette and Hawke have earned two of the Boyhood's five nominations in the Spirit Awards. The film won the audience award at the Gothams and best picture, director and supporting actress (Arquette) from the New York Film Critics Circle.
'It was an outlet and a chance to reflect and explore what was going on in our own lives'

Ellar Coltrane
"I was doing this movie before I started [US TV show] Medium, so I told [Medium's showrunners] I had a pre-existing commitment," says Arquette. "A lot of times I would come back with a new haircut."
Arquette's conscientious single mother ultimately cuts a battle-weary yet proud on-screen figure, an earnest counterpoint to the more accessible charms of Hawke's good-natured, initially immature, father.
"When Rick first called me about it and told me I was going to be the mum, we talked about her trajectory. It reminded me of a lot of different people in my life. She was an amalgam of different people."
The actress began to form an image of who the mother needed to be, readily admitting she had no idea of all the events that would shape the character's life over the course of the production.

Dreams of a life
Arquette's first encounter with Coltrane triggered a small role-play. "When we first started and I first met Patricia to establish that familial relationship, she took Lorelei and I for the weekend," recalls Coltrane. "Rick let us stay in his house and she played mum for the weekend and made us mac and cheese.
"From the beginning we all had similar ways of looking at the world," continues Coltrane. "We were constantly talking about our own lives and sharing stories and memories of things that had happened to us over the previous year and before the project had even started.
"That's a level of openness you don't necessarily talk about, even with a friend. It was an amazing experience to go through with anyone, especially with such an amazing group of people and to have this constant fiction running parallel to our own lives. It was an outlet and a chance to reflect and explore what was going on in our own lives."
Hawke relished the chance to dive into his role. "I knew I was being offered something that no actor had ever been offered before, which was to use time as your clay and shape a character over a decade.
"When I think about who my dad was when I was six and when I graduated high school, they're two different men… a lot of us feel that way and if I could capture that in a screen performance it would be something worth watching. It was thrilling to embark on it. It took years before it stopped feeling like a crazy experiment."
The oddity of the undertaking was such that it was difficult to explain to outsiders. Indeed the project's very nature meant it tended to hold little interest for those not involved. "I cannot tell you how few people were interested," says Arquette. "Their eyes would glaze over when we told them it was about a family and a boy growing up."
"They didn't swear me to secrecy or anything," says Coltrane. "I certainly told my friends. There was a point when I stopped talking to people about it. Ten years ago it was a pretty abstract concept."

Rehearse, shoot, repeat
Year in, year out the cast would reconvene in Texas, rehearse and workshop their lines for up to a week and then shoot for two or three days. "Rinse and repeat," as producer Cathleen Sutherland says.
By and large they stuck to the script. "We never really improvised on camera although we would have done that in the camping Star Wars discussion - there's probably a good 10 minutes of footage of us talking," says Coltrane.
Linklater had fashioned a tale so intimate and overarching that the actors did not want to deviate from the story.
"It was about the architecture," says Hawke. "I wanted to do a portrait of fatherhood. I was a child of divorce and I have been a parent of children going through divorce. It's a subject matter that's extremely interesting to me and I have strong feelings about it.
"Most movies have to centre on crisis, but Rick had an idea that liberated us from false drama. The modern movie doesn't revolve around the mother's fight against pancreatic cancer.
"That's the experience of living. We're always terrified something horrible is going to happen tomorrow. Sometimes things happen but most of the time things happen averagely."
Coltrane admits to times when he felt apathetic towards the endeavour - "I think everybody is when they're 16" - but says it was an extremely positive experience overall. "It was fun."
As the end of production drew closer, nobody wanted to let go. "It's the only movie of my life when I can say I felt sad when it came to an end," says Hawke. "Movies are like little sprints - you make it and want to share it with people. This one was so much fun and so special to all of us."
The world premiere at Sundance 2014 was the first time many of the cast had seen Boyhood together, let alone with an audience. "It was like there were six different parts of me watching it at the same time," says Arquette. "I was seeing the scenes I wasn't in and watching myself change, which is part of what I wanted to do.
"As an actress you get arrested in people's minds, especially if you start when you're younger. If you're an ingénue, people want to freeze you there in this sexualised area and part of what I loved about this was watching this boy grow and this little girl change, but also watching Ethan and I growing older."
"People put a lot of work and love into the project," says Coltrane, "so to see the standing ovation at Sundance was incredible."