British star of 12 Years A Slave to receive Richard Harris Award.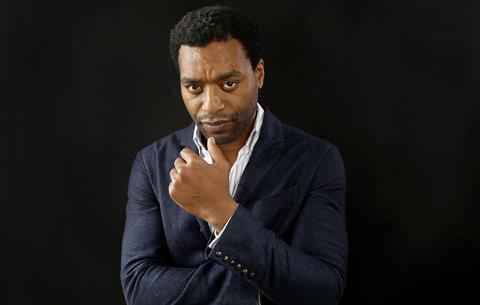 The Moët British Independent Film Awards (BIFAs) had announced that Chiwetel Ejiofor is to be honoured with The Richard Harris Award at this year's ceremony on Dec 6 at London's Old Billingsgate.
The award, introduced in 2002 in honour of actor Richard Harris, recognises outstanding contribution to British film by an actor. Previous winners have included John Hurt, David Thewlis, Bob Hoskins, Jim Broadbent, Daniel Day-Lewis, Helena Bonham Carter, Ralph Fiennes, Michael Gambon, Julie Walters and Emma Thompson in 2014.
A statement from the festival said Ejiofor had been selected to receive the honour "in recognition of his exceptional service to the film industry, not just here in the UK but internationally as an ambassador for British film".
Jared Harris, son of Richard Harris, said: "I am so happy this award is going to Chiwetel. Although the recipients of this award have all been embraced by the establishment, they all came from outside it, fought their way in on the strength of their talent, claimed their place and changed the status quo. A journey which describes Chiwetel's career perfectly.
"His talent is immense, it has brought him deserved worldwide recognition, and he is in his prime. I hope this award inspires British filmmakers to take advantage of him and build films around his talent."
Ejiofor's breakthrough role came in 1997 with the release of Steven Spielberg's Amistad, in which he was cast opposite Morgan Freeman and Anthony Hopkins.
In 2002, he was nominated for the BIFA for Most Promising Newcomer and for Best Actor, which he won, for his performance in Stephen Frears' thriller Dirty Pretty Things.
Ejiofor's transatlantic career continued with roles in Richard Curtis' Love Actually, Woody Allen's Melinda and Melinda and Julian Jarrold's Kinky Boots.
The London-born actor has worked with both UK and US directors including Ridley Scott (American Gangster, The Martian), David Mamet (Redbelt), Tom Hooper (Red Dust), Spike Lee (Inside Man), and Alfonso Cuarón in the Oscar nominated Children of Men.
Last year saw Ejiofor star in Steve McQueen's Oscar winning 12 Years a Slave, and his performance as Solomon Northup gained him Oscar, Golden Globe and SAG nominations and won him a Best Actor BAFTA.
Later in the year, he also starred in Half of a Yellow Sun based on the novel of the same title, with Thandie Newton and Joseph Mawle.
This year Ejiofor was elevated from OBE to CBE for his services to drama and featured in films and stage performances, including Everyman, Rufus Norris' inaugural play as artistic director of The National Theatre.
He will next be seen in thriller Secret in Their Eyes with Julia Roberts and Nicole Kidman as well as John Hillcoat's heist crime thriller Triple Nine with Kate Winslet, Casey Affleck and Aaron Paul.
Ejiofor is currently shooting Marvel's Doctor Strange with Benedict Cumberbatch and Tilda Swinton.
This year's BIFA nominations were announced earlier this month, with The Lobster leading the nominations with seven and 45 Years and Macbeth securing six nominations each. Amy, Brooklyn and Ex Machina have five, and High-Rise and Suffragette each received four nominations.
BIFA also recently announced a series of public screenings of BIFA-nominated and winning films, supported by the BFI, which hit cinemas across the UK from today (Nov 24).