The Revenant's 12 Oscar nominations have put Fox/New Regency's drama at the top of the pile and reflects the Academy's appreciation of a work of supreme craft and ambition.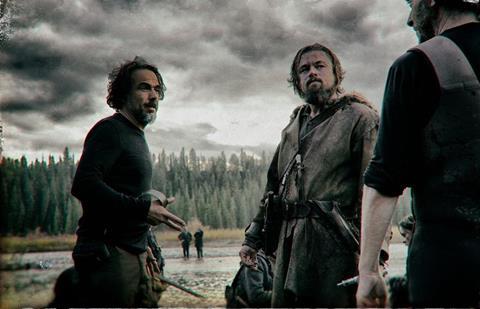 It remains to be seen how many of its nominations will translate into awards come February 28 but the survival story looks likely to claim at least one or two senior Oscars among its haul.
BEST PICTURE
Firstly, Carol and The Hateful Eight failed to make the cut which means Harvey Weinstein finds himself in the highly unusual position of being out of best picture contention six weeks before the ceremony. Wow. Quentin Tarantino also missed out on an original screenplay nod for The Hateful Eight so the awards maestro must pin his hopes on his actresses.
The strong showing for The Revenant has made the best picture race more interesting now but this is not its strongest category. Experts have noted that it is historically tough to win the top Academy Award without first securing a Screen Actors Guild (SAG) ensemble nod.
The actors guild constitutes such a large voting bloc within the Academy and did not recognise The Revenant's ensemble. The last film to clinch the best picture Oscar without the SAG ensemble endorsement was Braveheart 21 years ago.
Open Road's Spotlight was the clear frontrunner in the first half of the season. It has a SAG ensemble nod, as does Paramount/Regency Enterprises' The Big Short, which like Spotlight has garnered wide guild support and is enjoying a strong second phase of campaigning.
Both films are highly topical but for my money Spotlight remains the favourite – just – because it is not only a first-rate piece of work but the type of story Academy voters like to be seen to be championing. The Boston Globe's Pulitzer Prize-winning investigation into the Catholic Church sex abuse scandal appeals to Hollywood's image of itself as an advocate of social justice.
Both these films landed editing nods, which seems to be a prerequisite for a legitimate crack at the top prize. The Revenant also got one. This will be the most fascinating category of the night come February 28.
#OscarsSoWhite
Hollywood idealism is hard to reconcile with the fact that cinema's black contingent was unrepresented again at the nominations.
The familiar hashtag from last year resurfaced as Idris Elba from Beasts Of No Nation, Will Smith from Concussion, Michael Jordan from Creed and Samuel Jackson from The Hateful Eight were shut out in the acting categories.
Only the N.W.A. biopic Straight Outta Compton earned an original screenplay nod and that was written by two white people. Ryan Coogler too missed out for writing and directing Creed, although to be fair a directing nomination might have felt premature.
BEST DIRECTOR
Alejandro G Ińárritu must be the frontrunner in the directing category for The Revenant. The Mexican won the Oscar last year for Birdman and does not have to compete against Ridley Scott, The Martian director who is the biggest snub of this year's Oscars.
That is not to belittle the prospects of George Miller for Mad Max: Fury Road (which earned ten nods), Adam McKay for The Big Short, Tom McCarthy for Spotlight or surprise inclusion Lenny Abrahamson for Room, but the Oscar looks like Ińárritu's to lose.
BEST ACTOR
Leonardo DiCaprio is surely the one to beat in the lead actor stakes for The Revenant. His Golden Globe dramatic actor win means little to Oscar voters but the Hollywood Foreign Press ceremony felt like a dress rehearsal for the big one.
Academy voters love Bryan Cranston in the Blacklist drama Trumbo – a very important story for Hollywood and society in general – and Golden Globe musical or comedy winner Matt Damon for The Martian. There is plenty of admiration too for Michael Fassbender as Steve Jobs, but DiCaprio's path has followed a classic narrative.
He has paid his dues in terms of career and his latest performance. He has worked with some of the biggest directors in history and consistently delivered. His public conduct has been exemplary and an ongoing commitment to the environment paints a picture of the kind of switched-on personality that makes Hollywood proud.
This latest acting nomination just feels like fifth time's the charm.
The supporting actor category is a tough one to call. There is no Idris Elba from Beasts Of No Nation and Michael Keaton did not make the cut for Spotlight either, although his fellow cast member Mark Ruffalo did and is popular with the Academy.
Golden Globe winner Sylvester Stallone is not beloved by voters as much as he is by fans but he is probably the favourite for poignant work in Creed. That is not to discount Christian Bale from The Big Short, Tom Hardy for The Revenant or Mark Rylance in Bridge Of Spies. All have delivered excellent work in a category that has shone brighter as the season has gone on.
BEST ACTRESS
Brie Larson remains the marginal frontrunner for Room and gave an extraordinary performance of love, courage, contained rage and regret. She won the dramatic actress Golden Globe at the weekend and goes against Cate Blanchett for Carol, who won two years ago for Blue Jasmine.
Blanchett is a giant of the screen but the intensity of admiration for Larson's performance should see her edge ahead of a pack that includes Golden Globe musical or comedy winner Jennifer Lawrence from Joy.
Only Charlotte Rampling, a worthy choice for 45 Years who has earned her first nod after a long and distinguished career, poses a serious threat to Larson if nostalgia creeps into the Academy's judgment.
Blanchett's Carol co-star Rooney Mara may represent that film's best chances in the supporting actress contest, although she faces stuff competition from Jennifer Jason Leigh for The Hateful Eight, Alicia Vikander for The Danish Girl and Golden Globes winner Kate Winslet for Steve Jobs.
SCREENPLAY
Adapted screenplay is a hard category to call because of the range and quality on show. People love Drew Goddard's work on The Martian for its clever melding of comedy and suspense, while The Big Short is admired for its timely exploration of a subject that informs the time we live in. Both represent a threat and compete against the beloved Brooklyn, Room and Carol.
The original category too is full of deserving contenders. Spotlight shines a light on an important story while Alex Garland dazzled with his spare yet engrossing interplay in Ex Machina.
The wit and heart of Inside Out empower that screenplay with a good chance of winning while the aforementioned Straight Outta Compton is a smart and important cultural document that marks a deserving choice.
CRAFT
Like Ińárritu, his The Revenant cinematographer Emmanuel Lubezki is seeking repeat recent Academy success and a win, which seems likely for yet another bravura display of artistry, would make it an unprecedented three in a row after Oscars for Birdman and Gravity in the past two years.
The list of cinematography nominees reads like a who's who of contemporary greats. Robert Richardson for The Hateful Eight has won the Academy Award three times before (Hugo, The Aviator, JFK) while John Seale for Mad Max: Fury Road has won for The English Patient. And of course Roger Deakins has been a stalwart of the community and picked up his 12th nomination for Sicario.
FOREIGN LANGUAGE, DOCS, ANIMATION
Sony Pictures Classic's Son Of Saul from Hungary takes its place among a strong roster of respectable work but László Nemes' Holocaust tale seems destined for the Oscar. It has led the race since it dazzled at its Cannes world premiere.
Pixar's Inside Out looks solid for the animation Oscar although Paramount's Anomalisa will push it hard all the way.
The documentary contest puts Amy – distributed in North America via A24 – front and centre and it is hard to see any other film upsetting it come February 28, although the brilliant Cartel Land (The Orchard) has wowed voters and Joshua Oppenheimer's The Look Of Silence (Drafthouse Films) has been winning awards and remains a threat.
Netflix has two films on the list – What Happened, Miss Simone? and Winter On Fire. Both are worthy additions but they are not viewed as frontrunners.
Jeremy Kay is US editor for Screen International