Having worked with Ridley Scott, Guy Ritchie and now Danny Boyle on Steve Jobs, Daniel Pemberton is rapidly becoming one of the industry's most sought-after composers.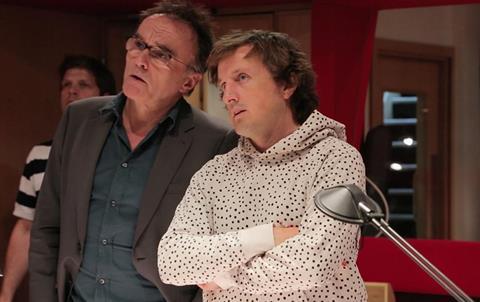 How would you describe the three-act score for Steve Jobs?
Danny Boyle had this great way of describing the film: the first act was about Steve Jobs' vision, the second act was about his revenge and the third act was about his wisdom. Since all three represented different parts of his life, we discussed having three different scores.
How did you work with Boyle and screenwriter Aaron Sorkin?
I loved Danny's process of scoring all the way through production. It's very creative. Aaron's dialogue moves fast and for a composer that can be daunting. It wasn't like writing a film score; you had to write symphonic music that followed the conversation. There were so many ideas that Danny felt were either too intrusive or not intrusive enough. But Aaron complimented me on the music, which is a relief.
How did you approach such a dialogue-heavy script?
Steve Jobs is 185 pages of non-stop dialogue. The script has a rhythm and you have to run with it. You have to support it, you don't want to drown it. The difficult part was getting the balance between the emotion and the momentum.
What approach did you take to the music for the first act, set in 1984?
Danny was going to shoot this act in 16mm, so I decided to only use equipment from 1984, which included vintage synthesisers [Yamaha CS-80, Roland SH-1000, Roland Juno-60 and Roland Juno-60]. Some of them were difficult to find, and there were limitations. The synths didn't have enough memory, you'd have to play the notes by hand and if the room was too hot, they'd go out of tune. It forced you to write as if you were in 1984.
Why did you decide on orchestral sounds for act two, set in 1988?
Danny compared this act to a Shakespearean tragedy. It was set in the San Francisco opera house. He was filming on 35mm so we wanted to do something theatrical to reflect the space and Steve Jobs taking revenge. We had this idea: let's write opera with orchestral music. In one track, it sounds like the tuning up of an orchestra, which seems simple but was technically complicated.
The revenge scene between Steve and [Apple CEO] John Sculley was the most challenging. It's an epic nine-minute piece that had to fit perfectly underneath the storylines, the cadences, the intensity of their conversation, yet still retain a core element of musicality. We had a 74-piece orchestra and a choir singing Italian words about machines and computing. It took about two months to get right.
How did you assemble the music for the final act, set in 1998?
Danny shot digitally with an Arri Alexa. I thought of how I work: I use Apple software and Apple Logic, and on my desk I have a box that's equivalent to a multi-million-pound recording studio 20 years ago. I wanted to celebrate that with a digital score using the software tools we composers take for granted.