Jessica Chastain talks to Wendy Mitchell about bringing the wife out from behind the scenes in JC Chandor's A Most Violent Year.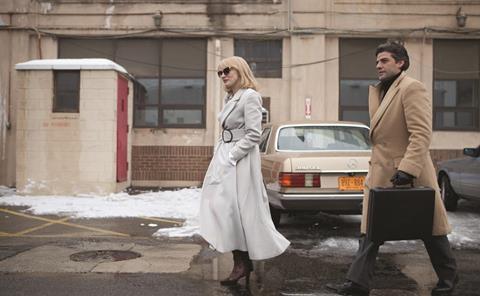 When Jessica Chastain first read JC Chandor's script for A Most Violent Year, she had a flash of insight into her character, Anna, the daughter of a mobster and the wife of an ambitious businessman.
"For me, the inspiration for the character was Dick Cheney," Chastain says. "When I first said that to JC, he was really surprised and shocked that's where I would go. But she's aligning herself with this man who is the face of the company; he's the leader, she does all this work behind the scenes because [at that time] she couldn't be the leader. She's trying to keep her husband honourable and clean. That was really interesting to me."
It was a touchstone Chandor had not yet thought about, but it made sense to him and even helped him to revisit some key scenes.
"I was talking to JC about that and he wrote some new stuff - like this section at the end when she confronts her husband about the American dream. And the section with the deer and how she responds to it. All of that was created by JC after he and I had been working together for a while," Chastain reveals.
Morality tale
Chandor's story is a powerful one about wealth, corruption, violence and restraint set against a gritty New York City in 1981. Oscar Isaac plays Abel, an ambitious immigrant trying to grow his family business. Chastain is his wife Anna, the daughter of a man more powerful than her husband. She helps out behind the scenes with the business but ends up playing a more pivotal role than expected in her family's destiny.
"You expect it to be a very violent film with the title A Most Violent Year, and in fact it's a morality tale," Chastain says.
She was interested in Anna particularly because she takes the audience on a journey that does not follow the usual clichés. "JC Chandor really took the whole genre of the crime thriller and the stereotype of the wife and completely turned it on its head," she says. "The character is supposed to be this wife who is just a piece of eye candy.
"She wants you to underestimate her. She dresses a certain way, she has these long nails and it's all about her sexual appeal. In fact it's the opposite of that. The most important thing about her is not her sex, it's her brain," Chastain adds. That smart performance has her as a likely nominee for best supporting actress.
She was keen to work not only with Chandor but with co-star Isaac, who was a fellow student at Julliard and a long-time friend. They immediately shared a common way of preparing.
"We rehearsed together a lot, we created backstories for the characters," she says. "He came over to my house, we had tea and we just went through the script, line by line, asking questions.
"For example, there's one scene in which my character hits him. So we say, 'Has she ever hit him before? Has he hit her before? What is the history here? How long have they been together? How did they meet? What's the relationship with her father?"
Chastain also helped with a personal connection to fashion house Armani, as Anna's wardrobe is made up of vintage pieces or Armani-inspired outfits by costume designer Kasia Walicka-Maimone. Chastain and Walicka-Maimone were invited by Giorgio Armani's niece, Roberta Armani, to peruse the fashion house's archives in Milan. "This woman's clothing is her armour. It's her tool in a man's world," Chastain says.
Chastain listened to some Brooklyn accents to prepare for the role, but more than that, she considered the place of a woman like Anna in 1980s society. "I came to the conclusion that she was maybe born 20 years too early. If she was born later she could have been the one running the company," she says.
Although Chandor has not announced any plans for a follow-up film, Chastain remains fascinated by Anna. "I would love to see a second film about these characters; after this, where do they end up? She is taking control and putting matters in her own hands… there's something being awakened in her. I'd love to see the future of where this family heads."
As for Chastain's future, she is fighting to see more great women's roles on screen. She has a good string of them, also appearing in The Disappearance Of Eleanor Rigby last year and having shot Guillermo del Toro's Crimson Peak and now Ridley Scott's The Martian.
"For me, I'm happy with the roles I'm getting," she says, adding: "As an audience member I'm not happy with the roles that I'm watching. Everyone knows it. If you look at the films people are talking about for best picture, there's not one film that's from a female point of view, and that's disturbing. I want to go to the movie theatre and watch great women's roles."