The Los Angeles Film Critics Association added their endorsement on Sunday to A24's critical and awards darling with four prizes as Manchester By The Sea ended the day empty-handed.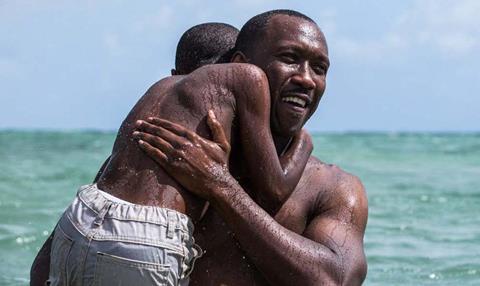 The group named Moonlight its best film of the year, as Gothams voters did recently, and selected Barry Jenkins for best director, Mahershala Ali for best supporting actor, and James Laxton for best cinematographer.
Isabelle Huppert is the bicoastal empress as she repeated her recent New York Film Critics Circle win in the best actress category for Elle and Things To Come and is starting to surge towards the top in this category.
Certain Women's Lily Gladstone won for supporting actress, beating her cast mate Michelle Williams for Manchester By The Sea.
Manchester By The Sea was named best film of the year by the National Board of Review last week but had to settle for two runner-up awards here. Oscar frontrunner Casey Affleck was trumped by Adam Driver for Paterson, while Kenneth Lonergan trailed Efthymis Filippou and Yorgos Lanthimos for The Lobster.
If the latter award brings the group's catholic taste into sharp focus, this was emphasised further with two wins for The Handmaiden: foreign language was not entirely unexpected, while production design was perhaps a little more leftfield.
O.J.: Made In America earned the editing prize but not documentary, where I Am Not Your Negro prevailed. In another unusual yet worthy selection, Makoto Shinkai's Japanese fantasy Your Name was chosen for best animation.
Awards in full:
Best picture: Moonlight
Runner-Up: La La Land
Best director: Barry Jenkins, Moonlight
Damien Chazelle, La La Land
Best actor: Adam Driver, Paterson
Runner-Up: Casey Affleck, Manchester By The Sea
Best actress: Isabelle Huppert, Elle and Things To Come
Runner-Up: Rebecca Hall, Christine
Best supporting actor: Mahershala Ali, Moonlight
Runner-Up: Issey Ogata, Silence
Best supporting actress: Lily Gladstone, Certain Women
Runner-Up: Michelle Williams, Manchester By The Sea
Best screenplay: Efthymis Filippou and Yorgos Lanthimos, The Lobster
Runner-Up: Kenneth Lonergan, Manchester By The Sea
Best production design: Ryu Seong-hee, The Handmaiden
Runner-Up: David Wasco, La La Land
Best editing: Bret Granato, Maya Mumma, Ben Sozanski, O.J.: Made In America
Runner-Up: Tom Cross, La La Land

Best cinematography: James Laxton, Moonlight
Runner-Up: Linus Sandgren, La La Land
Best music score: Justin Hurwitz, Benj Pasek, Justin Paul, La La Land
Runner-Up: Mica Levi, Jackie
Best foreign language film: The Handmaiden
Runner-Up: Toni Erdmann
Best documentary / non-fiction film: I Am Not Your Negro
Runner-Up: O.J.: Made In America
Best animation: Your Name
Runner-Up: The Red Turtle
New Generation: Trey Edward Shults and Krisha Fairchild, Krisha
Douglas Edwards Independent / Experimental Film / Video: Deborah Stratman, The Illinois Parables
Special Citation: Turner Classic Movies