Controversial director makes rare appearance and speeches at Danish film awards.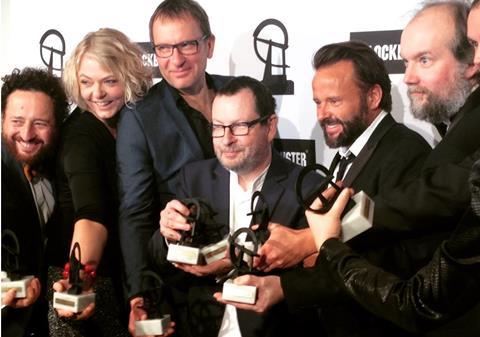 Lars von Trier has once more broken his "vow of silence" to accept an armful of prizes at Denmark's Robert awards.
The controversial Danish filmmaker's Nymphomaniac: Director's Cut scooped eight trophies including best feature and best director at the Danish Film Academy's awards last night (Feb 1) – and von Trier was in attendance at the ceremony for the first time.
Accepting the Robert for best feature, von Trier said: "From Peter Aalbæk Jensen (his producing partner at Zentropa Entertainments), I know that some of the Robert awards are won by five votes, so I would like to thank those five persons in the auditorium. Thank you very much."
The director of Antichrist and Dancer in the Dark has rarely spoken in public after being expelled from the Cannes Film Festival in 2011, where he brought Melancholia, after publicly joking that he was a Nazi and "sympathized with Hitler a little bit".
However, he did make a virtual appearance at a press conference in Venice last year - via a live feed to a laptop – to talk about his 5½-hour cut of Nymphomanic.
Last night, von Trier made an exception to his no-show rule to present an honorary award to publicist Christel Hammer. The two worked together on films including Melancholia, Dogville and The Idiots.
His presence meant he could take the stage to accept three of eight prizes. Picking up best director, von Trier revealed: "[Nymphomanic] was the film that took me the longest time to write – one-and-a-half years.
"The reason could be that I had to do so without certain preparations (read: alcohol) during that period. I wouldn't recommend this to anyone."
Collecting the award for best original screenplay, von Trier joked: "The advantage of the Bodil prize (the Danish Critics' Award) is that you can shoot the 'ping pong bat' [a mirror] out of Bodil's hands with an airgun. It is more difficult with the Robert – but I will certainly try."
Other prizes picked up by Nymphomaniac: Director's Cut included best cinematographer, costume design, editing, sound design and visual effects.
Von Trier's next project will be an ensemble TV series entitled The House That Jack Built, shot in English and due to air in 2016. It marks his first foray into long-form TV drama and is being developed for Danish public broadcaster DR.
Other winners
Nymphomanic's haul left little for the other nominees.
Mikkel Nørgaard's The Absent One (Fasandræberne) and Niels Arden Oplev's Speed Walking (Kapgang), both considered in 13 categories, received two and no awards respectively.
Bille August's Silent Heart (Stille hjerte) took home one, despite receiving 12 nominations.
The Academy's 1,700 members honoured newcomer Søren Balle's The Sunfish (Klumpfisken) with two statuettes.
Danish pubcaster DR dominated the TV awards, where first season of The Legacy (Arvingerne) not only was named Best Long TV series, but also bagged all four acting prizes.
Best Foreign Films were Richard Linklater's Boyhood (US) and Ruben Östlund's Force Majeure (Turist) (non-US).

Robert winners 2015
Best Feature Film
Nymphomaniac Director's Cut
Zentropa, Producer: Louise Vesth, Dir.: Lars von Trier
Best Children & Youth Film
Antboy: Revenge of The Red Fury
Nimbus Film, Producer: Eva Jakobsen, Dir.: Ask Hasselbalch
Best Director
Lars von Trier - Nymphomaniac Director's Cut
Best Original Screenplay
Lars von Trier - Nymphomaniac Director's Cut
Best Adapted Screenplay
Lærke Sanderhoff & Søren Balle - The Sunfish
Best Actor
Henrik Birch - The Sunfish
Best Actress
Bodil Jørgensen - All Inclusive
Best Supporting Actor
Fares Fares - The Absent One
Best Supporting Actress
Danica Curcic - Silent Heart
Best Set Design
Sabine Hviid - When Animals Dream
Best Cinematographer
Manuel Alberto Claro - Nymphomaniac Director's Cut
Best Costume Design
Manon Rasmussen - Nymphomaniac Director's Cut
Best Make up
Louise Hauberg Lohmann, Thomas Foldberg & Morten Jacobsen - When Animals Dream
Best Editing
Molly Malene Stensgaard & Morten Højbjerg- Nymphomaniac Director's Cut
Best Sound Design
Kristian Selin Eidnes Andersen - Nymphomaniac Director's Cut
Best Score
Tina Dickow & Marie Fisker - Someone You Love
Best Visual Effects
Peter Hjorth - Nymphomaniac Director's Cut
Best Short Fiction/Animation
Helium
M&M Productions, Producers: Kim Magnusson & Tivi Magnusson, Dir.: Anders Walter
Best Long Fiction/Animation
Lulu
SF Film Production, Producer: Birgitte Skov, Dir.: Caroline Sascha Cogez
Best Short Documentary
Me and Dad - No Expectations of Applause
Made in Copenhagen, Producers: Mathilde Hvid Lippmann & Mille Haynes, Dir.: Kathrine Ravn Kruse
Best Long Documentary
The Look of Silence
Final Cut for Real, Producer: Signe Byrge Sørensen, Dir.: Joshua Oppenheimer
Best Long TV-series
The Legacy (1)
DR Fiktion, Producers: Karoline Leth & Christian Rank, Hovedforfatter: Maya Ilsøe, Dir.: Pernilla August
Best Short TV-series
Tidsrejsen
DR, Producer: Bo Mortensen, Hovedforfatter: Poul Berg, Dir.: Kaspar Munk
Best Actor - TV-series
Carsten Bjørnlund - The Legacy 1
Best Actress - TV-series
Trine Dyrholm - The Legacy 1
Best Supporting Actor - TV-series
Mikkel Boe Følsgaard - The Legacy 1
Best Supporting Actress - TV-series
Lene Maria Christensen - The Legacy 1
Best American Film
Boyhood
Dir.: Richard Linklater, Distr.: UIP - Mis Label
Best Foreign Film
Force Majeure
Dir.: Ruben Östlund, Distr.: Øst for Paradis
Blockbuster Audience Award
The Absent One
Zentropa, Producers: Louise Vesth, Jonas Bagger & Peter Aalbæk Jensen, Dir.: Mikkel Nørgaard