George Miller was named Best Director and his film earned Best Picture and two other prizes from the Online Film Critics Society on Sunday, while Taiwan's The Assassin took foreign-language honours.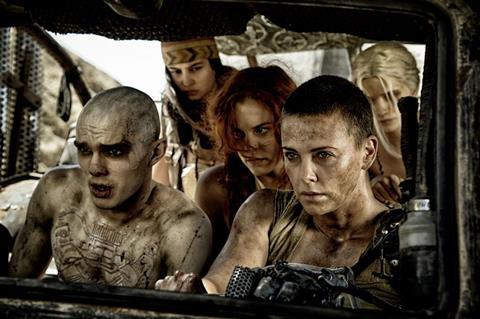 Mad Max: Fury Road beat Spotlight, The Martian, The Revenant, Room, Brooklyn, Carol, Sicario and Inside Out in the Best Picture contest.
The Assassin prevailed in the Best Film Not in the English Language category over Oscar favourite Son Of Saul from Hungary, Austria's Goodnight Mommy, Mustang from France and Germany's Phoenix.
Inside Out was named Best Animated Feature in a category that included Anomalisa, The Good Dinosaur, The Peanuts Movie and Shaun The Sheep Movie.
Best Documentary went to The Look Of Silence from a field that included Amy, Best Of Enemies, Cartel Land and Going Clear: Scientology And The Prison Of Belief.
Miller's Best Director triumph was at the expense of Todd Haynes for Carol, Tom McCarthy for Spotlight, Ridley Scott for The Martian and Denis Villeneuve for Sicario.
Michael Fassbender was named Best Actor for Steve Jobs over Matt Damon for The Martian, Leonardo DiCaprio for The Revenant, Michael B Jordan for Creed and Ian McKellen for Mr. Holmes.
Cate Blanchett won Best Actress for Carol over Brie Larson for Room, Charlotte Rampling for 45 Years, Saoirse Ronan for Brooklyn and Charlize Theron for Mad Max: Fury Road.
The Best Supporting Actor prize went to Oscar Isaac for Ex Machina. Nominees included Benicio Del Toro for Sicario Mark Ruffalo for Spotlight, Mark Rylance for Bridge Of Spies and Sylvester Stallone for Creed.
Rooney Mara made it two for Carol in the Best Supporting Actress category and beat Cynthia Nixon for James White, Kristen Stewart for Clouds Of Sils Maria, Alicia Vikander for The Danish Girl and Kate Winlset for Steve Jobs.
Josh Singer and Tom McCarthy triumphed in the Best Original Screenplay race for Spotlight over Alex Garland for Ex Machina, Peter Docter, Ronnie Del Carmon, Meg LeFauve and Josh Cooley for Inside Out, Greta Gerwig and Noah Baumbach for Mistress America and Taylor Sheridan for Sicario.
Best Adapted Screenplay went to Phyllis Nagy for Carol over Nick Hornby for Brooklyn, Drew Goddard for The Martian, Emma Donoghue for Room and Aaron Sorkin for Steve Jobs.
Margaret Sixel won the Best Editing category for Max Max: Fury Road and prevailed over Pietro Scalia for The Martian, Stephen Mirrione for The Revenant, Joe Walker for Sicario and Elliot Graham for Steve Jobs.
John Seale rounded out an excellent night for Mad Max: Fury Road with a Best Cinematography win over Mark Lee Ping Bing for The Assassin, Edward Lachman for Carol, Emmanuel Lubezki for The Revenant and Roger Deakins for Sicario.
The Best Non-US Releases were named as: Aferim!, Cemetery Of Splendor, The Club, Dheepan, The Lobster, Mountains May Depart, Mia Madre, Rams, Right Now, Wrong Then and Sunset Song.