The last time a Latin American film won the foreign-language Oscar was in 2009 with The Secret In Their Eyes, now remade with Nicole Kidman. Screen meets four of this year's hot contenders.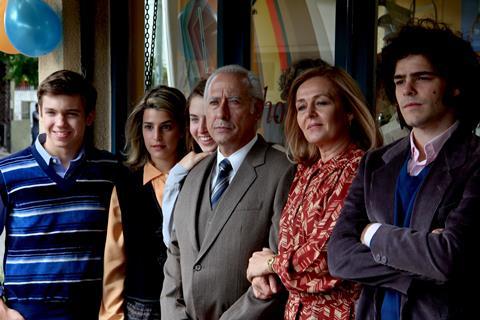 Argentina
Argentinian director Pablo Trapero talks to John Hazelton about families gone bad in his tale of murder, The Clan
Although he was only in his early teens at the time, Pablo Trapero still recalls the sensational 1985 news reports about the 'Puccio Clan' of Buenos Aires. "A normal family that kidnapped their friends at home and killed them — it's not an easy headline to forget," smiles the Argentinian writer and director.
Almost 25 years later, when he started turning the headline-grabbing real-life events into the script for The Clan, Trapero began to see the story more as "a family portrait". He decided to centre it on patriarch Arquimedes Puccio, who used his links with Argentina's military dictatorship to build the lucrative but brutal family business, and eldest son Alejandro, a member of Argentina's national rugby team whose fame helped lure some of the family's victims.
The relationship between father and son forms the backbone of a film that skilfully juxtaposes scenes of domestic tranquillity — mum presiding at the dinner table and dad helping his daughters do their homework — with the chilling violence of the clan's other life.
Trapero — previously known for 2008 Cannes Competition contender Lion's Den and Un Certain Regard entries White Elephant and Carancho — says putting the story on screen was a challenge because of the period setting, the political backdrop (the action takes place during Argentina's transition from military dictatorship to democracy in the 1980s) and the need to find just the right tone. "It was clear for me that it should somehow be a mix between a thriller and a melodrama," he explains.
The idea was to ensure the audience sees the Puccios as a normal family, while also "discovering how cruel and brutal they were. To invite the audience to feel like the victims for a few moments," he explains.
The director used anamorphic lenses and low-level lighting to create a deliberately period look, and shot in long takes to ramp up the tension during the story's abduction scenes.
The film's soundtrack of blaring British, US and Argentinian classic rock was designed to reinforce identification with the victims (whose cries the Puccios masked by turning up their radios) and reflect the times (when English-language pop was officially forbidden in Argentina but unofficially tolerated).
To portray the central characters, Trapero cast former teen TV star Peter Lanzani as the son and popular comedy actor Guillermo Francella as the father. Though Francella had done drama before (notably The Secret In Their Eyes), Trapero felt he had to prepare the actor to play the scarily two-faced Puccio patriarch.
"I said, 'Listen, this is not a dramatic character, it's a villain. It's someone that the audience must hate.' Sometimes actors don't like that, but he accepted it from the very beginning."
The Clan was produced by Kramer & Sigman Films, El Deseo and Matanza Cine with Telefe and Telefonica Studios. Latin American and US distribution is being handled by 20th Century Fox/Fox International Pictures.
The Clan notched up the biggest ever opening of a local film in Argentina when it launched in August. It went on to earn an honourable mention for Toronto's Platform Prize and won Trapero the best director Silver Lion at Venice. It opens in the US on January 29, 2016.
Chile
Pablo Larrain tells Tom Grater why he used humour to tell the story of disgraced priests in The Club
While sitting in a café reading a newspaper and contemplating his next film, renowned Chilean producer and director Pablo Larrain was struck by a photo.
"I saw this picture of a house, very beautiful, in this green field in Germany with mountains in the background. It looked like it could be a Swiss chocolate advertisement," recalls Larrain, whose fourth feature No was nominated for the best foreign-language film Oscar in 2012. "It was a house that belonged to a German-Catholic organisation that is very big and influential in Chile. And I read one priest was sent to that house after he was accused of sexual abuse.
"I wondered, how does it look from the inside? What if we put a camera in there and break those walls?"
Inspired by the idea, Larrain first directed a stage monologue called Accesso, which starred Roberto Farias as a man recounting his troubled past. This eventually formed part of the film.
Larrain decided to call it The Club and relocated the house to a small, drab coastal town in Chile. The inhabitants are five priests, all of whom have committed unstated crimes, eking out a meagre existence and hidden away by the Church to avoid embarrassment. Larrain co-wrote the script with Guillermo Calderon (the writer of his next film, Neruda) and Daniel Villalobos.
Despite the film's challenging subject matter, The Club is laced with plenty of laughs. "Humour is a way to say things that otherwise would sound too preachy," Larrain explains. "The audience ends up laughing about something they shouldn't, you create a moral issue. I love it."
The Club debuted at the Berlinale, where it won the Grand Jury Prize, and has screened widely at further international festivals. The Catholic Church has not commented on the film.
"They're smart," suggests Larrain. "They know if they talk about it the film will get more publicity and more people will be interested, so the best thing they can do is be quiet."
Brazil
Anna Muylaert, director of The Second Mother, discusses the social commentary in her hit film
"I first wrote this story about 20 years ago when I had my son. In my society, people hire a nanny for their children and I started to think how that character represents the laziness of people and the social gap. I knew it was a really rich subject, but it took me 20 years to form the right story.
"The first draft was called The Kitchen Door and had a different story. The characters, the house and the plot were the same but Jessica [the confident, independent teenage daughter who moves to Sao Paulo to study and meet her mother] was different. She came to Sao Paulo to be a hairdresser and in the end became a nanny like her mother. But I wanted to make it more hopeful without creating something false, like marrying a millionaire or finding fame.
"I was pulling my hair out trying to think of something new to say when the idea of her studying architecture came to me. Education was the way she would escape. In two weeks I had the script ready.
"[Lead actress] Regina Casé is a big star in Brazil and has huge charisma. But she hadn't acted in film for 13 years. I sent her the original script seven years ago and she loved the character and wanted to play her. When I sent her the second script she said, 'Oh, I liked the old one,' but I convinced her that she would like the film and we went ahead.
"This film was much more difficult for men to accept. As a successful woman, I feel like Jessica — I am sitting at a table that women are not supposed to sit at; I shouldn't cross through that door; I feel they don't know what to do with me. It's very painful to me.
"This is something we should be aware of in the 21st century. "Sexism as much as classism — which is the subject of my film — is something that happens without us even realising. Maybe it's time to realise, from where does sexism come? It's sad. It's not time for that any more."
As told to Michael Rosser at Sarajevo Film Festival
Colombia
Ciro Guerra talks to Jeanie Tran about filming Embrace Of The Serpent in the Amazonian jungle
Why did you shoot in black and white?
Indigenous people say the environment is not separate from ourselves. When you film the jungle in black and white, and the people in it, the jungle and the people are made of the same fabric. They also say we have a limited perspective on life, and that we can only see and hear and feel a small percentage of what the world really is. Filming this way removed everything that distracted from the main story.
What propelled you to tell this story?
It was a lifelong dream of mine to make a film in the Amazon, because the Amazon [comprises] half of my country and we don't know much about it. A friend of mine recommended the journals of two explorers. They left their lives behind to travel for years into uncharted territory to bring us news from a disappearing world. I felt a strong connection to that. I realised what would make the film really special was to tell it from the point of view of the people they met.
How could you do that authentically?
At the beginning, I wanted it to feel very anthropologically accurate. But then, during the work with the communities, I learned that dreaming and imagination are as important as fact to them and I decided to shy away from portraying real plants, real myths, real songs, because these things are sacred. The film is a window into a world, not exactly how things are.