Phil Lord and Chris Miller talk to Michael Rosser about their animated hit, The Lego Movie, which far exceeds its commercial spin-off roots to become an emotional story that celebrates human creativity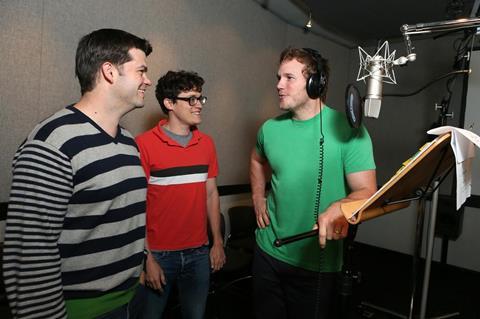 Phil Lord and Chris Miller have built a career out of exceeding expectations. The directing duo scored surprise hits with animation Cloudy With A Chance Of Meatballs in 2009 and buddy comedy 21 Jump Street in 2012, both of which spawned sequels that have collectively made more than $1bn at the worldwide box office.
The Lego Movie is their biggest hit yet, taking a seemingly cynical cash-in on the beloved construction toys and creating a funny, clever and meaningful film that made $468m at the global box office.
When first approached in summer 2010, Lord and Miller had similar concerns about the project, which was conceived by producer Dan Lin. "We hit it off with Dan right away but initially thought it was too commercial and felt a little too young," Lord tells Screen.
"But then we came across these homemade Brickfilms, which people make in their basements, and were really inspired. Maybe in the guise of this big commercial property we could make a democratic, grassroots film about the essential quality of human creativity for life."
Miller says they made a simple but ultimately complicated rule: "Everything had to be made from Lego - water, fire, smoke… everything. Figuring out how to make a Lego ocean, for example, made it very exciting as it was something audiences would have never seen before."
The approach was met with scepticism. "People were worried it was going to look too busy, and concerned it was going to be too shiny and reflective," says Miller. "What we didn't tell them is that we wanted it to have a shallow depth of field so it looked like miniature photography and that not everything would be perfectly in focus - something they were also very nervous about."
Character tests proved they could generate a range of emotion with a cinematic quality, creating two-dimensional faces that delivered nuanced performances with characters that could not bend at the knee or elbow.
Stop-motion feel
The film, the first to be produced by Warner Animation Group, was greenlit in November 2011 and Australian studio Animal Logic was hired to generate the animation.
Computer graphics were used to render a stop-motion look, with camera systems that featured different lenses and a Steadicam simulator replicating live-action cinematography. The scenery was projected through The Lego Group's own Lego Digital Designer. At times the mini-figures were even placed under microscopes to capture the seam lines, dirt and grime into the digital textures.
As well as directing, Lord and Miller wrote the screenplay about an ordinary Lego construction worker (voiced by Chris Pratt) recruited to stop an evil tyrant (voiced by Will Ferrell) from glueing the Lego universe into eternal stasis.
Asked about the challenges of making animation funny, Lord says: "It's hard to create spontaneity. So much humour comes out of the moment. In animation, you're breaking it down frame by frame and that's very challenging."
Miller adds: "It's hard because it's such a long process. You've seen all the jokes 100 times by the time it's fully executed so it's hard to remember why it was funny in the first place. On the plus side, you get a new take on it at each step of the process and when an animator interprets your joke, you get a fresh look."
Adult humour
It might also surprise some that the duo behind R-rated 21 Jump Street can transfer that same humour to a family film.
"We treat writing a movie like Jump Street and Lego the same, just without the bad words," explains Miller. "We don't write for kids; we write for people," adds Lord.
The film premiered February 1 in Lego's homeland of Denmark, and its success has already spawned plans for spin-offs Ninjago for 2016, The Lego Batman Movie for 2017 and sequel The Lego Movie 2 for a 2018 release.
"We're writing Lego 2 right now and producing the others," says Miller. "We have built a new office in Hollywood that houses the entire production so we can be there, overseeing it all. Animation people are comic-book nerds, so people are pumped to be working on Ninjago and Batman. So far, so good but I'm sure we'll meet some obstacles along the way."