Steve McQueen's 12 Years A Slave leads the winners for this year's award from the The Alliance of Women Film Journalists (AWFJ), winning six trophies including best film.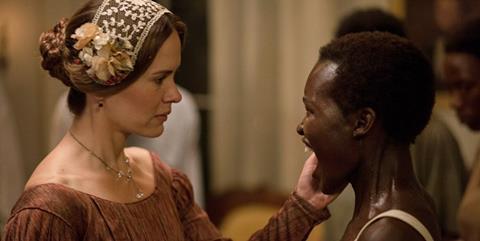 Cate Blanchett won best actress for Blue Jasmine, Matthew McConaughey won best actor for Dallas Buyers Club, while the supporting awards went to Lupita Nyong'o for 12 Years a Slave (she also won best breakthrough performance) and Jared Leto for Dallas Buyers Club.
Sarah Polley's Stories We Tell won best documentary and Thomas Vinterberg's The Hunt won best non-English-language film.
Nicole Holofcener won best female director and best woman screenwriter for Enough Said.
This Year's Outstanding Achievement By A Woman In The Film Industry recognition went to Wadjda director Haifaa Al-Mansour from Saudi Arabia.
The AWFJ includes female critics, writers and editors in the US, Canada and the UK.
Full list of winners
AWFJ EDA 'BEST OF' AWARDS
Best Film 12 Years a Slave
Best Director 12 Years a Slave – Steve McQueen
Best Screenplay, Original Her – Spike Jonze
Best Screenplay, Adapted 12 Years a Slave - John Ridley
Best Documentary Stories We Tell – Sarah Polley
Best Animated Film The Wind Rises – Hayao Miyazaki
Best Actress Cate Blanchett – Blue Jasmine
Best Actress in a Supporting Role Lupita Nyong'o – 12 Years a Slave
Best Actor Matthew McConaughey – Dallas Buyers Club
Best Actor in a Supporting Role Jared Leto – Dallas Buyers Club
Best Ensemble Cast American Hustle
Best Editing Gravity – Alfonso Cuaron and Mark Sanger
Best Cinematography Gravity – Emmanuel Lubezki
Best Film Music Or Score Inside Llewyn Davis – T-Bone Burnett
Best Non-English-Language Film The Hunt – Thomas Vinterberg (Denmark)
EDA FEMALE FOCUS AWARDS
Best Woman Director Nicole Holofcener – Enough Said
Best Woman Screenwriter Nicole Holofcener – Enough Said
Kick Ass Award For Best Female Action Star Sandra Bullock – Gravity
Best Animated Female Anna (Kristen Bell) – Frozen
Best Breakthrough Performance Lupita Nyong'o – 12 Years A Slave
Actress Defying Age and Ageism Sandra Bullock – Gravity
AWFJ Award Female Icon Award
Angelina Jolie – for continued commitments to humanitarian causes, and for promoting awareness about breast cancer
This Year's Outstanding Achievement By A Woman In The Film Industry
Haifaa Al-Mansour – for challenging the limitations placed on women within her culture by making the film Wadjda
EDA SPECIAL MENTION AWARDS
AWFJ Hall Of Shame Award The Counselor – Ridley Scott
Actress Most in Need Of A New Agent Cameron Diaz, The Counselor
Movie You Wanted To Love But Just Couldn't Award The Counselor
Unforgettable Moment Award 12 Years a Slave – Solomon hanging
Best Depiction Of Nudity, Sexuality, or Seduction Award Her – Scarlett Johansson and Joaquin Phoenix
Sequel or Remake That Shouldn't Have Been Made Award (Tie) Carrie and Oz, Great and Powerful
Most Egregious Age Difference Between The Leading Man and The Love Interest Award Last Vegas – Michael Douglas and Bre Blair (36 years)