Posthumous Empire Legend award for Alan Rickman; Matt Damon collects Best Actor award and Best Actress goes to Alicia Vikander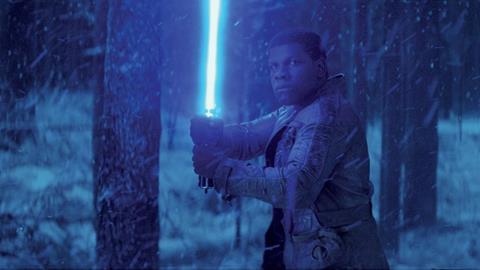 Star Wars: The Force Awakens led the pack at the Jameson Empire Awards in London on Sunday evening, winning five trophies including Best Director for J.J. Abrams, Best Visual Effects, Best Sci-Fi/Fantasy collected by C-3PO actor Anthony Daniels, and Best Male and Female Newcomer awards for stars John Boyega and Daisy Ridley, who were both present on the night.
Three honorary awards included the Empire Inspiration award, which was presented to British actor-director Paddy Considine by long-time collaborator Shane Meadows, while actor Stanley Tucci was named Empire Hero. Miranda Richardson, currently filming Churchill with Tucci, presented him with the award in recognition of his recent performances in high-profile films including the Hunger Games series and Spotlight.
The late Alan Rickman was posthumously named this year's Empire Legend.
Other stars honoured at the ceremony included Matt Damon, who was in attendance to receive the Best Actor award for his performance in The Martian. Director Paul Greengrass, who has recently reunited with Damon on the upcoming Jason Bourne, presented the award to him on stage.
Alicia Vikander was crowned Best Actress for The Danish Girl, as announced by Richard E. Grant.
Best British Film went to Spectre, collected by director Sam Mendes, while Best Film was won by The Revenant .
Best Horror went to The Hallow and was received by director Corin Hardy and actor Joseph Mawle, and Best Comedy was awarded to Spy and collected by actor Peter Serafinowicz from comedian Katherine Ryan.
The award for Best TV Series went to This Is England '90, collected by eries director and co-writer Shane Meadows alongside cast members Thomas Turgoose, Jo Hartley and Chanel Cresswell.
Inside Out won Best Animation; Amy took Best Documentary; The Big Short secured Best Screenplay; and World Of Tomorrow was named Best Short Film.
Mad Max: Fury Road triumphed in the newly introduced craft categories, taking four awards in total for: Best Soundtrack; Best Costume Design; Best Make-Up And Hairstyling; and Best Production Design.