Oscar-nominated Irish animation Song Of The Sea draws on ancient folklore and traditional animation techniques to tell a universal family story. Wendy Mitchell talks to director Tomm Moore about the inspirations for the film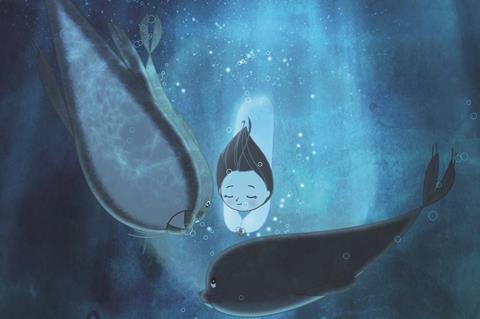 Tomm Moore has an unusual reminder of the long process involved in making an independent animated feature. He started his latest feature, Song Of The Sea, when his son Ben was 10, and he based a lead character on the boy
Now, the real Ben is 19 and slightly embarrassed by his on-screen representation. "He's too cool for school," says Moore with a gentle laugh. "He's embarrassed but I think he's secretly proud. His girlfriend is a big animation fan so I think it won him some points."
Father and son can both be proud of the work, as it has earned Moore his second Oscar nomination — he was previously
nominated in 2010 for The Secret Of Kells (co-directed with Nora Twomey).
Like that earlier film, Song Of The Sea is proudly Irish in its themes and traditional in its animation style. The story concerns Ben and Saoirse, a young brother and sister struggling after the loss of their mother. The pair discover that Saoirse is a selkie, a magical being who is a seal in the water and human on land.
Moore was inspired by a trip to the seaside around Dingle, south-west Ireland, with his family nine years ago, when he and Ben found dead seals on the beach and were told by a local that people were no longer talking about the legend of the selkies.
"It made me realise how much of our folklore was being forgotten," Moore recalls, "and I thought about how it could come back into the culture and I wanted to open that back up."
He says that while he was growing up he "wasn't a superfan of Irish folklore. I was much like the character of Ben, immersed in comics and TV shows." But as he grew older he realised how special was Ireland's storytelling tradition. "That was part of what people liked about Kells and part of the reason I love a film like Spirited Away — it's that glimpse into another culture. That's something I wanted to preserve."
Yet he knows it is also a universal story that can be appreciated even by audiences who don't know how to pronounce 'Saoirse' — "It's about a family and universal emotions; it so happens that it's set in Ireland."
Key collaborators
It took four years to hone the script and find finance. "I wrote the bare bones of the outline," Moore says. "I knew who the characters were; I knew what would happen in the film." At that stage, the Irish Film Board offered development finance and suggested he collaborate with a screenwriter, Will Collins, and the pair started work on scriptwriting and storyboarding in 2008. Meeting Collins, a fellow fan of legendary Japanese animator Hayao Miyazaki, at that stage was "really lucky".
"It was his second professional job and now he's hugely in demand," says Moore.
The next key collaborator was art director Adrien Merigeau. "Adrien was one of the background artists on Kells and I was so inspired by his sketchbooks… For this film, we went on research trips doing watercolours to look at the light and colours of the film."
At the same time, the $5.5m production finance was coming together. After the Oscar nomination for Kells, there were offers to work with bigger US companies, but Moore and his team felt that for this kind of story a European co-production was the right way to go.
Cartoon Saloon, the Kilkenny-based animation studio co-founded by Moore, brought on partners Superprod Animation (France), Norlum (Denmark), Melusine (Luxembourg) and The Big Farm (Belgium). The Irish Film Board also came on board for production funding.
"We took animators from the different co-production countries on trips too," Moore explains, and the key international colleagues also came to Ireland for a few months of preparation. "It really felt like a big family. A lot of the guys we knew from Kells, so there was already a bond. And we'd go and visit them."
Moore let Merigeau and his team take over with painting the backgrounds — which were then scanned in and drawn on — while he was more focused on the storyboarding.
Although computers were used for some stages, the film has a traditional, painterly feel. "The organic feel is what generally makes a film last the test of time," he says. "Computer animation can sometimes date very quickly. If you look at the first Toy Story, you can see the cracks now. If you look at the old Jungle Book film, that still looks fresh because it's a more timeless look." But he adds it is a case-by-case basis with each story: "Robots and sci-fi look great in 3D CGI, but we wanted a storybook feel."
A similar style is likely to be employed for his next work. Moore is now working with Kells' art director Ross Stewart on a third Irish folklore story "set in the times of Oliver Cromwell [the early 1600s], in a very ancient city". He adds: "It would be nice to do three of the same themes with the same look, and they can sit together."