Silence and Billy Lynn's Long Halftime Walk among shutouts; #Baftassowhite a non-starter.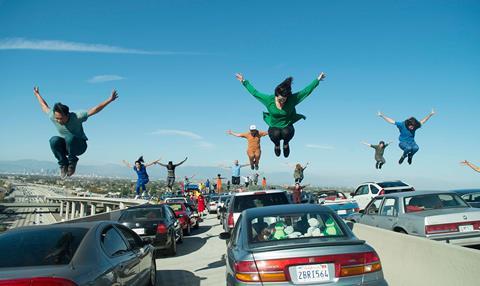 One day after setting a record for most wins at the Golden Globes, La La Land continued its fine awards season by claiming 11 Bafta nominations, the joint-most since The Artist scored 12 nominations five years ago.
As predicted, Damien Chazelle's throwback musical-romance scored nominations in most leading categories including best film, director, actor, actress, original screenplay and cinematography.
Lionsgate will now make the feel-good musical its widest ever UK release this weekend (603 screens), pushing it out on more screens than its flagship franchise The Hunger Games.
La La Land has been on a high since it wowed audiences at Venice in September and with Ampas voting set to end on Friday it is tightening its grip on the best picture statuette with each passing awards event.
Denis Villeneuve's sci-fi Arrival and Universal's striking drama Nocturnal Animals have plenty to cheer with nine nominations each, a vast improvement on their Globes performances of two and three nominations, respectively.
The excellent Moonlight, which to date has been considered a leading challenger to La La Land at the Oscars, managed four nominations but missed out on berths in the director and best score categories.
There were few genuine shocks. Viggo Mortensen and Emily Blunt's nominations in the acting categories might have raised more eyebrows had the duo not already scored SAG nominations last month.
Tom Hanks (Sully), Annete Bening (20th Century Women), Ruth Negga (Loving) and Michael Keaton (The Founder) were on the outside looking in in the acting categories while Isabelle Huppert was not eligible for Elle, which is not released in the UK until the spring.
Two days after her clash with president-elect Donald Trump, the "overrated" Meryl Streep garnered her fifteenth Bafta film nomination, which puts her one behind Judi Dench.
Golden Globe nominee Mel Gibson didn't make the cut in the directing category but will have been buoyed by an impressive five nominations for his Second World War drama Hacksaw Ridge. Ken Loach scored his second career nomination in the category (his ninth in total) for UK benefits drama I, Daniel Blake.
Heavyweight omissions
Despite the muted receptions for Martin Scorsese's Silence and Ang Lee's Billy Lynn's Long Halftime Walk, it is still remarkable that those ambitious dramas failed to score a single nomination between them, an eventuality that seemed almost unthinkable six months ago.
Scorsese and Lee's most recent films – The Wolf Of Wall Street and Life Of Pi – scored 14 Bafta nominations between them. Silence can be considered the first weighty Scorsese movie to pitch a Bafta shut-out since Kundun in 1999.
Also shut out were Clint Eastwood's Sully, Nate Parker's impressive The Birth Of A Nation – whose remarkable fall from grace continues – and Jeff Nichols' well-received Cannes premiere Loving.
Since their lauded Cannes debuts, American Honey and I, Daniel Blake have been the critical standard bearers for British film, with both scooping awards at the Bifas.
I, Daniel Blake scored five nominations this morning - including one for supporting actress Hayley Squires in her first major film role - which represents director Ken Loach's best performance at the Baftas.
There was only one nomination for Andrea Arnold's charge, however, for best British film.
In total, British films posted a strong showing on home turf, with 13 nominations for majority UK movies outside of the British-only categories. Fantastic Beasts And Where To Find Them, Florence Foster Jenkins, I, Daniel Blake and Notes On Blindness all scored multiple nominations. Australian drama Lion, which boasts UK producers, also scored multiple nominations.
British films to miss out included box-office hits Bridget Jones' Baby, Absolutely Fabulous: The Movie and BFI London Film Festival opener A United Kingdom.
Diversity
This time last year, the film industry was in the midst of the #OscarsSoWhite storm. Bafta and Ampas have since announced a raft of changes to improve the diversity of their memberships.
This year, Bafta's omission of Barry Jenkins and Denzel Washington in the director categories has raised some eyebrows, primarily in the media. But it would be hard to argue that the organisation has failed on diversity this year.
Bafta performed better in 2016 than its US counterpart when it came to nominating non-white actors. This year, four actors of colour received nominations – Dev Patel, Mahershala Ali, Naomie Harris and Viola Davis.
Actors of colour account for 20% of all acting nominees (a far cry from two consecutive years of shutouts at the Oscars). Meanwhile, Ethiopian-born Irish actress Ruth Negga was nominated in the rising star category, British-Iranian director Babak Anvari's Under The Shadow garnered multiple nominations and there is significant variety in the ethnicities of the teams nominated for shorts.
There were nominations for Moonlight, Lion and Fences, each of which star non-white actors and have diversity at their core, while the emotive I, Daniel Blake grapples with diversity of a different sort.
Hayley Squires is a welcome change of direction from the conveyor belt of public school actors the UK has become famous for producing, disability documentary Notes On Blindness scored an impressive three nominations, and women received nominations in 19 of the 24 categories, an improvement on last year.
While there is room for improvement, to say this was the year Bafta failed on diversity would be a hot take too far.