Stanley Tucci, Catherine Deneuve dramas join competition; TV dramas and Oleg Sentsov doc set to get world premiere.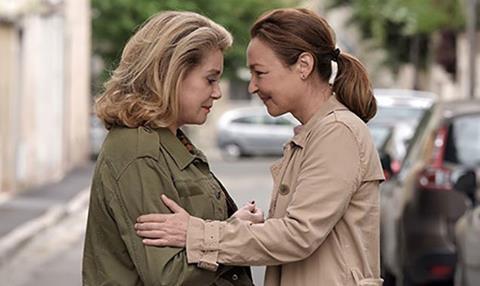 The Berlin International Film Festival has finalised its competition and Berlinale Special strands.
Joining the festival in Out Of Competition berths are Stanley Tucci-directed Final Portrait and Catherine Deneuve drama Sage Femme.
James Gray's The Lost City Of Z will have its interntional premiere while documentary The Trial: The State of Russia vs Oleg Sentsov will have its world premiere.
Among TV world premieres are Amazon's Patriot and BBC One's SS-GB.
In total, 18 of the 24 films selected for Competitionwill be competing for the Golden and the Silver Bears. 22 of the films will have their world premieres at the festival.
For the third time, Berlinale Special Series will present a selection of TV series in the official programme. Six German and international productions will have their world premieres at the Haus der Berliner Festspiele this year. Audiences will be able to see the first two episodes of each series.
Berlinale Special Galas will be held at the Friedrichstadt-Palast and Zoo Palast. Other Specialpremieres will take place at the Kino International.
Added titles:
Competition
Final Portrait
United Kingdom / France
Dir. Stanley Tucci (Big Night, Joe Gould's Secret, Blind Date)
With Geoffrey Rush, Armie Hammer, Clémence Poésy, Tony Shalhoub, James Faulkner, Sylvie Testud
World premiere – Out of competition
Hao ji le (Have a Nice Day) - Animation
People's Republic of China
Dir. Liu Jian (Piercing I)
World premiere
Sage femme (Midwife)
France / Belgium
Dir. Martin Provost (Le ventre de Juliette, Séraphine, Violette)
With Catherine Frot, Catherine Deneuve, Olivier Gourmet
World premiere – Out of competition
Berlinale Special
Maudie
Canada / Ireland
Dir. Aisling Walsh (Song for a Raggy Boy, The Daisy Chain)
With Sally Hawkins, Ethan Hawke, Kari Matchett, Zachary Bennett
European premiere
The Lost City of Z
USA
Dir. James Gray (We Own The Night, Two Lovers, The Immigrant)
With Charlie Hunnam, Sienna Miller, Robert Pattinson, Tom Holland
International premiere
The bomb – Experimental film
USA
Dir. Kevin Ford (Three Days, By the River),Smriti Keshari (Food Chains), Eric Schlosser (Command and Control; Fast Food Nation; Food, Inc.)
Live music Dir. The Acid
International premiere
La libertad del diablo (Devil's Freedom) - Documentary
Mexico
Dir. Everardo González (Pulque Song, Old Thieves: The Legend of Artegio, El cielo abierto)
World premiere
Nema-ye nazdik (Close Up)
Iran (1990)
Dir. Abbas Kiarostami (Taste of Cherry, The Wind Will Carry Us, Certified Copy)
With Hossain Sabzian, Mohsen Makhmalbaf, Abolfazl Ahankhah, Mehrdad Ahankhah, Monoochehr Ahankhah
German premiere of the restored version
As part of the cultural programme "Iranian Modernity" of the Goethe-Institut
The Trial: The State of Russia vs Oleg Sentsov - Documentary
Estonia / Poland / Czech Republic
Dir. Askold Kurov (Zima, ukhodi!; Leninland; Children 404)
World premiere
Berlinale Special Series
4 Blocks
Germany
Director: Marvin Kren (Blood Glacier, The ABCs of Death 2, Rammbock: Berlin Undead)
With Kida Khodr Ramadan, Frederick Lau, Veysel Gelin, Almila Bagriacik, Maryam Zaree, Karolina Lodyga, Oliver Masucci, Massiv
Broadcaster: TNT Serie
World premiere
Below The Surface
Denmark / Germany
Creator: Kasper Barfoed (Summer of '92)
Director: Kasper Barfoed
With Johannes Lassen, Sara Hjort Ditlevsen, Paprika Steen
Broadcaster: Kanal 5, Discovery Networks Denmark
World premiere
Black Spot
France / Belgium
Creator: Mathieu Missoffe (Profiling)
Dir. Thierry Poiraud (Goal of the Dead), Julien Despaux (Accused)
With Suliane Brahim, Laurent Capelluto, Hubert Delattre, Samuel Jouy
Broadcaster: France 2
World premiere
Der gleiche Himmel (The Same Sky)
Germany / Czech Republic
Creator: Paula Milne (The Politician's Wife, The Virgin Queen, Endgame)
Director: Oliver Hirschbiegel (Downfall, 13 Minutes)
With Tom Schilling, Sofia Helin, Friederike Becht, Ben Becker, Jörg Schüttauf
Broadcaster: ZDF
World premiere
Patriot
USA / Czech Republic
Creator: Steve Conrad (The Secret Life of Walter Mitty)
With Michael Dorman, Kurtwood Smith, Michael Chernus, Kathleen Munroe, Aliette Opheim, Chris Conrad, Terry O'Quinn
Broadcaster: Amazon Prime Video
World Premiere
SS-GB
United Kingdom
Director: Philipp Kadelbach (Platonic Love, Generation War)
With Sam Riley, Kate Bosworth, Lars Eidinger, James Cosmo, Rainer Bock, Maeve Dermody, Aneurin Barnard, Jason Flemyng
Broadcaster: BBC One
World premiere
Berlin 2017 full Competition lineup:
Ana, Mon Amour Dir. Călin Peter Netzer (Romania / Germany / France)
Bamui Haebyun-eoseo Honja (On The Beach At Night Alone) Dir. Hong Sangsoo (Republic of Korea - South Korea)
Beuys Dir. Andres Veiel (Germany) - Documentary
Colo Dir. Teresa Villaverde (Portugal / France)
The Dinner Dir. Oren Moverman (USA)
Django Dir. Etienne Comar (France) – First feature
El bar (The Bar) Dir. Álex de la Iglesia (Spain) – Out of competition
Félicité Dir. Alain Gomis (France / Senegal / Belgium / Germany / Lebanon)
Final Portrait Dir. Stanley Tucci (United Kingdom / France) – Out of competition
Hao ji le (Have A Nice Day) Dir. Liu Jian (People's Republic of China) - Animation
Helle Nächte (Bright Nights) Dir. Thomas Arslan (Germany / Norway)
Joaquim Dir. Marcelo Gomes (Brazil / Portugal)
Logan Dir. James Mangold (USA) – Out of competition
Mr. Long Dir. Sabu (Japan / Hong Kong, China / Taiwan / Germany)
The Party Dir. Sally Potter (United Kingdom)
Pokot (Spoor) Dir. Agnieszka Holland (Poland / Germany / Czech Republic / Sweden / Slovakian Republic)
Return To Montauk Dir. Volker Schlöndorff (France / Germany / Ireland)
Sage Femme (Midwife) Dir. Martin Provost (France / Belgium) – Out of competition
T2 Trainspotting Dir. Danny Boyle (United Kingdom) – Out of competition
Teströl és Lélekröl (On Body And Soul) Dir. Ildikó Enyedi (Hungary)
Toivon Tuolla Puolen (The Other Side Of Hope) Dir. Aki Kaurismäki (Finland / Germany)
Una Mujer Fantástica (A Fantastic Woman) Dir. Sebastián Lelio (Chile / USA / Germany / Spain)
Viceroy's House Dir. Gurinder Chadha (India / United Kingdom) – Out of competition
Wilde Maus (Wild Mouse) Dir. Josef Hader (Austria) – First feature
Berlinale Special 2017
Acht Stunden sind kein Tag (Eight Hours Don't Make A Day) Dir. Rainer Werner Fassbinder (Federal Republic of Germany 1972) – TV series with 5 episodes
The Bomb Dir. Kevin Ford, Smriti Keshari, Eric Schlosser (USA) – Experimental film
Es War Einmal In Deutschland… (Bye Bye Germany) Dir. Sam Garbarski (Germany / Luxembourg / Belgium)
In Zeiten Des Abnehmenden Lichts (In Times of Fading Light) Dir. Matti Geschonneck (Germany)
La Libertad Del Diablo (Devil's Freedom) Dir. Everardo González (Mexico) - Documentary
La Reina De España (The Queen of Spain) Dir. Fernando Trueba (Spain)
Le Jeune Karl Marx (The Young Karl Marx) Dir. Raoul Peck (France / Germany / Belgium)
The Lost City Of Z Dir. James Gray (USA)
Masaryk (A Prominent Patient) Dir. Julius Ševčík (Czech Republic / Slovakian Republic)
Maudie Dir. Aisling Walsh (Canada / Ireland)
Nema-ye Nazdik (Close Up) Dir. Abbas Kiarostami (Iran)
The Trial: The State Of Russia vs Oleg Sentsov Dir. Askold Kurov (Estonia / Poland / Czech Republic) - documentary
Últimos Días En La Habana (Last Days In Havana) Dir. Fernando Pérez (Cuba / Spain)
Berlinale Special Series
4 Blocks – Director: Marvin Kren (Germany)
Below The Surface – Creator / Director: Kasper Barfoed (Denmark / Germany)
Black Spot – Creator: Mathieu Missoffe - Director: Thierry Poiraud, Julien Despaux (France / Belgium)
Der gleiche Himmel (The Same Sky) - Creator: Paula Milne – Director: Oliver Hirschbiegel (Germany / Czech Republic)
Patriot – Creator: Steve Conrad (USA / Czech Republic)
SS-GB – Director: Philipp Kadelbach (United Kingdom)