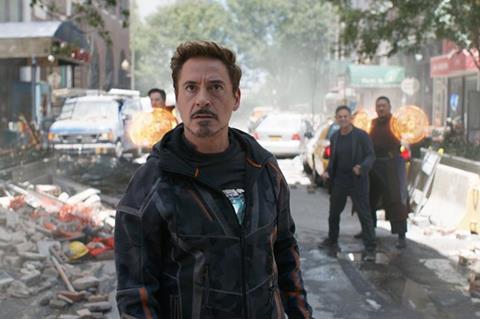 Avengers: Infinity War stayed top for its third consecutive weekend as an estimated $61.8m elevated the tally to $547.8m.
The Marvel Studios release now ranks as the eighth highest release of all time and has grossed more than any other superhero film outside the Marvel Cinematic Universe.
New Line's Melissa McCarthy comedy Life Of The Party debuted in second place on $18.5m in 3,656 theatres through Warner Bros, while Universal's thriller Breaking In starring Gabrielle Union and produced by her and Will Packer arrived in third place on $16.5m from 2,537 venues.
Last weekend's new opener, the rom-com Overboard with Anna Faris and Eugenio Derbez, fell 31.3% and two places to number four, adding $10.1m for a respectable $29.6m.
Swen opened Nothing To Lose (Nada A Perder) at number 17 on $646,421 from 69 sites. The biopic chronicles Brazilian bishop Edir Macedo, founder of the Universal Church of the Kingdom of God and owner of Record TV network.
Box office for the top 12 dropped 21.1% on last weekend, and came in roughly on a par with the comparable session in 2017.
Estimated top 10 North America May 11-13, 2018
Film (Dist) / Est wkd gross / Est total to date
1 (1) Avengers: Infinity War (1) (Buena Vista) Walt Disney Studios Motion Pictures International $61.8m $547.8m
2 (-) Life Of The Party (Warner Bros) Warner Bros Pictures International $18.5m –
3 (-) Breaking In (Universal) Universal Pictures International $16.5m –
4 (2) Overboard (Pantelion) MGM / Pantelion $10.1m $29.6m
5 (3) A Quiet Place (Paramount) Paramount Pictures International $6.4m $169.6m
6 (4) I Feel Pretty (STX) Voltage Pictures $3.7m $43.9m
7 (5) Rampage (Warner Bros) Warner Bros Pictures International $3.4m $89.7m
8 (6) Tully (Focus Features) Universal Pictures International $2.2m $6.9m
9 (7) Black Panther (Buena Vista) Walt Disney Studios Motion Pictures International $1.9m $696.2m
10 (16) RBG (Magnolia) $1.2m $2m