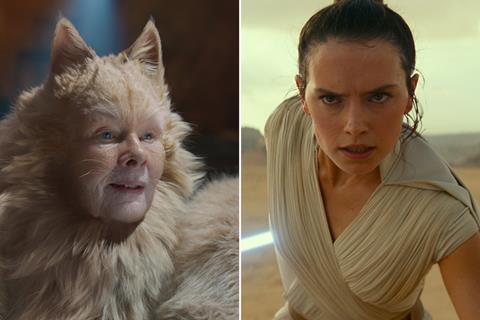 DECEMBER 23 UPDATE: Universal / Working Title's Cats flopped on $6.6m in fourth place at North American box office as Disney /Lucasfilm's Star Wars: The Rise Of Skywalker dominated the penultimate weekend of the year on a confirmed $177.4m haul.
J.J. Abrams' final instalment in the third trilogy of the space opera franchise ranks 12th on the all-time opening weekend pantheon, and delivered the third highest debut of 2019 behind Avengers: Endgame and The Lion King, as well as the third highest December launch.
The Rise Of Skywalker produced Disney's seventh $100m-plus opening weekend and arrived in 4,406 theatres. The film's global bow generated $376.2m.
Meanwhile Cats, Working Title and Universal's all-star musical adaptation directed by Tom Hooper, flopped in fourth place amid generally scathing reviews, grossing $6.6m from 3,380 sites. According to reports Universal sent a new version of the film with slight tweaks to theatres on Sunday at the behest of the filmmakers.
Bombshell, distributed in North America via Lionsgate, expanded wide in its second weekend from four to 1,480 and added $5.1m for $5.5m after climbing 13 slots to number six. Executives believe the highly regarded #MeToo drama will benefit from word of mouth as it heads into the holidays.
Sony's Jumanji: The Next Level crossed $100m in its second weekend and ranks second on $26.5m for $102.3m. Disney's Frozen II ranks third on $12.9m in the fifth session for $387.2m.
James Mangold's Ford v Ferrari crossed $100m in its sixth session and the Fox drama ranks ninth on $1.8m for a $102m running total via Disney, while Clint Eastwood's controversial Atlanta Olympics bombing drama Richard Jewell dropped three slots to number seven in its second weekend, adding $2.6m for $9.6m via Warner Bros.
Bong Joon Ho's shortlisted international feature film Oscar contender Parasite in 12th place has earned $21.2m through Neon after 11 weekends, while Taika Waititi's Jojo Rabbit at number 17 crossed $20m to reach $20.4m through Fox Searchlight in its tenth weekend. A24's Uncut Gems from the Safdie brothers starring Adam Sandler crossed $1m in its second session, holding firm in five venues and adding $241,431 for $1.01m. It ranks 15th.