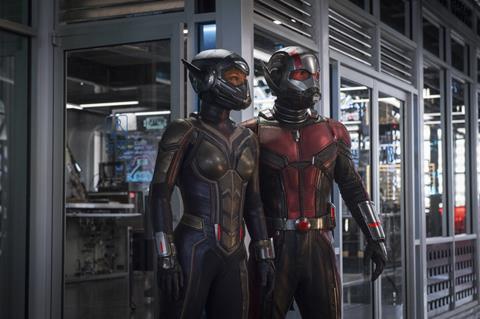 AUGUST 24 UPDATE: Ant-Man And The Wasp flies into China this weekend in a critical launch that could push the Disney/Marvel Studios release past $500m worldwide by Sunday.
If the superhero tentpole can come close to Ant-Man's $42.8m October 2015 debut in China, the latest film stands every chance of crossing the half-billion mark within the next few days.
Early indications point to a $23m-$24m Friday opening day in China, which would position it as the fourth highest Marvel Cinematic Universe opening day behind only Avengers: Age Of Ultron, Avengers: Infinity War, and Captain America: Civil War.
Ant-Man And The Wasp currently stands at $261.8m at the international box office, and $471.5m worldwide.
A strong China debut allied to robust holds would before long push the current release past Ant-Man's final hauls of $339.1m international and $519.3m global. The 2015 original finished on $105.4m in China to rank as the film's highest market outside North America, grossing more than four times as much as it did in the UK.
Meanwhile summer hit The Meg stands at $354m worldwide, of which $264.4m comes from international. Of that amount, $132.9m comes from Warner Bros Pictures Internaiothal (WBPI) markets, and the $131.5m balance from China via the film's co-financier Gravity Pictures.
The giant shark thriller starring Jason Statham and Li Bingbing glided into France on Wednewsday and WBPI executives will report numbers at the weekend.
Crazy Rich Asians stood at an early $2.1m and opens in Germany on Thursday. Crime caper Ocean's 8 has reached $150.7m, comedy Tag $22.4m with a debut this weekend in Brazil, and family release Teen Titans Go! $6.7m heading into Friday's Mexico launch.
Pixar smash Incredibles 2 stands at $533.8m through Walt Disney Studios Motion Pictures International, with debuts set for Norway and Turkey. Christopher Robin on $28m opens in the Czech Republic and Indonesia.
Paramount Pictures International's spy action thriller Mission: Impossible – Fallout starring Tom Cruise has reached $330.4m.
Mamma Mia! Here We Go Again launches in Japan and Venezuela via Universal Pictures International and stands at $216.7m.
The studio has several key debuts for BlacKkKlansman. Spike Lee's account of an undercover operation to infiltrate the Ku Klux Klan in the 1970s has grossed an early $3.4m and arrives in the UK, France, Germany and Austria, Chile, ad Norway.
Dwayne Johnson action tentpole Skyscraper has reached $134m from Universal markets, rising to $231.2m including $97.2m from China.
Horror-thriller The First Purge on $62.5m debuts in Taiwan, Singapore and Philippines, while Australia hosts Working Class Boy. Latest numbers put Jurassic World: Fallen Kingdom on $880.1m.
Hotel Transylvania 3: Summer Vacation stands at $283.6m through Sony Pictures Releasing International and debuts in Italy, while Equalizer 2 has grossed $36m.
Fox International's YA thriller The Darkest Minds stands at $16.7m and opens in a handful of Middle East markets as well as Taiwan and Poland. Dnyukha! opens in Russia.