FEB 22 UPDATE: Deadpool, Fox's R-rated superhero blockbuster starring Ryan Reynolds, has surged to $236.9m and combines with $256.2m internationally for $493.1m worldwide.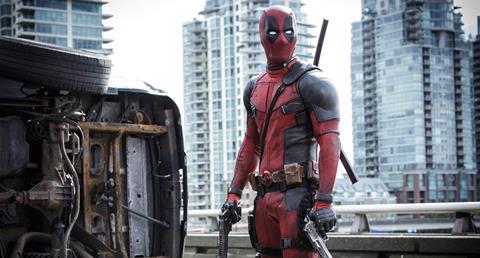 DreamWorks Animations' Kung Fu Panda 3 held firm at number two on $12.5m to reach $117.1m after four sessions.
Of the newcomers, Columbia Pictures' action-adventure Risen starring Joseph Fiennes debuted at number three on $11.8m from 2,915 venues.
A24 released the Sundance 2015 selection The Witch in fourth place on $8.8m from 2,046 sites, while Focus Features debuted Race at number six on $7.3m 2,369.
Stephen Chow's all-time Chinese box office champion The Mermaid opened in 17th place via Sony on $985,052 from 35 venues.
Pantelion Films opened Busco Novio Para Mi Mujer on $902,457 from 357 sites, while Bollywood title Neeja arrived via Fox on $625,526 from 73.
Colombia's Oscar hopeful Embrace Of The Serpent scored a strong debut on $50,955 from three sites through Oscilloscope Pictures.
Overall box office for the top 12 amounted to $125.2m, representing a 43% drop on last weekend and a 14.3% gain on the comparable session in 2015.
This week's wide releases are: Gods Of Egypt through Lionsgate-Summit; Triple 9 via Open Road; and Eddie The Eagle from Fox.
Confirmed top 10 North America January February 19-21, 2016
Film (Dist) / Conf wkd gross / Conf total to date
1 (1) Deadpool (Fox (Fox International) $56.5m $236.9m
2 (2) Kung Fu Panda 3 (Fox-DreamWorks) Fox International $12.5m $117.1m
3 (-) Risen (Columbia Pictures (Sony Pictures Releasing International) $11.8m –
4 (-) The Witch (A24) $8.8m –
5 (3) How To Be Single (Warner Bros) Warner Bros Pictures International $8.2m $31.7m
6 (-) Race (Focus Features) Universal Pictures International $7.4m –
7 (4) Zoolander 2 (Paramount) Paramount Pictures International $5.5m $23.7m
8 (7) Star Wars: The Force Awakens (Buena Vista) Walt Disney Studios Motion Pictures International $3.9m $921.7m
9 (5) The Revenant (Fox) Fox International $3.87m $165.2m
10 (6) Hail, Caesar! (Universal) Universal Pictures International $2.7m $26.3m