NOVEMBER 7 UPDATE: Marvel Studios' latest offering stormed to the top on a confirmed $85.1m, followed by Dreamworks Animation's Trolls on $46.6m via Fox and Hacksaw Ridge on $15.2m through Lionsgate.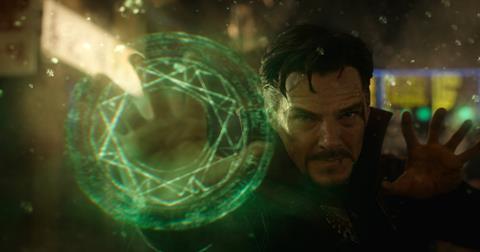 Meanwhile Focus Features delivered a terrific launch for Loving, one of the studio's awards hopefuls this season. The film starring Ruth Negga and Joel Edgerton grossed $159,615 from four theatres for a $39,904 average and ranked 27th. Jeff Nichols directs.
Doctor Strange arrived on 3,882 theatres and stars starring Benedict Cumberbatch, Tilda Swinton, Chiwetel Ejiofor, Rachel McAdams and Mads Mikkelsen. It delivered the emphatic bow observers have come to expect from Marvel Studios and combines with the $240.4m international running total for $325.4m worldwide.
The superhero adaptation propelled the top 12 to $182.9m, which climbed 134.6% on last weekend and gained 17.3% on the comparable session in 2015, when Spectre debuted at number one on $70.4m.
Trolls played its part in the strong weekend. The animation stars Anna Kendrick and Justin Timberlake and debuted in 4,060 venues.
Independent war film Hacksaw Ridge, about the heroism of Medal Of Honor recipient and conscientious objector Desmond Doss in the WWII Pacific Battle Of Okinawa, stars Andrew Garfield and marks Mel Gibson's return to directing since Apocalypto in 2006. It opened in 2,886 sites.
Last weekend's champion Boo! A Medea Halloween fell to number four and stands at a terrific $64.9m, while Sony's Inferno ranks fifth on a disappointing $26.1m after two weekends.
Sony Pictures Classics opened Sundance hit The Eagle Huntress on $52,574 from four at number 41.
This week's wide releases are: Denis Villeneuve's sci-fi drama Arrival with Amy Adams via Paramount; EuropaCorp's thriller Shut In; and Universal's comedy Almost Christmas.
Confirmed top 10 North America November 4-6, 2016
Film (Dist) / Conf wkd gross / Conf total to date
1 (-) Doctor Strange (Buena Vista) Walt Disney Studios Motion Pictures International $85.1m –
2 (-) Trolls (Fox) Fox International $46.6m –
3 (-) Hacksaw Ridge (Lionsgate) IM Global $15.2m –
4 (1) Boo! A Madea Halloween (Lionsgate) Lionsgate International $7.8m $64.9m
5 (2) Inferno (Sony) Sony Pictures Releasing International $6.3m $26.1m
6 (4) The Accountant (Warner Bros) Warner Bros Pictures International $5.9m $70.9m
7 (3) Jack Reacher: Never Go Back (Paramount) Paramount Pictures International $5.6m $49.2m
8 (5) Ouija: Origin Of Evil (Warner Bros) Warner Bros Pictures International $3.9m $31.4m
9 (6) The Girl On The Train (Universal) Mr Smith Entertainment $2.8m $70.7m
10 (7) Miss Peregrine's Home For Peculiar Children (Fox) Fox International $2.1m $83.3m