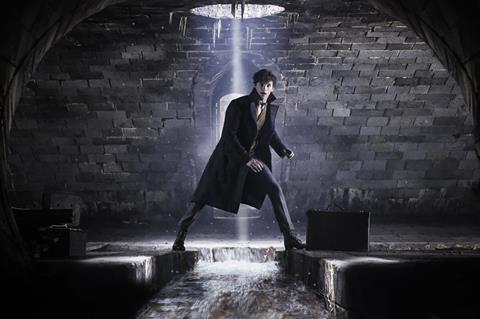 NOVEMBER 19 UPDATE: Fantastic Beasts: The Crimes Of Grindelwald ruled the world on a $253m global launch, while Venom powered past $200m in its second weekend in China, and Bohemian Rhapsody made light work of surging past the $250m international milestone.
WARNER BROS PICTURES INTERNATIONAL
UPDATED: Fantastic Beasts: The Crimes Of Grindelwald scored a confirmed $191.5m weekend gross from 79 markets as the worldwide haul generated $253.7m, aided by the $62.2m number one North American debut.
Warner Bros Pictures International (WBPI) executives said the international launch came in at 3% above that of Fantastic Beasts And Where To Find Them in like markets – that film launched on $186.4m excluding previews in late 2016 – and surpassed that film's opening weekends in 47 markets.
China led the way on $37.4m (RMB 260.1m) on 20,000 screens in second place behind Sony smash Venom, followed by the UK on $15.9m (£12.3m) on 1,823, Germany on $13m (€11.6m) on 1,461, Russia on $12.4m (Rbl 840m) on 3,554 for the biggest debut by a Warner Bros release, and South Korea on $11.7m (KRW 13.3m) on 1,600 screens.
Elsewhere the fantasy tentpole starring Eddie Redmayne, Jude Law, Katherine Waterston, Zoe Kravitz, Dan Fogler and Johnny Depp debuted in France on $12.1m (€10.8m) and 1.5m admissions on 903 screens, Italy on $7.2m (€6.4m) on 832, Brazil on $6.9m (Rs 25.8m) on 1,474, Australia on $6.8m (A$9.4m) on 500, Mexico on $6.1m (Ps 124.4m) on 3,747, and Spain on $4.6m (€4m) on 626. Grindelwald opens in Japan on Friday.
The second in the Fantastic Beasts series delivered 21 opening weekend records in the Wizarding World series that encompasses the Harry Potter series, including Russia, Indonesia, Argentina and Brazil. Warner Bros reported record opening weekend records for the year to date in 32 markets, among them the UK, Germany, France, Italy, Australia, Taiwan, Spain, and South Korea.
By region, Grindelwald ranked number one in nine of its Asian markets except China, where Sony's Venom continues to deliver phenomenal results and rule the market. Grindelwald ranks number one in every one of its Latin American markets, and finished the weekend at the summit across its active markets in Europe, the Middle East and Africa.
A Star Is Born surged to $155.7m at the international box office and $341.5m worldwide following a $6.3m international session from 64 markets. The drama directed by and starring Bradley Cooper opposite Lady Gaga stands at $34.9m in the UK after seven weekends, and $19m in Australia after five. It has amassed $13.7m in France, $8.9m in Germany, $7.7m in Italy, $6.2m in Brazil, $5.1m in Taiwan, and $5m in Spain. Japan is the last major market on December 21.
SONY PICTURES RELEASING INTERNATIONAL
UPDATED: Venom grossed $54.7m from 65 markets to power its way to $569.4m internationally and $780.5m worldwide. It held on to number one in China as an estimated $51.2m delivered RMB 355m for the best second session for a superhero film and the fourth of all time for an imported title. The territory total stands at $204.8m and the comic book adaptation starring Tom Hardy, Michelle Williams and Riz Ahmed ranks as the third biggest superhero release of all time in China behind Avengers: Infinity War and Avengers: Age Of Ultron.
Venom has amassed $32.5m in Russia, $30.2m in South Korea, $26.2m in the UK, $24.2m in Mexico, and $19.7m in France.
The Girl In The Spider's Web grossed $2.8m from 52 to reach $13.1m, while Goosebumps 2: Haunted Halloween added $1.3m from 40 for $44.9m.
FOX INTERNATIONAL
UPDATED: Bohemian Rhapsody brought in a further $46.9m from 79 markets as the hit drama about the rise of British rockers Queen led by front man Freddie Mercury flew to $257.7m.
South Korea was the top holdover as box office climbed a little more than2% to rank second on $7.4m and reach $24.6m after three weekends. The UK produced $3.9m to rank third and climb to $45.3m, which means after three weekends Bohemian Rhapsody has overtaken the lifetime total of La La Land. Japanese box office climbed 11% on $3.4m in the second session to hold on to number one and reach $11.7m.
In the third session, France generated $3.3m for $18.6m, Australia $3m for $16.8m, Germany $2.9m for $14m, Spain $2.7m for $13.7m, Brazil $2.1m for $8.3m, Mexico $1.9m for $15.6m, Russia $1.7m for $12.3m, and Holland $1.3m for $5.8m.
Female-led heist thriller Widows grossed $2.8m from 19 markets as the early haul reached $7.2m. The film debuted in Italy at number three on $669,523, and added $1.1m in its second weekend in the UK in fourth place for $5.6m.
UNIVERSAL PICTURES INTERNATIONAL
UPDATED: The Grinch added $9.4m from 23 active territories for $25.2m, and $151.7m worldwide. After two weekends the UK ranks as the top market as $4.9m in second place propelled the tally to $12.8m, followed by Brazil with $1.5m in third place for $3.1m. The family release debuts in a cluster of markets this week including Argentina.
Halloween added $1.9m from 61 active territories to reach $92.2m from 66 overall, and $251m worldwide. After four sessions, Germany has generated $10.5m, France $6.5m, and Spain and Brazil $4.1m each. Space race drama First Man stands at $52.3m.
Johnny English Strikes Again added $1.7m from 48 active markets to reach $125.7m from 67 overall, and heads into China this week. Tiffany Haddish comedy Night School stands at $23m, and Boy Erased an early $700,000 from three territories. The roll-out proper begins in the new year, with Spain and Brazil on January 11 and January 31, respectively, followed by Italy on February 7, and the UK and Mexico on February 8.
WALT DISNEY STUDIOS MOTION PICTURES INTERNATIONAL
UPDATED: Live-action fantasy The Nutcracker And The Four Realms grossed $7.2m from 42 territories as the early running total climbed to $72.9m, and worldwide reached $116.3m. Europe declined 46% and Latin America fell 53%. China has produced $16.2m, followed by Italy on $9.7m, Germany on $6.2m, and the UK $5.6m. The film starring Keira Knightley, Helen Mirren, Mackenzie Foy and Morgan Freeman opens this week in Australia and New Zealand.
PARAMOUNT PICTURES INTERNATIONAL
Second World War horror film Overlord grossed $2.6m from 52 markets to reach an early $15m running total. Russia is the lead market on $1.9m after two, followed by the UK on $1.5m, and Mexico on $1m. It opens in France this week.
LIONSGATE INTERNATIONAL
Dark comedy A Simple Favor added $1m for $37.6m from 23 markets. Germany has generated $2.4m fte two weekends, and the lead market is Australia on $7.1m after 10 sessions. The UK has produced $6.7m after eight.