APRIL 13 UPDATE: The action franchise that keeps on giving for Universal soared to $3.18bn worldwide thanks to an estimated $259.2m worldwide weekend haul that boosted the running total to $801.5m.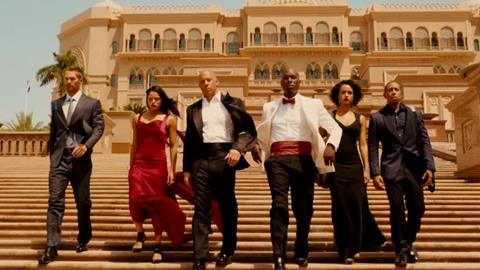 UNIVERSAL PICTURES INTERNATIONAL
UPDATED: Fast & Furious 7 delivered a confirmed $198.7m internationally for $550.5m after crossing $500m in 11 days – a new speed record for the studio. Imax delivered $14m worldwide for $41.5m.
The film ranks number one in all 67 territories and has already out-grossed the international lifetime total of every film in the franchise after it overtookthe $550m final tally of Fast & Furious 6 on Monday.
Fast & Furious 7 arrived in style in China, Russia and Poland. The $68.8m (420m RMB) Sunday opening in China in 5,454 theatres scored the biggest single day of all time in the territory.
The action kicked off with $8m (48.6m RMB) from midnight shows at 10,397 venues drawing 1.3million admissions; record figures that overtook $3.5m (20.8m RMB) and 496,000 admissions set by Transformers 4.
Imax reported $870,000 from midnight shows in China that also overtook the previous Transformers 4 mark of $618,000. The Imax opening day is understood to be $5m, which again shatters the Transformers 4 score of $3.4m.
Russia generated a record $15.9m (Roubles 857m) four-day opening weekend from 1,182 sites, while Poland produced $2.1m from 199 for Universal and franchise records.
In the second weekend Fast & Furious 7 climbed to $39.7m in Mexico and $38.5m in the UK, $27.6m in Germany, $24.2m in Brazil, $23.1m in Australia and $20.2m in India.
France has generated $20.3m, Taiwan $19.5m, Argentina $16.5m, Italy $15.9m and South Korea $16m.
The film is already Universal's highest grossing film of all time in 23 territories: Argentina, Colombia, Ecuador, Egypt, India, Indonesia, Lebanon, Malaysia, Paraguay, Peru, Thailand, Turkey, UAE and Vietnam. It opens in Japan on April 17.
Fifty Shades Of Grey stands at $401.9m internationally and $567.8m worldwide. Germany comedy Half Brothers (Halbe Brueder) arrived in Germany, Austria, Luxembourg and German-speaking Switzerland on $855,205 in 490 venues. Germany delivered a $741,000 number five debut in 412. Ex Machina stands at $6.6m from six territories.
CHINA UPDATE
Wu Jing's Wolf Warriors starring Yu Nana and Scott Adkins earned a further $18m as the running total climbed to $68.5m.
FOX INTERNATIONAL
UPDATED: DreamWorks Animation's Home crossed $100m on the back of a $15.7m session in 57 markets that boosted the running total to $113.4m. It opened in Brazil on $2.3m from 675 and added $2.3m from 837 UK screens to reach $27.9m after four sessions. Australia has generated $10.3m after the same period.
Kingsman: The Secret Service added $8.9m from 33 for $267.6m and boosted its China tally by $7.6m from 4,104 to $70.7m after three weekends.
The Longest Ride ventured into its first 28 markets and took $2.9m. The highlights were $1.1m in Australia from 213 screens and $488,000 from 253 Mexican screens.
The Second Best Exotic Marigold Hotel stands at $46.2m, while Battle For Sevastapol has taken $5.4m in Russia, rising to $5.8m including Ukraine.
WALT DISNEY STUDIOS MOTION PICTURES INTERNATIONAL
Cinderella added $12.6m from 54 territories to reach $256m. China remains the lead market on $69.8m, followed by the UK on $22.2m, Italy on $15.9m, Mexico on $15.1m and Australia on $11.8m.
LIONSGATE INTERNATIONAL
UPDATED: Divergent grossed $7.9m from 83 markets for $134.7m and has amassed $14.2m in France, $11.3m in the UK, $10.9m in Brazil, $9m in Mexico and $8.2m in Russia.
PARAMOUNT PICTURES INTERNATIONAL
The Spongebob Movie: Sponge Out Of Water used a $3.2m weekend in 35 territories to climb to $142.3m. The family film has reached $3.9m after two weekends in Australia and $9.5m after three in the UK. It opens this week in Thailand.
SONY PICTURES RELEASING INTERNATIONAL
UPDATED: The first releases of Paul Blart: Mall Cop 2 earned $2.6m from four markets led by Germany on $1.6m from 509 screens and the UK on $665,000 from 392. Annie stands at $47m from Sony markets.
WARNER BROS PICTURES INTERNATIONAL
UPDATED: Focus starring Will Smith and Margot Robbie added $2.1m from 53 markets for $94.8m and has reached $11.2m in the UK, $8.8m in Mexico, $8.7m in Russia, $6.7m in Australia and $5.9m in Italy.
Will Ferrell and Kevin Hart comedy Get Hard grossed $1.5m from 13 for $13.6m and after three sessions stands at $6.3m in the UK and $3.7m in Australia.
German release Der Nanny added $1.3m in its third weekend in Germany for $10.3m.