APRIL 27 UPDATE: Universal's global smash, which crossed $1bn at the international box office on Sunday and stands at $1.321bn worldwide, retained pole position in North America in its fourth session.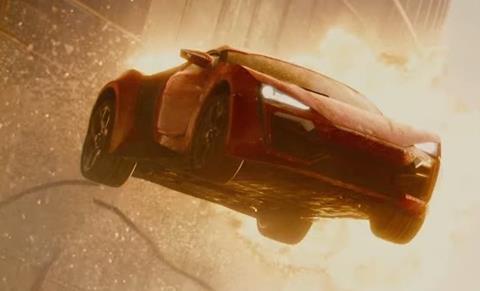 The action tentpole grossed a confirmed $17.8m for $320.1m as overall box office for the top 12 amounted to $85.9m and fell 23.3% against last weekend's $112m aggregate.
The session fell 16.7% against the comparable period in 2014, when box office for the top 12 amounted to $103.1m and Fox's Cameron Diaz comedy The Other Woman opened at number one on $24.8m.
Lionsgate opened Lakeshore Entertainment's drama The Age Of Adaline well enough in third place on $13.2m in 2,991 theatres. Blake Lively, Michael Huisman and Harrison Ford star.
Open Road opened the drama Little Boy at number 11 on $2.8m from 1,045 venues while Warner Bros released Russell Crowe's feature directorial debut The Water Diviner at number 14 on $1.2m from 320 sites.
Well Go USA opened Kung Fu Killer in 28 theatres and the film generated $58,664.
Roadside released its Toronto 2014 pick-up Adult Beginners starring Rose Byrne on $36,657 from 10 venues. Tribeca Films' documentary Misery Loves Company arrived on $5,300 in a single theatre.
Disney/Marvel's Avengers: Age Of Ultron opens on Friday. There are no other wide releases planned.
Confirmed top 10 North America Apr 24-26 2015
Film (Dist) / Conf wkd gross / Conf total to date
1 (1) Furious 7 (Universal) Universal Pictures International $17.8m $320.1m
2 (2) Paul Blart: Mall Cop 2 (Columbia) Sony Pictures Releasing International $14.8m $43.2m
3 (-) The Age Of Adaline (Lionsgate) Lakeshore International, Sierra/Affinity $13.2m –
4 (4) Home (Fox-DreamWorks Animation) Fox International $8m $153.5m
5 (3) Unfriended (Universal) Universal Pictures International $6.2m $25.1m
6 (15) Ex Machina (A24) Universal Pictures International $5.3m $6.8m
7 (5) The Longest Ride (Fox) Fox International $4.3m $30.3m
8 (6) Get Hard (Warner Bros) Warner Bros Pictures International $3.8m $83.9m
9 (8) Monkey Kingdom (Buena Vista) Walt Disney Studios Motion Pictures International $3.44m $10.1m
10 (7) Woman In Gold (TWC) TWC International $3.36m $21.5m