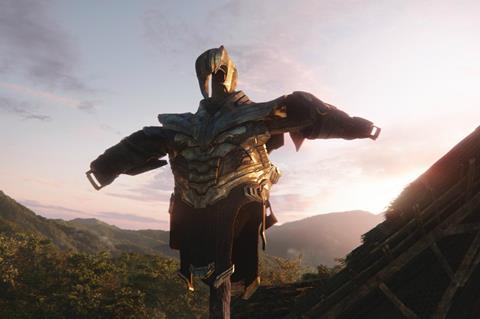 Global and international box office set new records in 2019, reaching $42.5bn and $31.2bn according to fresh data from ComScore.
North America generated $11.4bn, the second highest year of all time behind 2018 on $11.88bn, marking the fifth consecutive year that ticket sales have gone over $11bn.
ComScore sources attributed the global and international numbers to growth in the vast majority of the top international territories including China, Japan, South Korea, France, Germany, Russia, Mexico, Spain, Brazil and Italy among others.
In selected highlights, China's box office climbed 5.4% to $9.2bn; France delievered more than $1.4bn; Germany more than $941m; and Mexico generated a record $972.1m.
Marvel Studios' Avengers: Endgame was the number one global film of the year on $2.78bn and ranks as the highest grossing global release of all time. Next came The Lion King on $1.65bn, Frozen II on $1.32bn, Sony's Spider-Man Far Home on $1.13bn, and Captain Marvel on $1.12bn.
Hollywood studio highlights:
Walt Disney Studios Motion Pictures International enjoyed an exceptional 12 months as all releases including Fox generated $8.5903bn, of which Disney only releases produced an industry record $7.145bn that smashed $4.604bn set by Disney in 2016. Box office crossed $4bn for the fourth time and the fourth year in a row.
Global box office including Fox amounted to $12.7269bn, while Disney-only releases produced $10.7471bn – an all-time industry record that overtook Disney's $7.605bn set in 2016. This was the third time Disney has crossed $7bn globally after 2016 and 2018.
Six films released through Disney in 2019 crossed $1bn globally in the same year (Star Wars: The Rise Of Skywalker will make it seven films released in 2019 any day now): Marvel Studios' Avengers: Endgame on $2.798bn global and $1.94bn international box office; The Lion King on $1.657bn and $1.11bn; Frozen II on $1.145bn and $745.4m; Captain Marvel on $1.13bn and $702.9m; Toy Story 4 on $1.074bn and $640m; and Aladdin on $1.05bn and $695.4m.
Second internationally was Warner Bros Pictures International (WBPI), whose 2019 releases generated $2.854bn, marking the 12th time the company has crossed $2bn, and the tenth year in a row. It has ranked number one or two in seven out of the last 10 years.
The runaway champion was Joker, the highest-grossing R-rated release of all time on $735m and counting. Next came Pokemon Detective Pikachu on $289m, Godzilla II: King Of The Monsters on $284m, It: Chapter Two on $261m, Shazam! on $225m, Aquaman on $225m from the 2019 portion of its release ($813m overall including 2018 gross), and Annabelle Comes Home on $157m.
The top five local-language titles release through WBPI were: White Snake in China on $66.1m; Der Junge Muss An Die Frische Luft (The Boy Needs Fresh Air) in Germany on $28.6m in 2019 ($36.6m overall including 2018 gross); Juni-Nin No Shinitai Kodomo-Tachi (Twelve Suicidal Children) in Japan on $14m; Diner in Japan on $11.5m and Japan: Yuki No Hana (Snowflower) in Japan on $10.1m.
Universal Pictures International releases generated $3.311bn worldwide and $2.152bn internationally. The studio crossed $2bn internationally for the third year in a row and has reached the mark five times in total.
Hobbs & Shaw grossed $760.5m to rank as the studio's biggest global release of the 2019 and pushed the Fast And Furious franchise past Jurassic to become Universal's highest-grossing global franchise, and the industry's sixth highest of all time globally. Hobbs & Shaw was also Universal's biggest international release of the year on $586.6m.
DreamWorks Animation's How To Train Your Dragon: The Hidden World was next globally and internationally on $520.8m and $360m, followed by Illumination Entertainment's The Secret Life Of Pets 2 on $433.8m and $275.6m.
In the global pecking order, Jordan Peele's Us ranked fourth on $256.1m, followed by Glass on $245.3m (Universal only held North American rights). Internationally, DreamWorks Animation's Abominable placed fourth overall on $116.2m (including Pearl Studios' release in China), and Downton Abbey on $92.9m.
Sony Pictures Releasing International produced $3.351bn globally and $2.005bn internationally.
Spider-Man: Far From Home earned $1.1319bn worldwide to become the studio's biggest release of all time and $741.5m internationally. It finished as the studio's biggest release in 20 markets including Brazil, Mexico, Hong Kong, Philippines, Saudi Arabia, Singapore, South Korea, and Thailand. It is the seventh biggest Hollywood film of all time in China.
Jumanji: The Next Level took over $600m globally and $386.9m internationally and remains active in the market.
Once Upon A Time… In Hollywood grossed $372.4m globally and $231.3m at international box office to rank as Quentin Tarantino's second-highest-grossing film worldwide, behind Django Unchained on $425.4m. It is the filmmaker's biggest release in 60 territories, among them the UK, Australia,
Sony's top five local language releases in 2019 were: Padre No Hay Mas Que Uno (Spain), which took $15.6m and became the highest grossing local film of the year as well a Sony's best local language release in the market since 2012 (the sequel is scheduled to open in July); Lo Dejo Cuando Quiera (Spain, $12.8m); Pedro Almodóvar's Dolor y Gloria (Spain, $6.5m); The Bravest (China, $229m worldwide); and Kingdom (Japan, $53m).
For Paramount Pictures International, the performer of the year was Transformers spin-off Bumblee on $244.9m internationally, followed by Rocketman on $99.3m and Gemini Man on $91.6m. Local title successes included: Si Yo Fuera Rico (If I Were Rich, Spain, $12.6m) and controversial gangland drama Blue Story (UK, $5.8m).
Lionsgate International reported $503m in 2019 as John Wick: Chapter 3 – Parabellum led the way on $155.7m from international markets (and 326.6m worldwide); followed by Knives Out on $106.2m with more to come; and best picture Oscar winner Green Book on $100.4m.
"The immersive bigger-than-life movie theatre experience remains a singular, essential and relevant part of the entertainment diet of consumers around the world," said Paul Dergarabedian, Comscore's senior media analyst. "The gold standard experience created by cinemas combined with amazing studio films will continue to draw enthusiastic crowds now and in the future."