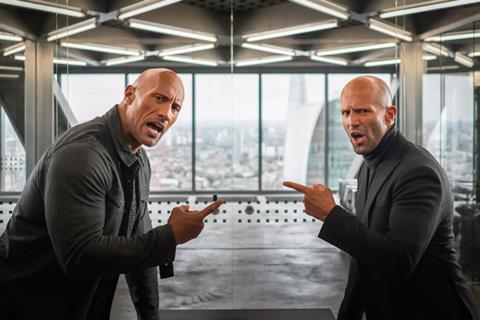 Universal's Fast franchise spin-off Hobbs & Shaw was in dominant mood again, beating the Hollywood competition to deliver an estimated $45.4m weekend worldwide box office and propel the running total to $684.2m.
If numbers are accurate, Hobbs & Shaw will become the only film so far this year to hold the global number one position for four weeks – overtaking Avengers: Endgame, and Spider-Man: Far From Home and Captain Marvel on three.
Disney's The Lion King climbed to $1.562bn at the global box office and has overtaken Furious 7 and The Avengers to rank as the seventh highest global release in history.
Once Upon A Time… In Hollywood bucked a trend of mediocre debuts in Japan for Quentin Tarantino to deliver $2.7m as the international running total crossed $150m.
UNIVERSAL PICTURES INTERNATIONAL
Some $39.1m of Hobbs & Shaw's session came from international markets to ensure it swept past $500m to reach $525.3m. This was powered by a $27.9m second weekend in China, where the film ranks second and the tally stands at $166m.
These are impressive results for a spin-off. The action thriller starring Dwayne Johnson, Jason Statham, Idris Elba and Vanessa Kirby grossed $1.9m for $25.1m in the third weekend in South Korea, $1.3m for $17.9m in the fourth in France, and $752,000 for $22.8m in the fifth in the UK. The tentpole arrived in third place in Greece on $323,000.
Illumination Entertainment's The Secret Life Of Pets 2 brought in a further $3.9m internationally for $263.3m, and stands at $420.9m worldwide. The top holdover was France, where $1.1m in the fifth session boosted the tally to $13.8m. Japan has produced $19.1m after six, Mexico $14.1m after four, and the UK $10.2m after four.
Comedy Good Boys grossed $2.7m and climbed to an early $11.7m. So far it has grossed $3m in the UK after three sessions, $1.9m in Germany after two, and $1.3m in Spain after two. Danny Boyle's fantasy romance Yesterday stands at $61.2m internationally and $134.3m worldwide, and opened at number three in both Mexico and Brazil on $896,000 and $851,000, respectively.
SONY PICTURES RELEASING INTERNATIONAL
Quentin Tarantino's Once Upon A Time… In Hollywood grossed $21.6m from 60 markets to boost the international running total to $152.7m, while the worldwide number has reached $284m. The film delivered an excellent result in Japan, bucking the trend of recent Tarantino debuts there, as it earned $2.7m to triple the debut of Django Unchained and come in 70% ahead of Inglourious Basterds. The UK remains the top market on $20.1m, followed by Russia on $17m, France on $15.6m, Germany on $12.7m, Australia on $10.9m, Spain on $9.9m, and Mexico on $4.6m.
Sony Pictures Animation's The Angry Birds Movie 2 added $5.5m from 48 to reach $58.5m and opens in Mexico this week. Sony Pictures International Productions opened two films: Como Si Fuera La Primera Vez, a local remake of the 2004 rom-com 50 First Dates, debuted in Mexico on $700,000 and stars Vadhir Derbez and Ximena Romo. Quien A Hierro Mata (Eye For An Eye), a local crime thriller directed by Paco Plaza, launched in Spain on $670,000.
WALT DISNEY STUDIOS MOTION PICTURES INTERNATIONAL
The Lion King climbed to $1.562bn at the global box office and overtook Furious 7 on $1.516bn and The Avengers on $1.519bn to rank as the seventh highest global release in history. A $27.3m global haul comprised $20.6m from international, where the running total stands at $1.041bn.
Toy Story 4 grossed $7.2m for $1.043bn worldwide, passing Despicable Me 3 on $1.035bn to rank as the fifth highest animation of all time at the global box office. The Pixar hit added $4.9m for $613.8m internationally and opened at number one in Sweden and number two in Denmark behind local title Ser du Månen, Daniel.
CHINA UPDATE
Enlight Media's animation smash Nezha added a further $17.5m as the running total reached $685.4m.
MILLENNIUM MEDIA
Angel Has Fallen starring Gerard Butler, which held on to top spot over Labor Day weekend in North America, added an estimated $12.8m for a $28.7m international running total through Millennium Media licensees. It opened in Germany, Mexico, Italy, and Spain.
PARAMOUNT PICTURES INTERNATIONAL
Family adventure Dora And The Lost City Of Gold continues to tick along although results will be below what studio executives would have hoped for. A $4.4m weekend haul from 33 market resulted in a $24.1m running total, fired up by a $752,000 number one debut in Peru, and $585,000 in Spain. The UK generated $750,000 for $4.9m after three weekends. France has produced $3m after three.
Alligator thriller Crawl added $2m from 30 for $35.6m and opened in Hong Kong in second place on $314,000. Russia is the lead market on $2.2m after two, while after two sessions the UK and Spain have produced $1.3m and $1.2m, respectively.
EONE
CBS Films/ eOne's Scary Stories To Tell In The Dark has climbed to $26.7m following a $2.5m session that saw a $151,000 debut in Hong Kong and a $565,000 second weekend in the UK elevate the tally to $1.9m. Mexico is the runaway lead market – little surprise given that Guillermo del Toro produced the horror adaptation – and stands at $7.1m after three.
WARNER BROS PICTURES INTERNATIONAL
Clint Eastwood's crime drama The Mule opened in China this week under the art house film quota and has earned an estimated $975,000 from 1,870 screens in 1,270 locations since Monday. The international tally stands at $69.8m. Crime drama The Kitchen has grossed $2.7m.