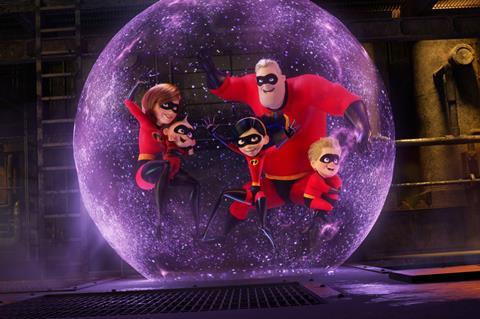 Incredibles 2
Source: Disney/Pixar
SEPTEMBER 3 FOUR-DAY UPDATE: Pixar's Incredibles 2 became the first animation to cross $600m in North America, as the four-day portion of a strong Labor Day holiday saw Crazy Rich Asians stay top as summer delivered a terrific estimated $4.39bn. MoviePass contributed to approximately 5% of the seasonal tally.
According to the National Association Of Theatre Owners (NATO), summer box office in North America is expected to generate $4.39bn, marking a 14.6% gain on summer 2017 that will if confirmed ranki among the top five summers.
The 2018 number does not include $338m that Avengers: Infinity War grossed in the week when it opened before the official Memorial Day launch of summer. Incredibles 2 ended as the season's top film.
NATO said admissions were on course to climb 8-9% on the comparable period from last year, and noted that summer season's contribution to annual box office has declined over the years, from 44% in 2013 to 35% in 2017.
The body also estimated that tickets acquired by MoviePass accounted for no more than 5% of the summer, based on an estimate earlier in the year by AMC that the controversial on-demand service was paying an average of $12.12 per AMC ticket not including taxes. MoviePass sources agreed with the estimate.
Returning to the weekend, Crazy Rich Asians added an estimated $28.3m over four days through Warner Bros for $117m in its third session as it held on to number one and delivered the best Labor Day weekend since Halloween grossed $30.6m in 2006. Stablemate The Meg in second place added $13.4m for $123.4m after four.
Sony Pictures Worldwide Acquisitions' Sundance pick-up Searching starring John Cho climbed 17 places to number five after North American distributor Screen Gems expanded from 209 theatres to 1,207 in the second weekend and the film added $7.7m for $8.1m.
Mission: Impossible – Fallout rounded out the top three, while MGM's postwar thriller Operation Finale starring Ben Kingsley and Oscar Isaac as Adolf Eichmann and the Israeli agent sent to hunt him down debuted in fourth place on $7.8m, rising to $9.5m over six days since the Wednesday launch.
One year after Lionsgate picked up the sci-fi action Kin, it debuted at number 12 on a disappointing $3.7m in 2,141 sites. Pantelion scored a solid debut for comedic drama Ya Veremos at number 14 on $2.3m in 369 sites. Focus Features launched Lenny Abrahamson's (Room) mystery tale The Little Stranger with Domhnall Gleeson and Ruth Wilson at number 24 on $478,000 in 474 venues.
Last weekend's family release A.X.L. dropped out of the top 10 in its second weekend as Global Road started to lay off staff in Los Angeles and London last week. The film fell 38.5% and nine slots to number 18, adding $1.7m for $5.5m.
Box office for the top 12 over four days generated $102.5m for a 52.9% gain over the four-day session in 2017. Over three days it amounted to $79.3m and dropped 11.1% against last weekend, while it climbed 49.5% against the three-day portion of Labor Day 2017 weekend.
This week's wide releases are: New Line's horror The Nun via Warner Bros; action thriller Peppermint starring Jennifer Garner through STX; and drama God Bless The Broken Road through Freestyle Releasing.
Estimated top 10 North America Aug 31-Sept 3 (Aug 31-Sept 2), 2018
Film (Dist) / Est wkd gross / Est total to date
1 (1) Crazy Rich Asians (Warner Bros) Warner Bros Pictures International $28.3m $117m ($22.2m $110.9m)
2 (2) The Meg (Warner Bros) Warner Bros Pictures International $13.4m $123.4m ($10.5m $120.5m)
3 (4) Mission: Impossible – Fallout (Paramount) Paramount Pictures International $9.1m $206.4m ($7m $204.3m)
4 (-) Operation Finale (MGM) $7.8m $9.5m ($6m $7.7m)
5 (22) Searching (Screen Gems) Sony Pictures Releasing International $7.7m $8.1m ($5.7m $6.2m)
6 (6) Disney's Christopher Robin (Buena Vista) Walt Disney Studios Motion Pictures International $6.7m $87.1m ($5m $85.4m)
7 (7) Alpha (Studio 8) $6m $28.9m ($4.5m $27.4m)
8 (3) The Happytime Murders (STX) STX International $5.5m $18.1m ($4.4m $17m)
9 (8) BlackKklansman (Focus Features) Universal Pictures International $5.3m $39.5m ($4.1m $38.3m)
10 (5) Mile 22 (STX) STX International $4.6m $32.7m ($3.6m $31.8m)