MARCH 7 UPDATE: Ip Man 3 added an estimated $75m over the weekend to reach an early $76.5m.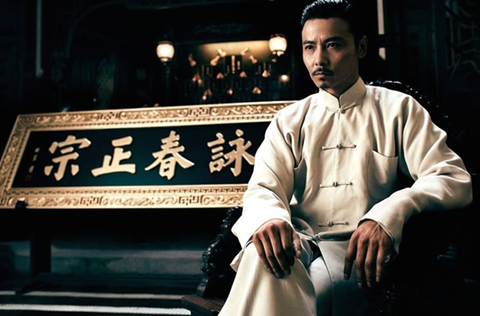 ASIA UPDATE
The Donnie Yen reunion with director Wilson Yip delivered the biggest result of the international arena this weekend as the martial arts-related drama closed in on $80m after one wide weekend.
Mike Tyson also stars as a greedy property tycoon opposite Yen in the role as the legendary grandmaster, who in real life was a mentor to Bruce Lee.
Elsewhere, Stephen Chow's smash The Mermaid added $10.5 to soar to $510m,
WALT DISNEY STUDIOS MOTION PICTURES INTERNATIONAL
MARCH 7 UPDATE: Zootopia continued a strong run with debuts in China and Russia in the fourth weekend contributing to $64.7m. China grossed $23.6m and Russia $7.9m as the international running total climbed to $160.1m and the worldwide haul $235.2m, including the number one $75.1m North American debut.
The China and Russia debuts delivered the biggest Disney Animation or Pixar opening in each market, while Germany scored the highest opening weekend for a Disney Animation title on $6.8m.
The family film held at number one in all its Latin American markets (except Brazil) and has amassed $12.5m in Mexico and $5.3m in Argentina.
Zootopia took $3.3m from 355 international Imax screens, of which $3m was expected to come in from 278 screens in China for the second best animation debut behind Kung Fu Panda 3 on $3.7m. The Imax worldwide haul for the weekend reached $8.5m.
FOX INTERNATIONAL
MARCH 7 UPDATE: Deadpool soared to $362.2m after four weekends following a $21.2m session in 77 markets.
The superhero adaptation stayed top in Australia for the fourth consecutive weekend on $1.8m for $26.2m and added $2m for $26m in France, and $2.1m for $48.9m in the UK, where it ranks second and stands as the fifth biggest superhero release in history.
Germany has produced $20.9m, South Korea $21.6m, Brazil $18.2m, and Mexico $17.6m.
The Revenant, which scored three Oscars last weekend including lead actor and director, grossed $13m from 65 for $253.9m.
The survival thriller increased over the previous weekend in Germany (25%), Brazil (+1%), The Netherlands (+1%), and Switzerland (+35%).
Alvin And The Chipmunks: The Road Chip stands at $143.9m, while Dreamworks Animation's Kung Fu Panda 3 has reached $189.9m from only seven markets including $145.6m in China via Oriental Dreamworks. It opened top in Brazil on $2.4m.
The Martian is expected to cross $400m within the next two weeks and stands at $398.7m.
LIONSGATE INTERNATIONAL
MARCH 7 UPDATE: Gods Of Egypt grossed a further $16.1m from 73 markets to propel the early running total to $49.1m.
The fantasy adventure opened at number two in South Korea on $3.5m and opens this week in China. Russia remains the lead market on $6.7m followed by Brazil on $3.6m, Mexico on $3.4m, and the Philippines on $3.1m.
NU IMAGE
Gerard Butler thriller London Has Fallen arrived in several markets via Nu Image day-and-date with North America and grossed $12m. According to rough early estimates, the film debuted in the UK on a confirmed $3.9m, Italy on an estimated $1.3m-$1.8m, France on an estimated $800,000-$1m, Scandinavia on an estimated $500,000, and Benelux on an estimated $850,000.
SIERRA / AFFINITY
MARCH 7 UPDATE: Best picture Oscar winner Spotlight grossed $5.9m at the weekend to reach $33.2m as the worldwide haul climbed to
The drama exhibited hallmarks of the Oscar bump with a number of significant gains. It climbed 77% in the UK on $477,000 for $7.7m, 94% in Australia on $318,000 for $3.3m, and 79% in France on $289,000 for $2.9m in France for $3.6m.
Spotlight's box office surged by a huge 1,092% in Brazil on $255,000 for $1.3m, leaped 807% in Mexico on $122,000 for $956,000, vaulted 599% in Spain in the seventh weekend on $567,00 for $2.9m, and gained 363% in Argentina on $140,000 for $390,000.
The film climbed 51% in Italy on $1.1m for $3.1m.
UNIVERSAL PICTURES INTERNATIONAL
MARCH 7 UPDATE: Hail Caesar! used a $4.9m session from 40 territories to boost to an early $17.7m running total. The Coen Bros' recent Berlinale opener arrived in the UK on $2.1m in fourth place and debuted in Russia in fourth place on $377,000 for the directors' second best result behind Burn After Reading.
The Danish Girl starring best supporting actress Oscar winner Alicia Vikander added $2m from 49 for $46.5m.
Room, which stars beast lead actress Oscar winner Brie Larson, added $1.8m from 15 Universal territories for $4.6m. It opened in Italy on $566,000 from 208 sites and in the Netherlands on a mighty $147,000 from 27. Spain added $339,000 in the second weekend for $959,000.
Anne Frank, Universal's German-language co-production, opened in Germany, Austria and Switzerland on $887,000. Germany delivered $747,000 from 517 venues, Austria $70,000 from 61, and German-speaking Switzerland grossed $69,000 from 34.
The Witch, which Universal is distributing internationally, received its first releases in Brazil and Peru, grossing $579,000 in the former from 142 and $104,000 in Peru on 35 sites. Ride Along 2 stands at $30.2m and Dad's Army has mustered $11.9m in the UK.
WARNER BROS PICTURES INTERNATIONAL
MARCH 7 UPDATE: How To Be Single added $4.6m from 49 markets to climb to an early $42.1m. It opened in France on $1.1mn and added $941,000 for $5.8m in Australia and $744,000 for $6.8m in the UK, both after three weekends.
Creed stands at $63.6m and German local production Der Geilste Tag brought in a further $2.7m in Germany for $7.2m after two sessions.
PARAMOUNT PICTURES INTERNATIONAL
MARCH 7 UPDATE: Zoolander 2 grossed $2.2m from 49 markets for $24.3m. Venezuela was the best of the eight new markets on $543,000 from 24 locations, while France delivered a lowly $305,000 from 226.
13 Hours added $2.4m from 28 for $9.4m including new market South Korea on $656,000 from 380 and $402,000 from 254 in Germany.
The Big Short, winner of best adapted screenplay Oscar last weekend, grossed $1.8m from 27 for $57.7m. Comedy Daddy's Home stands at $88.3m.
FILMNATION
Room generated roughly $2.5m for $13.6m overall from all distributors including Universal.
SONY PICTURES RELEASING INTERNATIONAL
MARCH 7 UPDATE: The Brothers Grimsby starring Sacha Baron Cohen and Mark Strong grossed $1.8m from 21 markets for an early $7.1m tally. The second session in the UK generated $1.1m for $4.9m.
The Lady In The Van rolled into Australia on $1.9m including previews. The Maggie Smith vehicle stands at $22.5m internationally.