JUNE 15 UPDATE: An extraordinary weekend for Universal Pictures saw the revival of Steven Spielberg's action-adventure franchise confirmed on Monday as the highest North American release in industry history.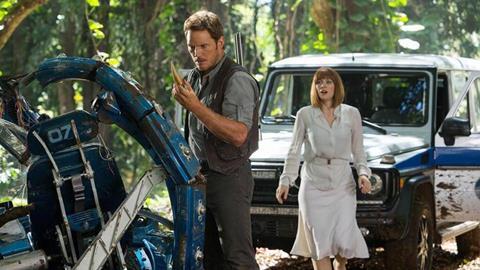 The $208.8m mark beat The Avengers' three-year $207.4m North American record.
The weekend's confirmed $315.3m international haul overtook the $314m tally set in 2011 by Harry Potter And The Deathly Hallows: Part 2 and combined with $208.8m for $524.1m worldwide.
No film had ever generated more than $500m globally in a single weekend before this.
Weekend business drove Universal past the $1bn mark at the North American box office in a new speed record that overhauled the previous June 22 mark set by Paramount in 2008.
The studio also crossed $3bn worldwide in a new record that beat the June 20 2010 achievement of Fox.
A press release issued by RealD said approximately 48% of the weekend haul came from 3D-equipped screens, of which RealD screens generated $71m and auditoriums equipped with RealD's PLF technology around $10m. This was a record weekend for RealD at the North American box office.
Chris Pratt, Bryce Dallas Howard and Irrfan Khan star in the reboot. Colin Trevorrow graduated from his Sundance 2012 hit Safety Not Guaranteed to direct, while Spielberg served as executive producer with Thomas Tull of co-financier Legendary.
Imax generated a record $20.6m weekend from 363 screens to beat the previous mark of $19m set by The Dark Knight Rises in 2012.
The overall Imax global haul was also a record on $44.1m. Friday's $8.6m set a new single-day mark for Imax in North America.
Elsewhere most of the top ten shunted down one place. Fox's action comedy Spy at number two added $15.6m for $56.6m and Warner Bros' San Andreas in third place has amassed $119.1m.
Love & Mercy ranks tenth via Roadside Attractions on $1.7m and has grossed $4.7m after two sessions.
Sundance smash and double prize-winner Me And Earl And The Dying Girl opened via Fox Searchlight on $196,496 from 15 sites for a $13,100 average.
Overall box office for the top 12 gained 117% against last weekend and roughly 32% on the same session in 2014 when 22 Jump Street opened top on $57.1m.
This week's wide releases are Pixar's Inside Out via Buena Vista and the Sundance pick-up Dope through Open Road Films.
Confirmed top 10 North America June 12-14 2015
Conf (Dist) / Est wkd gross / Conf total to date

1 (-) Jurassic World (Universal) Universal Pictures International $208.8m —
2 (1) Spy (Fox) Fox International $15.6m $56.6m
3 (2) San Andreas (Warner Bros) Warner Bros Pictures International $10.8m $119.1m
4 (3) Insidious: Chapter 3 (Focus) Universal Pictures International $7.3m $37.4m
5 (6) Pitch Perfect 2 (Universal) Universal Pictures International $6.4m $171.1m
6 (4) Entourage (Warner Bros-New Line) Warner Bros Pictures International $4.2m $25.7m
7 (5) Mad Max Fury Road (Warner Bros) Warner Bros Pictures International $4.1m $138.5m
8 (8) Avengers: Age Of Ultron (Buena Vista-Marvel Studios) Walt Disney Studios Motion Pictures International $3.7m $444.8m
9 (7) Tomorrowland (Buena Vista) Walt Disney Studios Motion Pictures International $3.5m $83.7m
10 (-) Love & Mercy (Roadside Attractions) $1.7m $4.7m