Fox's YA adaptation beat a path to the pinnacle of the North American box office as an estimated $32.5m was enough to help the top 12 climb approximately 17% against last weekend.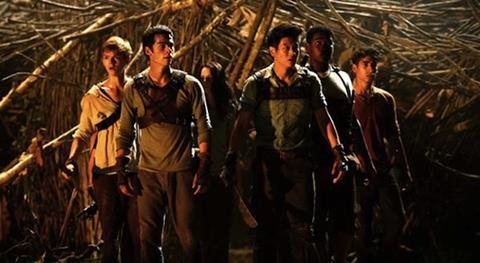 Overall the top 12 gained 20% against the comparable session of 2013.
On Imax The Maze Runner delivered $5.1m worldwide and $3.3m in North America from 251 screens.
The independently financed mystery-thriller A Walk Among The Tombstones starring Liam Neeson debuted in second place on $13.1m from 2,712 theatres. Bloom oversees international distribution.
Warner Bros' ensemble drama This Is Where I Leave You starring Jason Bateman and Tina Fey arrived in third place on $11.9m from 2,868.
Last weekend's champion No Good Deed slipped to number four and has grossed $40.1m after two weekends, a solid return for the reported $13.2m production cost.
A24 released Kevin Smith's recent Toronto world premiere Tusk on $886,000 from 602 screens. TWC opened Mia Wasikowska drama Tracks on $21,600 from four sites.
The Nick Cave documentary 20,000 Days On Earth was a standout in the limited release arena, generating $26,900 in a single venue through Drafthouse Films.
Next weekend's wide releases include Sony's thriller The Equalizer, reuniting Denzel Washington with his Training Day director Antoine Fuqua; and Laika's animation The Boxtrolls through Focus Features.
Estimated Top 10 North America Sept 19-21 2014
Film (Dist) / Est wkd gross / Est total to date
1 (-) The Maze Runner (Fox) Fox International $32.5m –
2 (-) A Walk Among The Tombstones (Universal) Bloom $13.1m –
3 (-) This Is Where I Leave You (Warner Bros) WBPI $11.9m –
4 (1) No Good Deed (Screen Gems) SPRI $10.2m $40.1m
5 (2) Dolphin Tale 2 (Warner Bros) WBPI $9m $27.1m
6 (3) Guardians Of The Galaxy (Buena Vista/Marvel) WDSMPI $5.2m $313.7m
7 (5) Let's Be Cops (Fox) Fox International $2.7m $77.2m
8 (4) Teenage Mutant Ninja Turtles (Paramount) PPI $2.7m $185m
9 (6) The Drop (Fox Searchlight) Fox International $2.1m $7.7m
10 (7) If I Stay (Warner Bros-MGM) WBPI $1.8m $47.7m