Kubrick classic staged over 24 nights.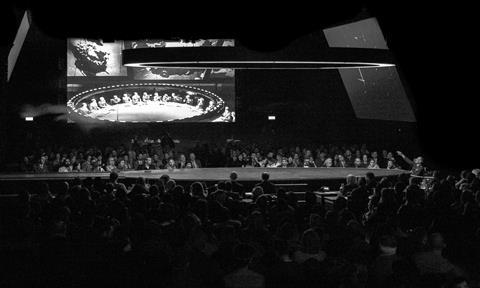 Secret Cinema has reported box office takings of $1.8m (£1.24m) for its latest production, which ended its month-long run last night (March 20) and has been revealed as Stanley Kubrick's 1964 satire Dr. Strangelove or: How I Learned to Stop Worrying and Love the Bomb.
It fell under the event specialists 'Tell No One' strand, in which the title of the film remains a mystery until the projector rolls, unlike their high-profile summer productions around Star Wars: The Empire Strikes Back and Back To The Future.
Secret Cinema's Star Wars production reported box office of $9.3m (£6.45m) from 100 nights (and an audience of more than 100,000) in 2015 while Back To Future made $5m (£3.5m) from a month-long run in August 2014, drawing an audience in excess of 75,000.
Returning to its 'secret' roots, Dr Strangelove ran for 24 nights from Feb 17 to March 20 and was a more intimate production, with maximum capacity of 950 per night. The event was in support of War Child UK.
Political parallels
Ahead of each performance, ticket holders were given instructions on what to wear (varying ranks of military uniform) and later issued the location – an abandoned factory warehouse complex in Wapping, south London, where Secret Cinema last year hosted its production around Star Wars.
On the night, 35 actors populated a fictional air base, interacting with audience members over 90 minutes before the film starring Peter Sellers screened in an area that resembled the War Room, originally designed for the Kubrick classic by Ken Adam, who died earlier this month.
Before the film, scenes of Donald Trump and Vladimir Putin flashed on the screen, with Secret Cinema drawing parallels between the Cold War of the 1960s and the current political climate.
Secret Cinema founder Fabien Riggall said: "Secret Cinema is committed to creating powerful experiences in which audiences become activists in stories that matter during these uncertain times. We are incredibly honoured to have staged Stanley Kubrick's wonderful Dr Strangelove."
The next production will be a Secret Cinema X event (another Tell No One film) on March 26 while Danny Boyle's horror film will provide the basis of Secret Cinema Presents 28 Days Later from April 14.