JULY 25 UPDATE: Paramount/Skydance's sci-fi prospered on a confirmed $59.3m number one debut, while Fox/Blue Sky Studios' Ice Age: Collision Course looks unlikely to live long following a franchise-low $21m launch.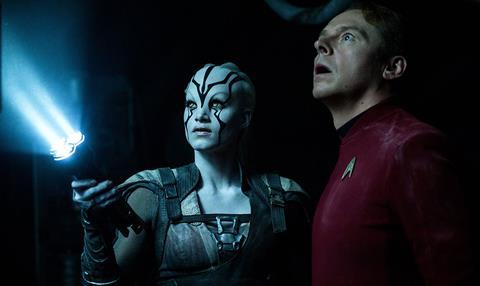 Star Trek Beyond also fared well internationally where it generated $30m from its initial foray in 37 markets.
While this was actually the lowest launch of the series reboot (Star Trek opened on $75.2m in May 2009 and Star Trek Into Darkness debuted on $70.2m in May 2013), the solid debut in 3,928 theatres allied to an 84% score on Rotten Tomatoes would appear to set the film up for a successful run based on strong word of mouth.
It will need to hold well next weekend because the production reportedly cost $185m, a figure that is likely in reality to be higher, and means the film will need to make a lot more both in North America and internationally to break even.
The sci-fi adventure grossed $11.6m from 571 global Imax screens, of which $8.4m came from 387 North American screens.
New Line's horror film Lights Out debuted at number three via Warner Bros on $21.7m in 2,818 sites, a very strong result that given the $4.9m production cost should see the film go into profit soon, if not already, depending on the marketing spend.
Fox / Blue Sky Studios' animation Ice Age: Collision Course scored a 13% rating on Rotten Tomatoes and bombed in fouth place on $21.4m from 3,992 venues – by far the lowest debut of the 14-year franchise.
Ice Age: Continental Drift opened on $46.6m four years ago and that film's $161.3m final gross appears unattainable. However Collision Course stands at $177.7m internationally and continues to play strongly in its markets. It comes from great stock — Fox International executives confirmed this weekend the franchise crossed $3bn worldwide to rank as the biggest animation series of all time at the box office.
Last weekend's champion The Secret Life Of Pets maintained winning ways for Universal and Illumination Entertainment and slipped 41.8% to number two in its third weekend on $29.6m for $260.9m.
Sony's Ghostbusters reboot fell three places to number five in its second session on $21m for $86.3m and is neck-and-neck with Lights Out for third place.
Pixar's Finding Dory ranks sixth on $7.2m for $460.2m after six sessions, making it the ninth biggest North American release in history and the fourth Disney film to enter the all-time top ten pantheon.
Dinesh D'Souza's documentary Hillary's America: The Secret History Of The Democratic Party burst into the top ten in its second weekend on $3.9m for $4.1m. The film climbed 28 places after Quality Flix expanded the theatre count from three to 1,216.
D'Souza directed the 2012 release 2016: Obama's America and belongs to several conservative think tanks such as The Hoover Institution and The American Enterprise Institute.
CineGalaxy opened Kabali at number 13 on $1.9m from 236 sites rising to $3.9m including a mighty Thursday opening day, while Fox Searchlight launched Absolutely Fabulous: The Movie at number 14 on $1.86m from 313.
After its stunning limited launch last weekend, Woody Allen's Amazon-bound Café Society expanded via Lionsgate from five theatres to 50, earning $849,937 for $1.4m and a more modest $16,999 per-site average.
Overall the top 12 generated $183.6m, marking an 18.2% gain on last weekend and a 22.8% climb on the comparable session in 2015, when Ant-Man scored a number one hold in its second weekend.
This week's wide releases are Jason Bourne via Universal, marking the reunion of Matt Damon and director Paul Greengrass; STX Entertainment's comedy Bad Moms with Mila Kunis; and Lionsgate thriller Nerve.
Confirmed top 10 North America July 22-24, 2016
Film (Dist) / Conf wkd gross / Conf total to date
1 (-) Star Trek Beyond (Paramount) Paramount Pictures International $59.3m –
2 (1) The Secret Life Of Pets (Universal) Universal Pictures International $29.6m $260.9m
3 (-) Lights Out (Warner Bros) Warner Bros Pictures International $21.7m –
4 (-) Ice Age: Collision (Fox) Fox International $21m –
5 (2) Ghostbusters (Columbia Pictures) Sony Pictures Releasing International $21m $86.3m
6 (4) Finding Dory (Buena Vista) Walt Disney Studios Motion Pictures International $7.2m $460.2m
7 (3) The Legend Of Tarzan (Warner Bros) Warner Bros Pictures International $6.6m $115.9m
8 (5) Mike And Dave Need Wedding Dates (Fox) Fox International $4.4m $40.3m
9 (37) Hillary's America: The Secret History Of The Democratic Party (Quality Flix) $3.9m $4.1m
10 (8) The Infiltrator (Broad Green Pictures) $3.3m $12.3m