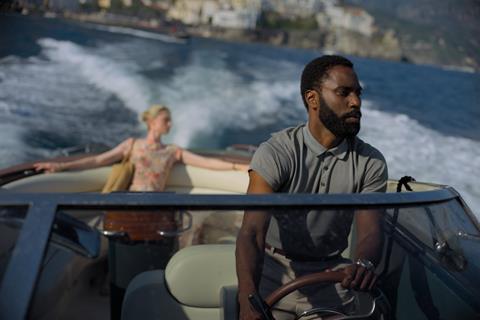 The most anticipated Hollywood release of the year-to-date finally arrived in the US over Labor Day holiday weekend as Tenet launched in 2,810 cinemas and earned an estimated $20.2m from North America, Warner Bros. executives reported on Sunday (September 6).
The film added $78.3m globally including a $30m China debut for director Christopher Nolan's biggest debut there, and stands at $126m internationally and $146.2m worldwide. Tenet grossed $2.8m in its second UK session for $13.1m.
Nolan's sci-fi thriller is projected to earn $2.8m from 272 IMAX screens through the holiday Monday, making it the biggest US Labor Day opening ever for the large screen specialist.
Tenet's North American release marks what Hollywood hopes will be a return to cinema-going in the US, where markets including Los Angeles and New York remain closed since the lockdown started in mid-March.
The launch of the tentpole comes after multiple postponements. The film had originally been scheduled to open in July and was held back due to uncertainty over the trajectory of the pandemic.
John David Washington, Robert Pattinson, Elizabeth Debicki, Dimple Kapadia, Michael Caine and Kenneth Branagh star in the time-bending thriller.
Pattinson has reportedly contracted Covid-19 and is in isolation while production on Warner Bros' The Batman at Warner Bros Leavesden Studios in the UK has been temporarily suspended.