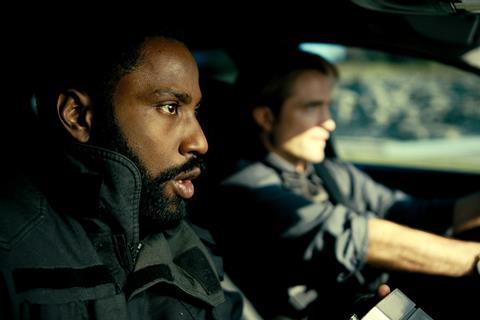 After nearly six months without the wide release of any new Hollywood title, Warner Bros' sci-fi thriller Tenet becomes the guinea pig in a year when the Covid-19 pandemic has decimated global box office.
Christopher Nolan's film launched in the international arena on Wednesday, a little over one week ahead of its release in the US on September 3 and in China on September 4.
While it is not uncommon for films to open outside the US first, a broad international-first day-and-date release pattern is unusual and a product of the times.
The closure of cinemas since mid-March has seen international venues open ahead of the US, where sites returned to business last weekend with the launch of Unhinged even though the key markets of Los Angeles and New York remain closed.
Previews screenings have taken place in Australia (where feedback from cinemas is said to be "highly positive"), South Korea (where limited previews reportedly generated $714,000 on Saturday and Sunday) and France ahead of Wednesday's official launch in multiple territories.
The film has not been dated in Latin America where the virus has devastated the region and cinemas mostly remain closed. Release dates are also pending for India, South Africa, Philippines, and Puerto Rico.
The vagaries of the Covid-19 pandemic and the effects of cinema closures and the impact of protocols on their operation renders comps and pre-release estimates redundant, although Nolan's reputation and box office pedigree are undeniable.
There have been virus surges in Spain and South Korea, while cinemas in Hong Kong are about to reopen. Cinemas in all territories will be operating at limited capacity, with fewer presentations of an already long film (152 minutes) due to enhanced cleaning protocols.
Warner Bros executives are not reporting any grosses until Sunday.
Tenet opened on Wednesday in Belgium, Bulgaria, Croatia, Denmark, Egypt, Estonia, Finland, France, Holland, Hungary, Iceland, Indonesia, Italy, South Korea, Latvia, Lithuania, Portugal, Serbia, Slovakia, Sweden, Switzerland, Turkey, Ukraine, UK.
It opens on Thursday in Australia, Austria, Bahrain, Canada, Czech Republic, Germany, Greece, Hong Kong, Israel, Lebanon, Malaysia, Middle East, New Zealand, Poland, Saudi Arabia, Singapore, Taiwan, Thailand, UAE.
Tenet opens on Friday in East Africa, Ghana, Nigeria, Norway, Romania, Slovenia, Spain, Vietnam.
Coming up are Kuwait, Qatar on September 3, Russia, Azerbaijan, and Kazakhstan on September 10, Cyprus on September 17, and Japan on September 18.
John David Washington, Robert Pattinson, Elizabeth Debicki, Dimple Kapadia, Michael Caine and Kenneth Branagh star in the time-bending thriller.