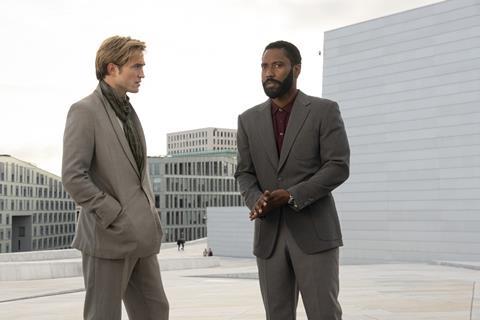 While Tenet does not officially release until this Wednesday (August 26), the highly anticipated Warner Bros release played previews at the weekend in Australia and South Korea, and on Monday (August 24) in France.
Warner Bros put a block on the reporting of figures, but local Australian trade paper Inside Film reported that feedback from exhibitors was "highly positive". The previews generated 60% of weekend takings at Hoyts Cinemas, for example.
Overall, Australian box office for the top 20 titles was reported to be 38% down on the previous session, but since Tenet has been excluded from those numbers, the true picture is rosier.
In South Korea, limited previews of Tenet delivered a reported $714,000 for Saturday and Sunday. That puts Tenet in second place on those two days, behind market leader Deliver Us From Evil, the Korean action thriller that has topped the box office for three weeks in a row.
For many territories, the August 21-23 session was essentially the calm before the storm, with hopes now pinned on Tenet returning the market to some degree of normalcy.
Gerard Butler's 'Greenland' opens top in Russia
Gerard Butler's action thriller Greenland added another $2.25m at the weekend, bringing the STX title's international total so far to $7.9m. It opened in two new markets – Russia and West Indies – topping the chart in the former, with $408,000 from 488 cinemas.
Greenland achieved a 35% market share in Russia for local distributor Top Film, ahead of fellow new opener Peninsula (Yeon Sang-ho's sequel to Train To Busan) which had an 11% market share, and Tate Taylor's Ava, starring Jessica Chastain as an assassin, with 10% market share.
In box-office terms, France – where Metropolitan distributes – was once again the top territory for Greenland, adding $622,000 in its third week for a $3.45m total. Greenland has now passed the lifetime totals in France of Butler's three …Has Fallen films, and also 2017's Geostorm.
Relatively rainy weekend weather across much of Scandinavia boosted cinemagoing, and Greenland's box office rose in Sweden (by 69%), Denmark (+34%) and Norway (+25%). Cumulative totals in those markets are respectively $311,000, $260,000 and $259,000 for distributor AB Svensk.
Another strong market is Taiwan, where Greenland stayed in the top spot in its second week of play, declining by 29% to $547,000, and a $2m total for local distributor CatchPlay. Ric Roman Waugh (Angel Has Fallen) directs the story of a family fighting for survival as a comet races to Earth.
'Unhinged' lands second in France
Road-rage thriller Unhinged swung into another major new territory last Wednesday (August 19) – France – delivering 116,000 admissions for the five-day opening period. Despite failing to dislodge family comedy Les Blagues De Toto from the top spot, Unhinged's French opening gross of $892,000 is the biggest for a single frame it has recorded in any market so far. SND releases the film in France, under the title Enragé.
In total box office, Unhinged's premier market is Australia, where it has topped the chart for four weeks in a row, and has grossed just over $2m for local distributor Studiocanal. Next come UK ($1.25m total for Altitude), Netherlands ($1.15m for The Searchers) and Germany ($1.10m for Leonine).
Unhinged is now playing in 27 international markets, and the international total is approximately $10m. Next for the film is French-speaking Switzerland, opening this Friday (August 28).
Russell Crowe and Caren Pistorius star in the violent thriller about a mother and her young son terrorised by a man who feels he has nothing to lose.
'Inception' adds $847,000 in pre-'Tenet' frame
UK, Japan and Saudi Arabia were the bright spots at the weekend for Warner Bros' 10-year anniversary rerelease of Christopher Nolan's Inception, which is also serving to whet appetites for Tenet.
Those three territories are also highest in cumulative totals for the rerelease, with Japan on $739,000, UK on $560,000 and Saudi Arabia on $444,000. Next come South Korea ($378,000) and Taiwan ($209,000). The international total is $3.7m. In 2010, Inception originally grossed $536m internationally and $293m in North America.
Warner Bros also reports that Scoob! opened top in Mexico at the weekend, grossing $332,000. The animation took $1.4m from 18 international markets at the weekend, bringing the total to $16.5m. France, with $5.1m so far, is more than double the total of the next-best territory, which is Netherlands with $2.5m.