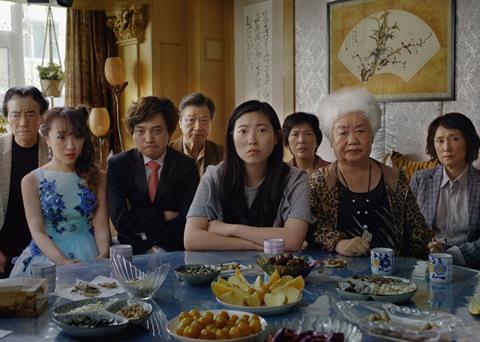 JULY 15 UPDATE: Lulu Wang's Sundance London audience winner The Farewell has opened on the highest location average at the North American box office so far in 2019, bucking a trend of disappointing debuts by art house films.
The Chinese- and English-language family drama starring Awkwafina debuted via A24 at number 19 on an estimated $355,662 in four venues for an $88,916 average.
That beat the previous best location average so far this year by a specialty release set when Late Night grossed $61,576 via Amazon Studios in June. It even beat the $76,601 established by Disney's behemoth Avengers: Endgame in April.
What made the performance of The Farewell all the more impressive was that one of the sites – the AMC Lincoln Center in New York – closed on Saturday night after a widespread power outage affected the city. Wang's film premiered at Sundance Film Festival in Utah in January, and went on to win the Sundance London audience award in June.
The two top films in the charts held firm as Sony's Spider-Man: Far From Home retained pole position following a 51% decline, adding $45.4m for a $274.6m running total after two weekends. Disney's Toy Story 4 added $20.9m for $346.7m after four.
The two new entrants in the top ten disappointed. Paramount's $13.5m alligator horror film Crawl directed by Alex Aja and starring Kaya Scodelario and Barry Pepper opened in third place on $12m from 3,170 sites, while Disney's Fox import and buddy movie Stuber fared worse, opening in fourth place on a disappointing $8.2m from 3,050. Dave Bautista and Kumail Nanjiani star.
Bleecker Street's The Art Of Self Defense starring Jesse Eisenberg and Imogen Poots opened at number 32 on $114,374 for a $16,339 average from seven theatres.