Sony's cop-buddy comedy The Other Guys topped the UK box office over the weekend, taking $3.1m (£2m) from 441 screens at a per-print average of $6,965 (£4,491).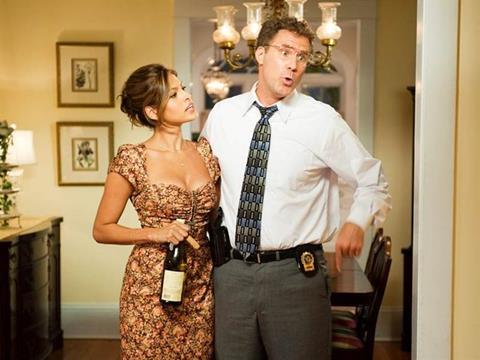 The action-comedy is Will Ferrell's biggest first weekend in the UK since Elf took $7m (£4.5m) (including previews) in 2003.
While September is far from a stellar month for the UK box office as a whole, Sony is taking advantage of the lull in blockbuster releases, with three titles in the top five. Last week's top performer Resident Evil: Afterlife slipped to third after grossing $1.1m (£727,908) on 361 screens for $5.1m (£3.3m) and fifth placed comedy Grown Ups took $797,029 (£513,881) from 387 screens for $9.8m (£6.3m) in its fourth week.
Universal's horror Devil entered the chart in second place, taking $1.3m (£807,292) from 338 screens at an average of $3,708 (£2,388). Devil, the story of a group of people trapped in an elevator who realize that one of them is the devil, is the latest in a string of horrors to profit from the post-summer shift in the cinema-going demographic.
Stalwart Toy Story 3 is still playing on the most screens at 455, 14 more than The Other Guys. Disney's smash took $905,190 (£583,013) for $111.5m (£71.8m).
The week's strongest top 20 holds came from Fox titles Marmaduke and Diary of A Wimpy Kid, eighth and ninth placed respectively. Both saw only a 9% drop in takings, with Marmaduke taking $433,889 (£279,392) and Diary of A Wimpy Kid $374,785 (£241,390). Expect drop offs next week as both films were among the top 20s lowest screen averages.
The week's only other top 20 new entries were Sundance winner Winter's Bone, which debuted in 17th spot for Artificial Eye, managing $214,687 (£138,264) from 50 screens at an average of $4,289 (£2,763), and Fox's Just Wright, which took $128,121 (£82,513) from 132 screens for a poor $971 (£625) screen average. The basketball-based subject clearly didn't chime with UK audiences.
UK cinemagoers were similarly not drawn in by Revolver's drama The Kid, which opened in 30th position with $35,713 (£22,974). Casey Affleck's Joaquin Phoenix documentary I'm Still Here fared a little better, considering its relatively low number of screens, taking $35,329 (£22,730) on 19 screens at an average of $1,858 (£1,196) for Optimum.
This week sees saturation releases for eOne's 3-D horror The Hole, Sony's comedy-romance Eat Pray Love, starring Julia Roberts and Javier Bardem, Warner Bros.' The Town and The Works' Robin Williams starring comedy World's Greatest Dad.