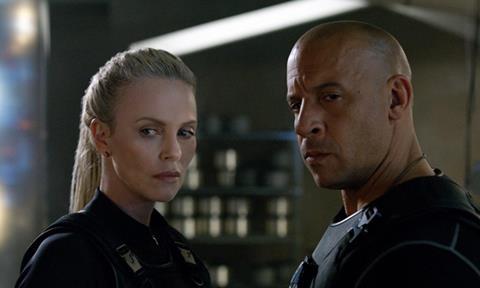 Universal Pictures has crossed $5bn at the worldwide box office in 2017 for the second time in its 105-year history.
The studio passed the milestone on Monday (December 11) as its slate reached $5.003bn worldwide, $3.398bn internationally, and $1.605bn in North America.
Having released The Fate Of The Furious and Illumination's Despicable Me 3, Universal ranks as the only studio in 2017 to handle two $1bn-plus films. They rank as the top two international grossers of the year-to-date.
The Fate Of The Furious scored the biggest global opening weekend of all time on $542m and the biggest international debut ever on $443.2m. The $1.23bn final international tally confirms it as the sixth film to cross $1bn internationally and it ranks as the biggest international release of all time in China.
Despicable Me 3 finished on $1.03bn worldwide and elevated Illumination films to a $5.7bn worldwide aggregated haul. Despicable Me 3 and Minions have both grossed more than $1bn worldwide.
Three Blumhouse collaborations helped to drive the $5bn achievement in 2017. Split, Get Out and current release Happy Death Day all opened top in North America and contributed more than $630m collectively to global box office.
The Mummy has grossed $409.1m worldwide, Fifty Shades Darker on $380.9m, and Amblin Partner's A Dogs Purpose on $196.2m. Breakout comedy Girls Trip scored the biggest debut for a live-action comedy in North America this year on $31.2m and stands at more than $138.6m worldwide.
The Focus Features label has released Atomic Blonde ($95.7m worldwide), Victoria & Abdul ($63.6m), The Beguiled ($27.9m), and Darkest Hour (an early $5.9m).